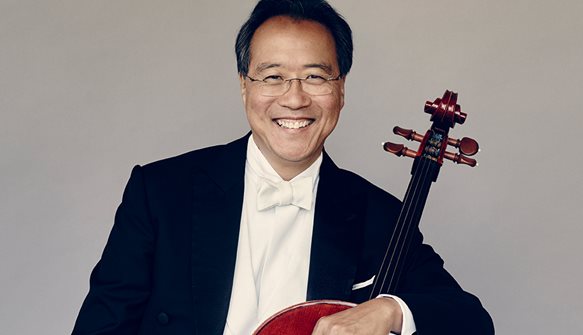 THE YO-YO SHOW AT THE SYMPHONY-YO
THE YO-YO SHOW AT THE SYMPHONY-YO
And Traversing the Symphony Fortress Moat
Gala symphony-season openings have less to do with music than with entertainment, revelry, and a fashion show.
But the infinitely gregarious cellist Yo-Yo Ma did his utmost to carry off the music at the San Francisco Symphony opener, illuminating with his unique persona not one but two works each running about 20 minutes, neither of them a true concerto. He deserved more than the half-minute ovations that turned off abruptly as the festive audience in formals reverted to selfies, animated conversation and exits toward the dance floor.
Meanwhile the congenial Ma wandered about the stage giving bear-hugs to all musicians within reach, including the SFS' most senior player, cello principal Michael Grebanier. In his performances, Ma had consistently radiated his glowing persona out to the audience, never down to his instrument. It was his way of saying, I know this piece thoroughly already, and I'm really here to propagate it out to everybody in this rare mutual love-in. He could play it all perfectly blind-folded and, at nearly 62 years of age, he could pass for decades younger as well.
His technique, even in the high thumb positions and fast-flying figures, is near flawless, and his lyricism to die for. In the Tchaikovsky "Rococo Variations," he digressed in the cadenza to a dreamy, quasi-improvisational flow. He powered adroitly the one-movement Saint-Saens Concerto No. 1 (whose main waterfall theme recurs often, right to the end); it's not played as much as the Dvorak Concerto, but composers like Shostakovich and Rachmaninoff notably declared it to be the best such concerto of them all.
Michael Tilson Thomas, who had been a protégé of Leonard Bernstein, led the latter's Overture to "Candide," full of boisterous, irreverent fun. This marked the start of a year-long Bernstein centennial celebration at the SFS, even though the late maestro's focal birthday is still a year away.
Ravel's concluding "Bolero" with its longest-ever crescendo was a visceral entertainment. MTT not only put the overhead  spotlight on each instrumental soloist in turn but concluded with a multi-colored light show ending in lurid red, per Designer Luke Kritzeck. The unflappable nonstop snare-drummer maintaining the absolutely invariant tempo was percussion principal Jacob Nessly. Of interest was the variety of instrumentation, including rarities like soprano sax and oboe d'amore.
(According to fellow French conductor Paul Paray, when Ravel himself had rehearsed the work, he had told the unsung snare-drummer in the back row,  "You and I control this work. The others follow.")
By way of surprise, MTT wrote a birthday paean to arguably the Bay Area's number one philanthropist, Bernard Osher, who just turned 90. It was a "parody" work in the style of half a millennium ago, that is, with a well-known tune in the bass line played but semi-obscured by many other notes and voices flying by at flank speed. The well-known tune here was "Happy Birthday," in slow motion. The composition was effective; MTT's wordless singing with gravelly voice, not so much.
POSTLUDES—-Post-concert parties gave symphony regulars rare opportunity to chat up informally with SFS musicians popping up, among them stalwarts like Cathy Payne (affectionately known as the "piccolo lady"), violist Katie Kadarauch, clarinetist Carey Bell, and the retiring violin veteran Mark Volkert.
If the stage footlights usually represent an impenetrable fortress moat to patrons, here was a perfect chance to meet-and-mix. Given the less-than-ideal morale of many symphony musicians around the country,  more similar opportunities might result in less heated disputes with management at contract-negotiating time
MUSIC NOTES—Cellist Ma recalled that his very first newspaper review had been right here, from the perceptive music critic (and later founder of sfcv.org) Robert Commanday, more than 40 years ago…. Per another longtime Bay Area critic-annotator  Michael Steinberg, the cellist Fitzhagen who had played the world premiere could be called the co-composer of the Tchaikovsky, as his alterations even made it into the 1879 autograph score.
San Francisco Symphony under MTT's baton, with Cellist Yo-Yo Ma. Davies Hall, S.F., Sept. 14. For SFS info: (415) 864-6000, or go online.