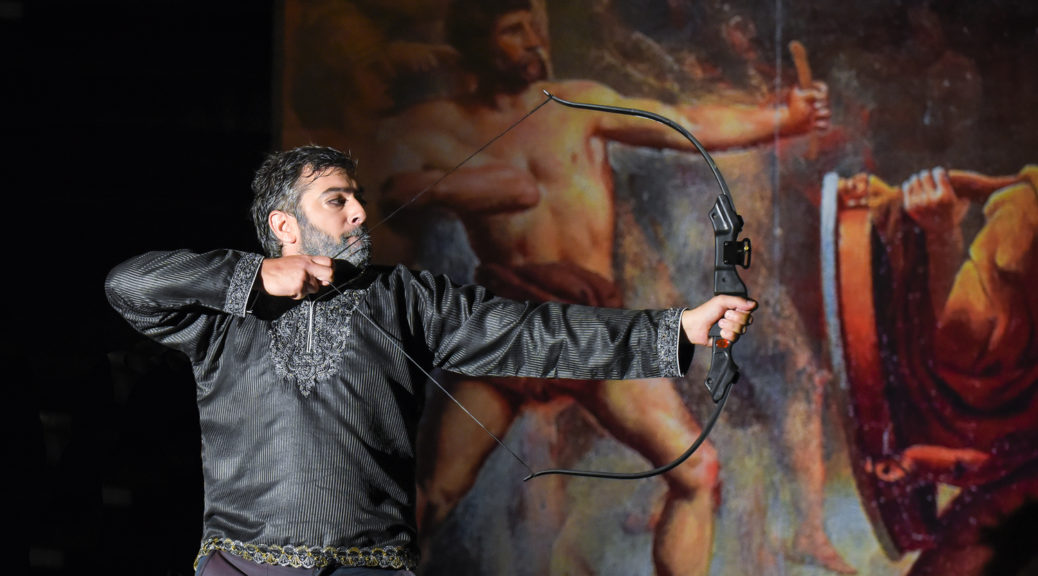 YES, THERE IS A THERE THERE
YES, THERE IS A THERE THERE
Much Disparaged Oakland Keeps Surprising
OAKLAND—I don't know if it's the greatest little opera company around, but it certainly looks like the most enterprising.
Given limited resources, the West Edge Opera has shuttled around several East Bay cities, and even changed names (formerly the Berkeley Opera).
For its latest summer-season persona, West Edge has set three operas spanning five centuries in three different abandoned sites, none of them theaters. Via strong stage direction, it has reintroduced music theater into the lexicon, a term long forgotten by many major companies. On a finite budget, it brings on make-believe, whimsey and comedy. And with the audience close-up and some action spilling into the aisles, it nearly makes the opera-goer part of the show.
None of its singers have been starring in European music festivals. And yet there is a unique ambiance there. As one patron explained about the drama-charged West Edge "Lulu" this summer, "My wife had heard it at a major company back east and hated it. But when she saw the West Edge 'Lulu,' she said it was now a favorite!"
With the close-up audience practically at the feet of the singers, the troupe opened Monteverdi's last opera "Ulysses" (Il ritorno d'Ulisse in patria) on Aug. 1 at the American Steel warehouse. Based on Homer's "Odyssey," it tells of Ulysses' circuitous return home, his fighting off villainous suitors to win back his wife Penelope, and his ultimate triumph, with the help of a Shepherd and of the benevolent goddess Minerva. Via this 1640 opus and two other surviving operas, Monteverdi achieved greatness by his keen musico-dramatic insights and his establishing our world of opera virtually from scratch.
"Ulysses" rode on the broad shoulders of Stage Director Mark Streshinsky as well as Music Director/harpsichordist Gilbert Martinez who led the small string ensemble in the pit. Streshensky's brainstorms included Minerva "flying through the heavens" on a motor scooter, with ascot flying in the stratosphere. The trio of villainous suitors came in modern dress, eventually dispatched by unerring arrows from Ulysses' quiver. And the comic gluttonous clown Iro (Ted Zoldan) spiced his Italian with some English phrases, including mention of a certain "Obama" unfamiliar to Monteverdi. Martinez meanwhile led an accomplished historically informed group in the pit, including exotica like a reed organ and theorbo (arch-lute).
Baritone Nikolas Nackley was a strong figure in the title role, though because of opening-night oversinging, he never came into his own till the closing scenes. Mezzo Sara Couden was an imposing pillar of scowling discipline as Penelope, melting in time for the reconciliation scene with the husband. Stealing scene after scene was the Minerva of lyric soprano Kindra Scharich, whose sunny energy and vocalise were second to none in the cast of 10 singers playing at least 12 roles.
The stage was merely a platform lit by two spotlights. The décor was merely a set of colorful backdrops. And yet it all took wing like few operas you will see this season.
This production was dedicated to the memory of the resourceful baroque specialist and conductor Alan Curtis (1934-2015) who, while on the UC Berkeley faculty, had presented the first known Northern Californian performance of Monteverdi's "Coronation of Poppea" at Cal's Hertz Hall in an epic staging nearly half a century ago.
Monteverdi's last opera "Ulysses" (Il ritorno d'Ulisse in patria) Aug. 1, 7 and 9 at the American Steel warehouse, Oakland. In Italian, with English supertitles projected. Given by West Edge Opera—one of three works this summer. For info: Go online.
©Paul Hertelendy 2015
#
Paul Hertelendy has been covering the dance and modern-music scene in the San Francisco Bay Area with relish — and a certain amount of salsa — for years.
These critiques appearing weekly (or sometimes semi-weekly, but never weakly) will focus on dance and new musical creativity in performance, with forays into books (by authors of the region), theater and recordings by local artists as well.
#