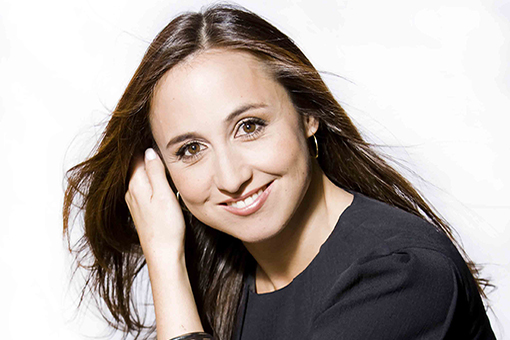 WOMEN VIBRANTLY AT THE FOREFRONT
WOMEN VIBRANTLY AT THE FOREFRONT
BERKELEY—With her niche securely in place, Berkeley Symphony Music Director Joana Carneiro is diversifying the repertoire, presenting work of the two most prominent (active) European women composers this fall. There's an audacity and imagination at play there, avoiding tired programs and rep duplications with other orchestras.
Also her orchestra is sounding better than ever as she continues to hone the creativity, six years after her appointment here.
The audacity was palpable when she led off with a dozen players scattered around the balconies for 17th-century brass chorales by Gabrieli, then going without pause into contemporary music on stage—-linking disparate sounds four centuries apart.
The ultra-resonant Gabrieli canzones lit up the rafters, recalling the glories of early baroque celebrated antiphonally at San Marco Cathedral in Venice—one of the epic turning points of music history, abandoning renaissance polyphony once and for all.
The night's keystone opus was the 33-minute "Fachwerk" by 84-year-old Sofia Gubaidulina (rhymes with 'you by demeanor.') A Hamburger emigrated long ago from the Soviet Union, she creates a fascinating spectrum of sounds, often on a very intimate scale, spinning out her provocative thought-provoking concepts.
A German term, "Fachwerk" refers to architecture with a vertical-&-horizontal emphasis. The central soloist on accordion thus does both the vertical (chordal) and the horizontal (lyrical or contrapuntal) in musical terms. The Norwegian virtuoso soloist Geir Draugsvoll, making his West Coast debut, could do both types with ferocious enthusiasm, his fingers running like a blur over something like 60 buttons, without a miss.
Soloist Draugsvoll played the bayan—-a button accordion from Russia, as contrasted to our more common keyboard accordions—in his feast of myriad voices.
His dexterity was jaw-dropping in the extended and fast-flying cadenza section, and the versatility was unexcelled. At other points he played what sounded almost like a traditional Bach chorale on pipe organ, at least whenever the score demanded neither those mighty lion's roars nor barely audible pin-point filigree.
But at heart, the composer tends toward the subtle and understated, with sonic effects more fleshed out than themes. I never feel my feet firmly on the ground, which I'd call a compliment as the music takes us on flights of latent instability. The all-string orchestral accompaniment wallows heavily in the bass register, with unusual percussion punctuation: church bells, tamtam, and silky-smooth glissandi on marimba. You come away wanting to call the composer the mother of invention.
The concert closed with the large-scale Mussorgsky-Ravel textbook on colorful orchestration, "Pictures at an Exhibition." The performance was quite beautiful, but Carneiro seemed more intent on making visual impressions, with her characteristic overconducting, loose-flying hair, and fierce grimaces. Even with the subtle segments, like "The Gnome" or "Old Castle," she pushes with grand gestures, seemingly bypassing subtle intricacies. She also paused between each "painting" of the tone poem, perhaps to clarify the sequence and progress to those of us buried in the programs.
MUSIC NOTES—"Fachwerk" was a US premiere, and a welcome one at that….A broadcast of this concert will be on KALW-FM May 9, 2016.
Berkeley Symphony, in works of Sofia Gubaidulina, G. Gabrieli and Mussorgsky-Ravel. Zellerbach Hall, Berkeley, Dec. 3. For BSO info: (510) 841-2800, or go online.
©Paul Hertelendy 2015
#
Paul Hertelendy has been covering the dance and modern-music scene in the San Francisco Bay Area with relish — and a certain amount of salsa — for years.
These critiques appearing weekly (or sometimes semi-weekly, but never weakly) will focus on dance and new musical creativity in performance, with forays into books (by authors of the region), theater and recordings by local artists as well.
#