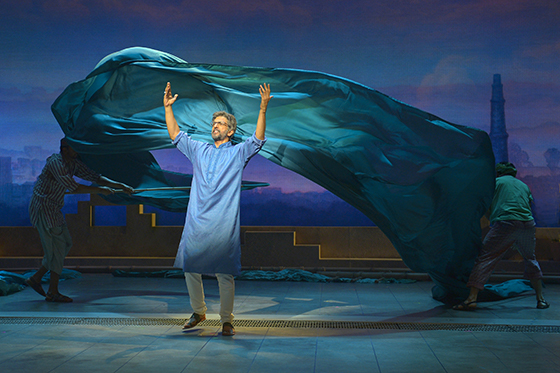 Jaaved Jaaferi (Lalit Verma) in "Monsoon Wedding." Photo courtesy of Kevin Berne/Berkeley Repertory Theatre.
WEDDING IN INDIA: A ROUSING NEW MUSICAL
WEDDING IN INDIA: A ROUSING NEW MUSICAL
Mira Nair's highly entertaining play/musical "Monsoon Wedding" at the Berkeley Rep is spot on, based on two weddings attended in New Delhi. "Monsoon Wedding" is based on her award winning movie of the same name. For Nair, the theater is her real métier—her first love, what  she knows best. She had studied theater at Harvard as an undergraduate and went on to act in several renowned avant guard troupes.
This play is a splendid and extravagant display of the preparation and execution of a wealthy family's arranged wedding of their Indian daughter to an Indian whose family has lived in America for decades. It probes not only the mechanics of such an undertaking, but the back stories surrounding the characters. The flare-ups can be expected, but guests to such extravagances don't see behind the scenes. Here you do.
The bride's father Lalit Verma (Jaaved Jaaferii) thought he had many things under control. His major domo PK Dubey (Namit Das) is first seen trying to put up the unwieldy tent but he is burdened with many other tasks. The hundreds of other workers are reduced to a manageable size due to the limitations of a stage play, but you know they are there. They often serve as a chorus that comes and goes playing several roles. At one time they are a troupe of dancers and singers in Pakistani costumes in a dream sequence. It tells the story of the partition during which Lalit's Punjabi family escaped to India. Other historical moments are provided in this rich play, that initially masquerades as a musical comedy in the style of a Bollywood movie.
But there are serious problems from the beginning. The future bride Aditi Verma (Kuhoo Verma) is having an affair with her boss and he is married. The arranged marriage seems like it is a go until she confesses to her fiancé Hemant Rai (Michael Maliakel) that she is not pure. That is just one of the dramatic wrinkles in what should be a joyous occasion. Her cousin Ria (Sharvari Deshpane) is in a grey mood from the beginning and this is evident in her inappropriate dress of jeans and dark colors amidst the splendor of the other characters' bejeweled and colorful costumes superbly executed by the designer Arjun Bhasin. Ria has a dark story that goes with somber clothes and this comes out later in a family kerfuffle. The tent man PK Dubey falls in love with one of the serving girls Alice (Anisha Nagarajan) only to find out that she is a Christian, not a Hindu. His mother Naani (Palomi Ghosh), so desirous of grandchildren, encourages him to marry whom he loves since she did not do so in the past.
But the most grievous complication is Hemant's calling off the wedding as soon as he finds out about Aditi's affair. A following scene with two sets of parents, one group that has flown from the United States at great expense, has both families arguing as they try to sort out the financial aspects of such an undertaking. These weddings can cost millions of dollars and there are presents to return, vendors to pay and the dismantling of all kinds off details. This scene is hilarious—as long as you are not involved in the party.
One exuberant musical event follows another as composed and orchestrated by Vishal Bhardwaj with lyrics by Susan Birkenhead. Lorin Latarro's choreography, and Mikko Suzaki's and Macadams' set, are spectacular. "Monsoon Wedding" is a thoroughly entertaining musical that will probably go on to New York after this, its world premiere at the Berkeley Rep. From the outset it has already been extended and the theater is full for many performances. "Monsoon Wedding"  continues at Berkeley Rep through July 9, 2017. For info: go online.