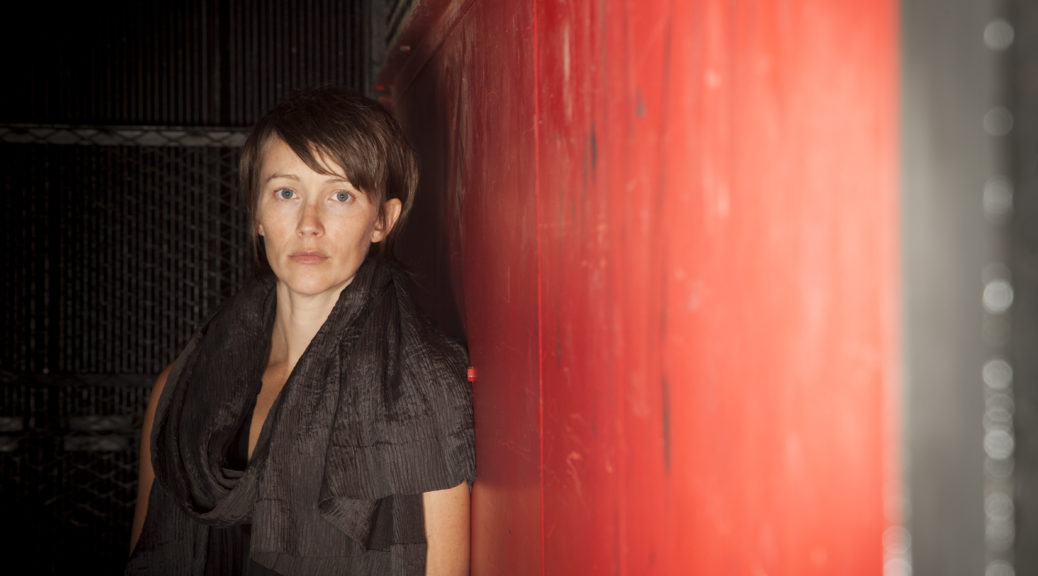 VISITING LINCHPIN POWERS SUPERB MODERNIST MUSIC-THEATER
VISITING LINCHPIN POWERS SUPERB MODERNIST MUSIC-THEATER
STANFORD—Arguably the most dazzling world premiere of the season took place before an audience of only 100 in a basement studio space hosting a solo music-theater opus.
The unorthodox double-barreled staging for singer and string quartet made for a stellar  performance vehicle for East Coast soprano Majel Connery—part singer, part half-crazed actress, part keyboardist. Going barefoot, she writhed about the floor raving and attacked a variety of apples hanging all around her runway stage, with patrons just three feet away trying to duck the fruitful missiles.
Given the unenviable task of combining two dissimilar texts and scores seamlessly on stage, the globe-trotting grand-opera Director Christopher Alden took on the challenging and compact assignment, linking the pieces in a single setting. And it was all about 20 apples dangling from on high. In "Contriving the Chimes" by Caroline Shaw, with diary writings by young Isaac Newton, apples represented his discovery of gravitation in viewing the fruit falling from a tree. In "August is also cruel" by Doug Balliett, the apples conjure up the suggestion of Eve in the Garden of Eden, ultimately serving as the object of her rage and frustration.
This unlikely music-theater pairing we'll call the BSC Project produced a passionate, ecstatic and exultant tour de force in an avant-garde mode, with the dynamic Connery as its linchpin. Her unerring spinto soprano resonated throughout the hall, given the amplification used—a truly glorious vocal presentation. The harmonic glue was provided, too quietly, by the St. Lawrence String Quartet tucked into the distant corner—all barefoot, like everybody else in this show, and deprived of amplification. (But this was billed as a mere workshop performance, with kinks to be ironed out in due course.)
Workshop or no workshop, the SU music department had no business confining this stunning premiere as far underground as a dungeon, especially with such stellar participants, from Alden to Connery (both East-Coast-based)  to the quartet.
The Caroline Shaw piece, attached to her earlier quartet, was eccentric, calling on expanded vocal techniques. The Newtonian list of sins and transgressions in the text were full of mea-culpas. Shaw, who had won the 2016 Pulitzer Prize in Music, has a unique distinction as the prize-winner: She is still a graduate student, specifically at Princeton University, the same institution that had produced Connery.
Doug Balliett, on the Juilliard School faculty, had been inspired by Schumann's song cycle "Dichterliebe" (Poet's Love) and adapted it loosely for the English text. The abandoned heroine of the piece is justly enraged and flies off the handle, all but destroying the stage set and stalking off with all the apples she can scoop up in an attache case—forceful, bizarre, and assuredly avant-garde.
The whole double bill ran a mere 40 minutes, but the theatrical power was more than ample to cover an entire evening.
AFTERTHOUGHTS—The works and the Stanford residency had been commissioned through a joint application by Connery and St. Lawrence violinist Owen Dalby. They had found very few existing works written for singer with string quartet…Said Dalby: "In this program we are improvising to a degree, but not in pitches…." Director Alden relished the challenge here, given his ubiquitous ones of always trying to find new approaches and settings to standard repertoire such as "Tosca" with major opera houses.  Of the composers, only Balliett, 34, was able to attend.   Balliett's piece also called for the singer to sound a few licks on a synthesizer keyboard, in addition to all else. Just call her versatile.
World premiere stagings, compositions of Shaw and Balliett in the BSC Project, Bing Concert Hall Studio, Stanford University, presented by Stanford Music Department, April 21. For future-events  info: (650) 725-2787, or go online.