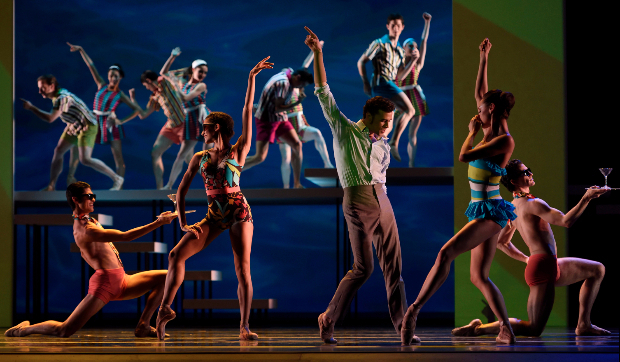 UNIQUE AQUATIC CREATION AT S.F. BALLET
UNIQUE AQUATIC CREATION AT S.F. BALLET
But Will It Have Legs (or Fins?) to Endure
Vol. 17, No. 52
Computer animation in live ballet took a quantum leap with the premiere work "Swimmer," at the S.F. Ballet through April 21. Techno-enhanced ballet will never again be the same.
The blending of projections with live dancers was so well done (by Kate Duhamel, the trompe-l'oeil video designer) that you were never quite sure where one ended, the other began. Live strap-hangers peopled a projected commuter bus. Dancer Joseph Walsh, in the harried title role, disrobed and his shadow figure dove into the "pool." Supine live dancers with "grassy" limbs waved their legs aloft looking like the underwater plants swaying in the videos.
Choreographer Yuri Possokhov's new work is a pop ballet with dance-theater and video, immensely sophisticated in its amalgam. Yes, pop ballets built around modern social culture are flash-in-the-pan, tending to close early, like Friday nights. But to gauge by the rousing audience reaction, "Swimmer" might have a lot of legs (or fins?) to endure into the future. And it certainly woke up the crowd in Program No. 7 after two moribund works that preceded.
The story after John Cheever is of a stressed office worker on the treadmill eventually finding his true persona in swimming and meditation, ending with the (suspended live) title character ecstatically swimming down, down, down into the (projected) deep blue sea in heightened realism. Depicting swimming and the sea on a dry Opera House stage is hardly a routine assignment, one where Possokhov and the techno-design team outdid themselves. There are varied allusions crammed in here too, among them the recurrent lonely individual from a Hopper painting.
Scenes of show-girls, Santa Monica beach parties and various frivolities occupy much of this 41-minute ballet to a mishmash of music, where the women, for once, are just so much decoration on the cake, and the fast-flying males are central, ending with an exhausting solo for the title figure in swim-trunks (the SFB's newest principal, the youthful Joseph Walsh on April 15), darting all over the stage in an exuberance of energy taking your breath away long before the plunge. His last plunge is accompanied by the timeless death dirge "Dies Irae," suggesting an enigmatic ecstasy/fulfillment in death as found in Wagnerian opera.
Or perhaps merely decadence in modern society.
This unusual blend of the hero's ultra-exuberance with meditation is like real life, not your customary ballet. A huge throng of 44 dancers cover the stage and cavort, turning The Swimmer evermore into the outsider. This night ballerina Maria Kochetkova showed off a slinky, sexy side we'd never seen before. A dazzling dancer I've seen too little of this season, Pascal Molat, teamed with Max Cauthorn and Gennadi Nedvigin in a whirlwind trio.
Throughout, Possokhov continues to show novel movement ideas, as the way the man slides his partner casually and effortlessly over his shoulder. And ballet directors will want to see this one to guide technology to enhance future gala productions.
The stellar design team included Duhamel, Alexander Nichols, Mark Zappone and David Finn.
"Swimmer" roused the audience after two humdrum pieces: a collection of classical-ballet moves in Tomasson's "Caprice," and Balanchine's severe, angular oldie "Four Temperaments" (1946), done with the precision of computers.
S.F. Ballet, Opera House, S.F., Yuri Possokhov's new "Swimmer," and 2 other works in Program 7, through April 21. For info: (415) 865-2000, or go online.
©Paul Hertelendy 2015
#
Paul Hertelendy has been covering the dance and modern-music scene in the San Francisco Bay Area with relish — and a certain amount of salsa — for years.
These critiques appearing weekly (or sometimes semi-weekly, but never weakly) will focus on dance and new musical creativity in performance, with forays into books (by authors of the region), theater and recordings by local artists as well.
#