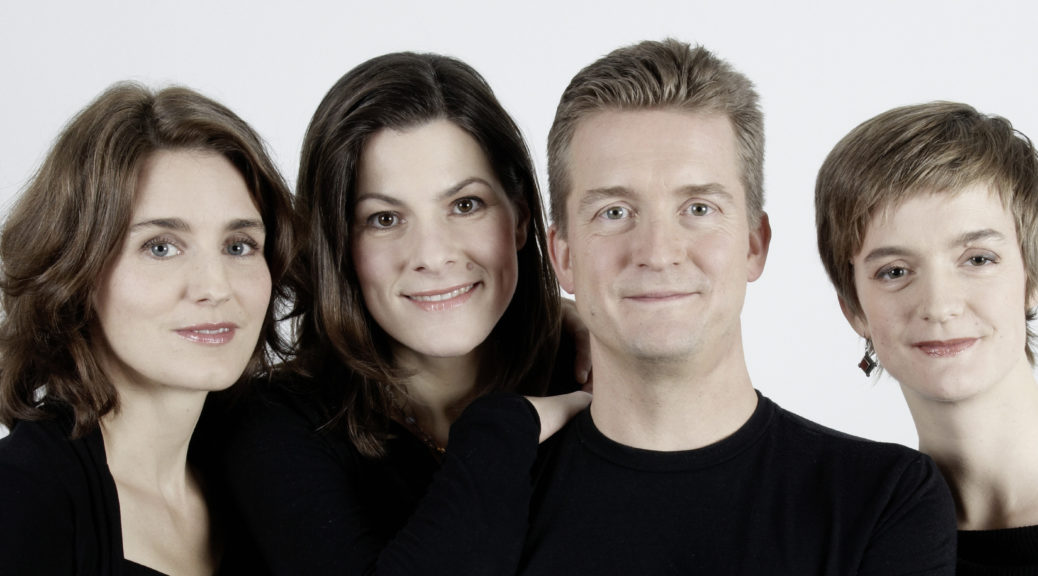 UNFAMILIAR TWISTS IN CHAMBER MUSIC – Crack Tetzlaffs in Belated Berkeley Debut
UNFAMILIAR TWISTS IN CHAMBER MUSIC – Crack Tetzlaffs in Belated Berkeley Debut
The brother-sister act Plus Two known as the Tetzlaff Quartet played gorgeous music. Sometimes like a well-oiled sports car, the sound purrs at you seductively or inflames you, leaving  the sell-out crowd wishing for more.
First violinist Christian Tetzlaff is a legend both as recitalist and concerto soloist, but here he was in a third guise leading a chamber music group in Austrian standards. It was a study in contrasts: Three tall women, poised and disciplined, anchored by sister Tanja Tetzlaff on cello; and Christian, weaving and bobbing, providing more visible body English than a squad of Londoners.
Unexpectedly, despite the contrasts seen on the Hertz Hall stage Nov. 12, the foursome out of Germany blended admirably, winning over a virtually sold-out house with the Austrians Berg, Schubert, and Mozart—less familiar selections from the most familiar of composers.
Alban Berg's Quartet Op. 3 takes us through a portal to a new sonic world, blending much dissonance with Berg's great gift for lyricism. Through the two movements spanning 20 minutes, the music vacillates between storm and repose, like ebb and flood tides. The piece is vibrant with unbridled drama, at times sounding like an overture to a tragic opera. The ensemble played the modern sonics convincingly, as if to tell audiences hey, don't recoil; this music is already over a century old!
Schubert's last quartet ( No. 15 in G Major) is a true test of strength and endurance. It starts with sweeping bow strokes and effusive vigor, moves on to dire tremolos. Its passion breaks its bounds in the high-energy allegro finale with its multiple metamorphoses. The fiery mano-a-mano and the electric power in the fortissimos sets hairdos flying, convincing the listener that Schubert was well past serving up genteel Viennese Schlagobers as he began to face the rude prospect of end-of-life (coming just two years later, at age 31). You'd have to call this Schubert at his most volatile.
The concert opened on a more laid-back note, with Mozart's Quartet No. 16. It offered a fine cello solo in the Andante for Tanja Tetzlaff and, in the Minuet, a theme played over an invariant pedalpoint that must have horrified the 18th-century Viennese with its "dissonance." The group projected it with admirable unity of texture, producing exquisite sounds lingering in memory.
AFTERTHOUGHTS—Heads of universities rarely take the time to attend classical concerts. A notable exception this day was Cal Chancellor Carol Christ, drinking it all in from the second row. When not running a giant university, she is a devoted violist….Schubert's incredible array of rejection slips included a package of the D Minor Quartet, a mass, three operas, and so on, submitted to a leading German music publisher in 1828, and roundly rejected—all of them.
The Tetzlaff (String) Quartet in concert at Hertz Hall, Berkeley, Nov. 12, under Cal Performances auspices. For C.P. info: (510) 642-9988, or go online.
—BERKELEY