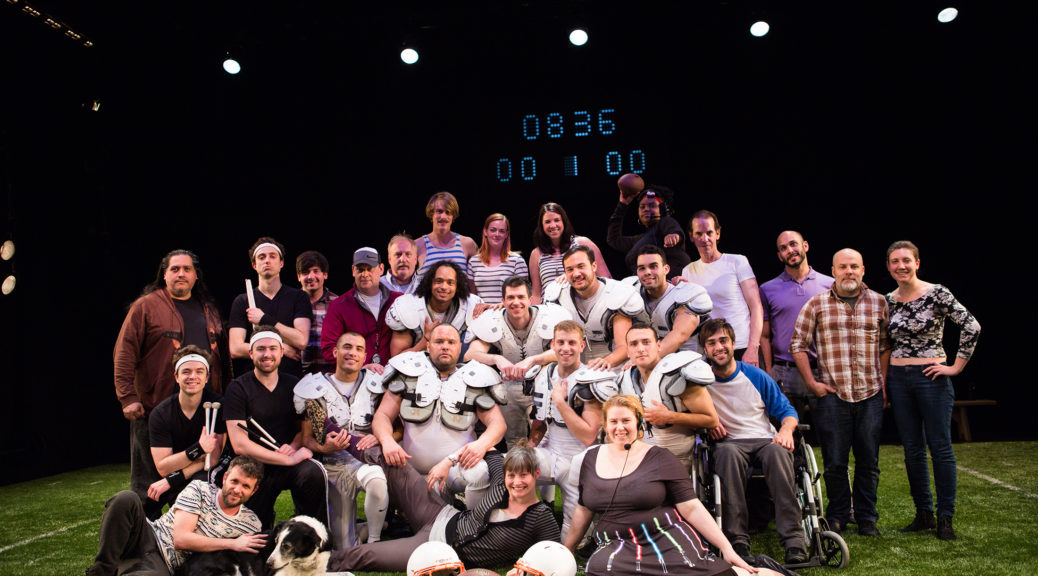 A THEATER OF FOOTBALL, DANCE
A THEATER OF FOOTBALL, DANCE
The SF Playhouse brings another unusual and fascinating play to the stage, the West Coast premiere of Andrew Hinderaker's "Colossal".
Several of Hindraker's works have played in New York and in Chicago, where he is based at Chicago Dramatists. "Colossol" is his most produced play and it is easy to see why.
The on-field team warm-up starts 15 minutes before the production and is a splendid work of football and dance choreography. It's good to be in your seats 15 minutes early to witness these pre-game movements. The play takes place on all on the green field of synthetic turf ingeniously created by set designer Bill English who is also founder of the SF Playhouse.
The clock telling the score and the time in the background, like those in stadiums, counts down the time with the 15 minute quarters all corresponding to the length of the intermissionless play. The clock seems to add another element of suspense as you wonder what happens in this quarter or how does it end in this limited amount of time. It is all clockwork.
Using a dance company, three drummers, a football team plus a dramatic story of a father, son, lover and a debilitating football accident, Hindraker presents this play on several levels, all of which are timely as well as everlasting.
The story concerns a young man Mike who, in defying his father, signs up to play football. Mike (Jason Stojanovski) has been a member of his father's (Robert Parsons) dance troupe when he defects to the more manly sport. He is injured so badly that he may never be able to walk again and is in a wheel chair during the entire play.
Watching a video of his mistake, going head first to defend a friend, he manages to bring up images of his former self. These become scenes with his young self played by another Mike (Thomas Gorrebeeck) who confronts him by calling him names, berating him and bringing up many of the details the story of Mike that would make me a spoiler if I revealed them. These dreams continue intermittently with the real stage events that include encounters with his tough therapist, team members and his father.
The play would not be extraordinary if it were not for the three drummers (Alex Hersler, Andrew Humann and Zach Smith), all playing different kinds of drums. These beats give the work a force and momentum that accompany the movements of the players who are six well-trained actors, dancers and athletes: Ed Berkeley, Paul Collins Brian Conway, Brandon Leland, Cameron Matthew and Xander Ritchey).
Mike's best friend on the team Marcus (Cameron Matthews) plays an essential part in the story and until he disappears from the stage, he and Mike form a very close bond that is subject to ridicule by the macho players. The theme of homosexuality is part of the intrigue.
Much of the play is choreographed as a modern dance and the players are as adept at dance as they are in football maneuvers. Even the father creates his own dance movements as this is his best way to communicate his emotions.
The play raises the timely questions about brain injuries from football and the homo-erotic interactions of the players, whether they know it or not. The questions of why anyone would want to play football in the first place or even watch the slaughter are probed, but not answered. And this is theater in the best sense. It is not preachy, it doesn't solve problems. It's purpose is to expose them.
Jon Tracy's direction is superb. He is in charge of actors, fight and choreographer consultants, musicians and continual movement that invites excitement as well as pathos.
"Colossal" is a play to see as it pushes the boundaries of conventional theater and is one of the best shows in town. It runs through April 20 at SF Playhouse, upstairs from the Kensington Park Hotel, 450 Post, one block west of Union Square. 415 677 9596 or sfplayhouse.org.
ERKELEY — through July 9. Call (510) 845-4700.
"Shockheaded Peter" runs through July 16. American Conservatory Theater, Geary at Mason, San Francisco. Call (415) 749-2228 or go online.
#
© Carol Benet 2016
Carol Benet is a regular theater reviewer for artssf.com.
These critiques appearing weekly (or sometimes semi-weekly, but never weakly)focus on theater, dance and new musical creativity in performance, with forays into recordings by local artists, and a few departures into books (by authors of the region)as well.
#