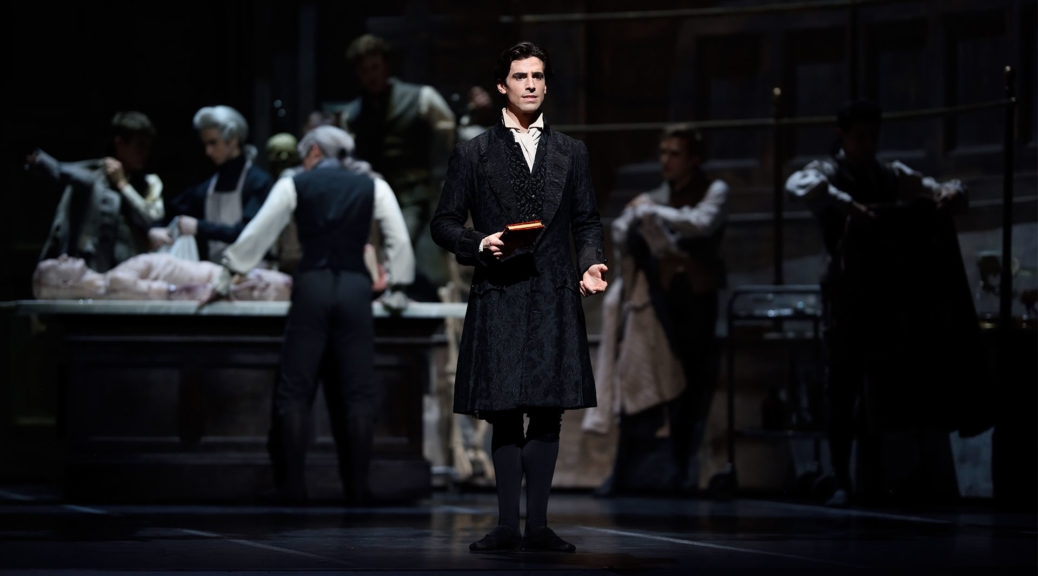 TERROR IN THE ELEGANT 'FRANKENSTEIN' BALLET
TERROR IN THE ELEGANT 'FRANKENSTEIN' BALLET
You know there won't be a happy ending if, in the very opening of a 10-scene ballet, the couple falls in love via a pas de deux. But still, there's little clue to just how violent and tragic "Frankenstein" becomes during the three-hour span.
This American premiere of "Frankenstein" brings to the S.F. Ballet an unusually lavish and elegant piece set in an English manor, with opulent 18th-century dress, and a bulging cast of some 41. The decline and fall is brought about by the nameless monster (Creature) straight out of Mary Shelley's two-century-old eponymous opus, the very first horror novel,.
Liam Scarlett's three-hour dance piece short-circuits many of Shelley's details, including the climactic confrontation of Creature and hero on the large glacier Mer de Glace, a tourist attraction which you can visit on the flanks of Mont Blanc to this day. (Scarlett also evoked more and better cast miming from the SFB crew than asked for in any modern work.) Scarlett does his most memorable choreography with the principals. The corps de ballet, whether male or female, is downright boring, popping up on stage with stock turns and arabesques whenever there's a lull.
But the essence is there: Victor's lab-constructed monster, here quasi-naked, a mentally deficient creation who, when unable to attract reciprocal love from any one, turns to sociopathic bloody violence. He wants to emulate Victor, even aping his steps when dancing with the beloved Elizabeth, though with a menacing style.
This ambitious large-scale work may be repugnant to some, particularly the realistic staging of a public-hanging scene close to the audience, and homicidal forays. But Scarlett has caught the essence of monster and maker quite well, with meticulous reshaping of med-school instrumentation plausible for that era. If you can't stomach it, the English choreographer appears to say, perhaps best to stay away from the Shelley novel as well. The message appears to be, even the tamest, most bucolic existences can be disrupted when protagonists play with life-death matters in cavalier fashion.
The neoromantic score by Lowell Liebermann is perfectly suited, like a comfortable pair of shoes—no surprises, but highly appropriate, boldly inflected by a sumptuous sound, four French horns, sonic climaxes and generous tone- and mood-painting.
Most novel of all is the huge drop preceding each act, with movable images of skull and skeleton, calling on sophisticated designer John Macfarlane. What looks like acrylic or oil painting is actually an astute projection of a video.
On this night (Feb. 21), the strong triple-casting of this ballet featured the tall and snake-like Taras Domitro as the monster, and, as the lovers, Lauren Strongin and Max Cauthorn. In a rare move, Cauthorn was plucked from the corps de ballet to play the lead, and he played Victor as an enigmatic stoic displaying taciturn conviction, lifting finesse and high mobility. Strongin, a SFB soloist, was ethereal and light-footed, another talent clearly on the way up.
Domitro's Creature was doubly menacing as he slithered about the floor with agility. Standing, he towered over every one, and managed forceful dancing and dominance as his temper surged out of control. If he could throw the heroine about the scene harder and farther than any one, credit his height and weight advantage,
Julia Rowe played the attractive Justine, condemned in a gross miscarriage of justice. Though a lesser role, Rowe showed some of the cast's best miming ability as she cowered before her accusers. It's a testament to the depth of the SFB that 2nd and third casts can meet the need and deliver with impact.
The ballet is a co-production with the Royal Ballet, which had unveiled it in London last May. It is very opulent, with large scenic pieces requiring several railcars or containers, as you might expect from any Covent Garden staging.
BALLET NOTES—The run was triple cast for the principals. Some 41 dancers were needed each night…This is Scarlett's third ballet for the S.F.B.
Liam Scarlett's "Frankenstein" ballet, at the S.F. Ballet through Feb. 25. Three hours, two intermissions. For SFB season info: (415) 865-2000, or go online.