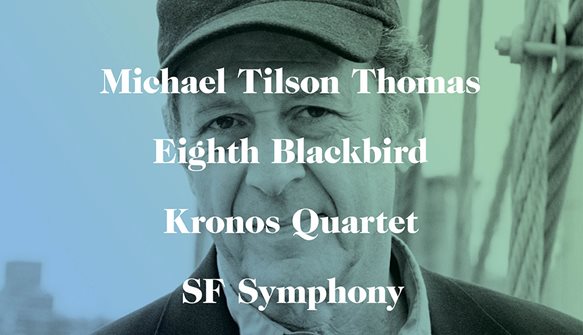 STEVE REICH CONQUERS SAN FRANCISCO
STEVE REICH CONQUERS SAN FRANCISCO
Surprise! A Living Composer Who Is a Hit Number
By Paul Hertelendy
artssf.com, the independent observer of San Francisco Bay Area music and dance
Week of Sept. 12-19, 2016
Vol. 19, No. 1
Never forget that physics course you took. It can help you where you least expect it.
When I interviewed composer Steve Reich here in 1965, I referred to his musical style as "phase-shift music," using terminology encountered in the Theory of Oscillations in physics. He liked the term. I notice that in his current publicity material, half a century later, he still talks about his musical "phase-shifting."
His music itself represented an orientational phase shift. Along with figures like Terry Riley and Philip Glass, this American maverick dared to break away from the prevalent fashion of highly dissonant atonal, serial, 12-tone music (take your pick), and wrote consonant, gamelan-influenced, tonal music that did not break any one's ear drums. It was a new religion, with Reich as its apostle, or at the very least was a marked revolution, still dominant a half century later.
To celebrate Reich's 80th birthday coming up in October, the S.F. Symphony devoted its opening programs to Reich's music. It was audacious, as very few of Reich's compositions are symphonic, most of them for chamber-sized groupings. And where Reich formerly was performed in intimate halls, here at considerable risk the SFS threw open two nights of the 2,400-capacity Davies Hall. The gamble paid off, with a whole new younger constituency rarely seen on subscription nights buying tickets and flooding the premises. Along with them, on Sept. 11 came a bevy of out-of-town music critics for the Reich mini-festival that few would have predicted, way back when.
The essence of Reich's style is a fast-paced, almost frenetic rhythm section with little variation, sometimes with an overlay of long-held notes on strings or winds. And these elements change very gradually in the "phase shift," almost imperceptibly. The repetition of some short theme suggests minimalism, but minimalism with mobility, never invariant.
The effect of this is hypnotic, even mesmerizing, drawing standing ovations, along with exclamations of "I liked it!" from my concert companion who has rarely ventured into the forests of contemporary music.
Wearing his trademark baseball cap, a retiring Reich finally appeared to the fans on stage, doing his early hit "Clapping Music" with that early collaborator named Michael Tilson Thomas providing the other half of the rhythmic applause, between them providing all the sound and music needed. The crowd went wild.
For this listener, Reich's most powerful piece remains "Different Trains," a multi-faceted social commentary reflecting cross-country railroad travel blended with word segments and reminiscences by Pullman porters. Various prerecorded tracks, some electronic, mix in with live sounds of a string quartet (the Kronos). The most chilling are allusions to the Nazi trains used to deport their captives to death camps in World War Two. The high energy of the piece is irresistible, mixed in with blurred train whistles and sirens.
"Double Sextet" has two identical teams playing differing music in hard-driving New York style, the rhythm sections often drowning out the wind-and-string players. The elite contemporary group Eighth Blackbird made its first appearance in a large hall here, holding its own, for the most part, against SFS musicians.
"Six Marimbas" brought back the legendary ex-SFS percussion principal Jack van Geem and his marimba entourage in a fast-flying drill that was letter-perfect.
"Electric Counterpart" is for solo electric guitar (Derek Johnson), playing against prerecorded guitar and electronics, giving it the essential jazzy bounce.
The lone misfire of the two "I-like-Reich" nights was the "Three Movements" for giant double orchestra. It produced effects that would seem appropriate on duo-piano, but inflated beyond all dimension. With Reich, you're tempted to say less is more, and small is beautiful, to paraphrase Mies van der Rohe.
S.F. Symphony presenting two "Steve Reich American Maverick" concerts Sept. 10-11, with the composer in attendance. Various guest players, including the Kronos Quartet and Eighth Blackbird. At Davies Hall, S.F. For SFS info: (415) 864-6000, or go online.
©Paul Hertelendy 2016
#
Paul Hertelendy has been covering the dance and modern-music scene in the San Francisco Bay Area with relish — and a certain amount of salsa — for years.
These critiques appearing weekly (or sometimes semi-weekly, but never weakly) will focus on dance and new musical creativity in performance, with forays into books (by authors of the region), theater and recordings by local artists as well.
#