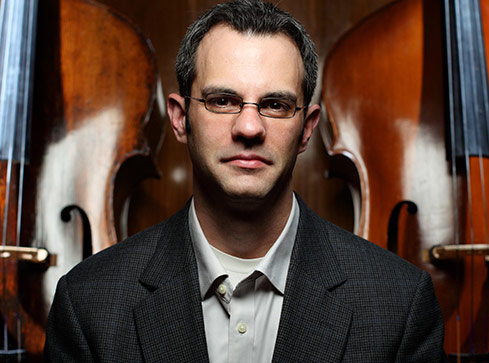 STELLAR MIDSUMMER CHAMBER CONCERTS
STELLAR MIDSUMMER CHAMBER CONCERTS
With Heavy Other-Coast Representation
ATHERTON, CA—In one of the most attractive S.F. Peninsula communities, Music@Menlo has found its niche, selling out chamber concerts offered in intimate venues.
The current 13th annual incarnation of M@M is devoted mostly to Schubert, the ultimate romantic master of lyricism, with Schubert's greatest hits and songs spread out over four weekends.
You might call it Lincoln Chamber West. The co-directors also run the Chamber Music Society of Lincoln Center (NYC), drawing heavily from their colleagues there for the West Coast summer concerts, with greater cohesion in mind. The formula, peppered further with stellar West Coast figures like pianist/conductor Jeffrey Kahane and contrabass virtuoso Scott Pingel, is both efficient and effective.
On the opening weekend Kahane, Pingel et al mingled and blended for the beloved and unorthodox "Trout" Quintet—basically a piano quintet, but with a bass replacing the usual second violin, and one extra movement. Kahane played nimbly, boldly and forcefully enough to make it sound like a work for piano and accompaniment. Not so. The piece needs balance, and offers varied surprises: More focus on the register below middle C, and some fine subterranean duet work between viola (Sunmi Chang ) and cello (Keith Robinson). The "Trout" designation comes from recycling the theme of the "Trout" lied, as basis of the 4th-movement variations—cleverly reset as a lullaby, more or less, and not as that sprightly song suggesting a trout euphorically leaping into the air.
Three of Schubert's early vocal hits were included: the "Trout," "Erlkoenig" and "Gretchen at the Spinning Wheel," with baritone Nikolay Borchev dramatizing the "Elf King" work with good voice placement and fine-spun German pronunciation. Performing at the Stent Family Hall of Menlo School, he avoided one colleague's over-driving of voice such that the vibrant acoustics cause shattering.
A curious rarity was Schubert's Overture in C Minor, written at age 14, showing the boy genius' keen instincts for dramatic opera, but little sensitivity for conciseness.
The Escher String Quartet, an American ensemble, gave a powerful performance of one of Mozart's rare and delectable forays into the minor mode, the D Minor Quartet, K. 421. It opens with an octave leap down into despondency, and its restless undercurrent was consistently emphasized by the vigorous dynamism of the four Escher men.
M@M MANUSCRIPT—-The concert of July 19 was given in the elegant ballroom of the 148-seat Stent Family Hall. Others are offered in the 495-seat auditorium of the Menlo Atherton High School. The series is directed by the husband-wife performing duo of David Finckel and Wu Han…The series also features a concurrent coaching program for some 42 promising teenaged musicians.
Music@Menlo summer chamber-concert series in Atherton, this year featuring Schubert. For info: (650) 331-0202, or go online.
©Paul Hertelendy 2015
#
Paul Hertelendy has been covering the dance and modern-music scene in the San Francisco Bay Area with relish — and a certain amount of salsa — for years.
These critiques appearing weekly (or sometimes semi-weekly, but never weakly) will focus on dance and new musical creativity in performance, with forays into books (by authors of the region), theater and recordings by local artists as well.
#