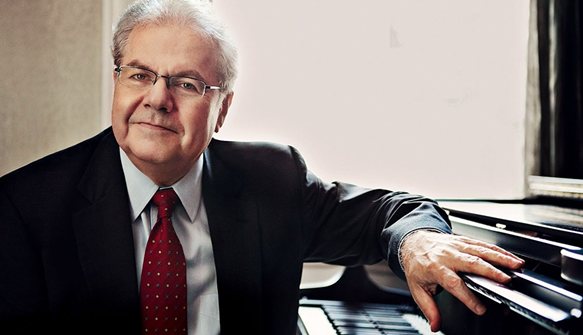 A SMORGASBORD WITH GERMANIC ORIGINS
A SMORGASBORD WITH GERMANIC ORIGINS
It was the Manny-and-Michael Show, on a high musical plane, tackling a sharply contrasting set of works at the San Francisco Symphony.
You love picaresque puckishness? Richard Strauss' "Til Eulenspiegel's Merry Pranks," and you're welcome.
You yearn to discover the unknown crannies of Mozart? You had his Piano Concerto No. 14, written in his 20s.
How about a generous dose of operatic drama? The "Leonore Overture No. 3" of Beethoven, arguably the most skillful quarter-hour condensation of an opera ever.
But the capper Jan. 12 was that shark-bite of a modernism, Schoenberg's Piano Concerto Op. 42, which was nicely defanged by Michael Tilson Thomas' verbal lead-in. He thought up (and Manny played) a conventional main theme in traditional harmonies—quite charming. Then he showed how innovator Schoenberg knocked tradition askew, with altered notes here and there replacing the expected note or cadence.
The veteran pianist Emanuel Ax followed with a pleasantly lyrical interpretation of the 20-minute modernism written at age 68, some of it downright whimsical (a word which theorist Schoenberg would surely have disavowed in his "expressionistic angst" moods). To be sure, Schoenberg had softened his austere, in-your-face dissonance in his later American-sanctuary  years, but he still practiced his twelve-tone, tone-row method that had sent many a horrified  earlier German audience shrieking off into the night.
Manny's other work, Mozart's Piano Concerto No. 14, was a candidly retrospective opus recalling earlier harpsichord techniques full of fussy turns and mordents. The pianist's nimble approach served the concerto well, even more so his looking frequently at the orchestral players, like the veteran chamber-music performer which he is, par excellence.
The "Leonore No. 3" glowed in its many facets and thematic quotations from the "Fidelio" opera, just as though MTT were also an opera conductor. The orchestra was less distinguished, with one solo note off-key, plus a trumpet section that seemed to seek compensation proportional to the decibel volume. More laudable was the Salvation Theme of the solo trumpet in the upper balcony, announcing the arrival of rescuers, by Mark Inouye.
Given the eloquent finale of "Til Eulenspiegel's Merry Pranks," full of cheekiness, delicious contrasts and quixotic thrusts, one wondered why Richard Strauss's major works  are rarely played here, either at the SFS as at the S.F. Opera. Might the SFO offer the podium for a Strauss staging to MTT after his retirement from the symphony a couple of seasons hence?? Or alternatively for a too-rarely-heard rescue opera of a woman bravely saving her man  from a dungeon death, "Fidelio?" What could be timelier today? ….The "Merry Pranks" tone poem offered repeated solos for the (high-pitched) E Flat clarinet, expertly rendered by Luis Baez.
MUSIC NOTES—-After escaping Nazi Germany composer Schoenberg, certainly one of the most famous composers of his time, settled on the West Coast and taught music for several years at the university in Los Angeles. On retiring, he got a dismissive monthly pension of less than $40, about which he complained, to no avail: It was correct, but it was not right. Ironically, only after his death in 1951 did he gain wide recognition when a hall was named for him, and his office became a museum exhibit on campus.
San Francisco Symphony in concert Jan. 11-13 at Davies Hall, S.F., with pianist Emanuel Ax in two works. For SFS info: (415) 864-6000, or go online.