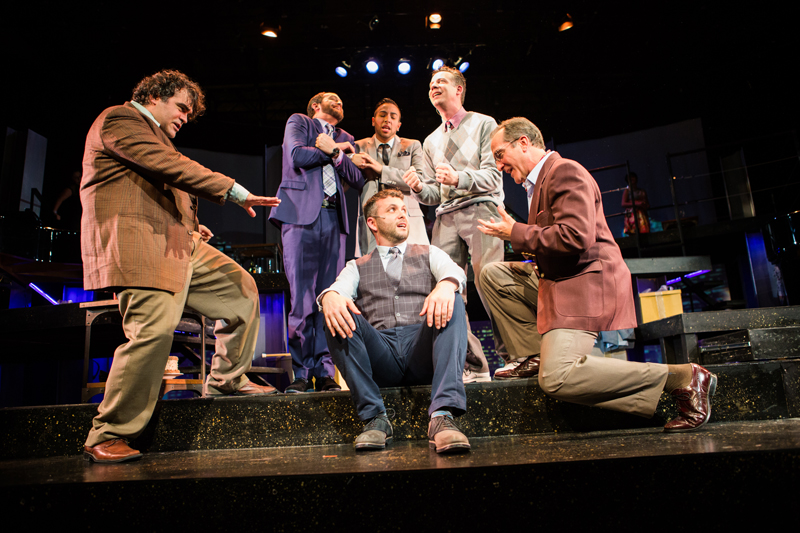 SONDHEIM'S 'COMPANY' RETURNS, TRACING WAYS OF LOVE
SONDHEIM'S 'COMPANY' RETURNS, TRACING WAYS OF LOVE
SF Playhouse has neatly staged one of Stephen Sondheim's greatest hits, "Company," a musical play about Robert who is celebrating his 35th birthday with lots of friends. He is single and most of them, except for his three girlfriends, are married.
What makes Sondheim great is his persistent minimal beat, his playing with dissonance, his frenetic pace juxtaposed with beautiful ballads, his element of quick and unexpected change and that doesn't even mention his complex and philosophical lyrics that are a form of poetry.
"Company" tells of a Robert, acted and sung by Keith Pinto, the perfect single guy who is cold, unaware and yet searching for a mate — maybe. Pinto's voice is beautiful and his acting convincing. Robert can't commit to the girlfriends, Kathy (Michelle Drexler), April (Morgan Dayley), and Marta (Teresa Attridge). Three three of them sing "You Could Drive A Person Crazy," one of the hit songs about Robert's indecisions.
His married friends invite him over for "just the three of us" and each couple has a different story. Sarah (Velina Brown" and Harry (Christopher Rever) have addictions and disagreements.
Then there is Peter (Scott Wells) and Susan (Nicole Weber) who look happy but they are getting a divorce. Next comes the evening at David (Ryan Drummand) and Jenny's (Abby Sammons) where the three of them get high. All the guys admit that they wish they were still single at times and Robert is all ears.
The funniest moment in the play is when Amy (Monique Hafen) is about to go to her wedding with Paul (John Paul Gonzalez) and has a panic attack to the song "Getting Married Today". Amy is so crazy that she crawls on the floor to get out of the situation.
Joanne (Stephanie Prentice) is unhappily married to Larry (Richard Frederick) and attracted to Bobby for whom the attraction is mutual. She sings one of the most anthologized of all of Sondheim's songs, all about her ennui. Sondheim is a master of writing songs and lyrics that typify his characters. This is what happens in opera as well.
Even though Robert longs for a partner and anticipates one coming along in "Someone is Waiting," and his boyfriends sing "Have I Got A Girl for You," it is their company and friendship and people to hang out with in the lonely city of New York that counts and this is the main theme and title of the opening number of the show "Company".
Bill English (co-founder of the troupe with Susi Damilano, fine director of "Company" ) was set designer with Jacquelyn Scott. In the background are projections (Micah Stieglitz) creating the New York Cityscape and the many apartment buildings surrounding the encounters with friends.
Shannon Sigman's costumes are appropriately everyday with Kathy in cowboy boots and simple dress and Jenny in a long, pink tutu like skirt with a cheesy stretch-top. These are meant to be ordinary, not chic, not even artistic New York, people. Kimberley Richards skilled choreography has the fourteen cast members dancing together in a chorus line.
But it is the piano duo under the direction of Dave Dobrusky that is fabulous with the two grand pianos elevated on opposite sides of the stage. Sondheim's music is difficult to play and sing (I know because I try playing it). Its syncopations and their rapid changes, its unexpected key transformations, the many quirky consonances, his off-kilter rhythm and the frenetic quality of this musical in particular that mimics the rapid and chaotic life in New York is difficult music. Same for the choral works where one or two singers are off on another plane at times and yet they all must blend together. It's hard and that is what makes Sondheim the composer that will last for centuries because he created something new, something between classical and popular, something original.
"Company" played first in 1970. Since then it has circled the world, as have many of his plays and those for which he wrote lyrics like "West Side Story ". Some of the most often produced are "Gypsy", "A Funny Thing Happened on the Way to the Forum", "Sweeney Todd", "Sunday in the Park with George", "A Little Night Music" and "Into the Woods" that was just made into a movie with Meryl Streep. And there are more.
Sondheim will be remembered for centuries to come. Like his mentor Richard Rogers and the other great song writers of the 20th century, his works have become part of the great American songbook. But there is a difference with Sondheim and his music so different: he may be one of the first cross-over artists with music landing close to what classical composers of the period were doing, from Leonard Bernstein to Philip Glass and now to John Adams.
"Company" at SF Playhouse has been selling out. It runs through September 12 at 450 Post, San Francisco. 415 677 9596 or sfplayhouse.org
#
© Carol Benet 2015
Carol Benet is a regular theater reviewer for artssf.com.
These critiques appearing weekly (or sometimes semi-weekly, but never weakly)focus on theater, dance and new musical creativity in performance, with forays into recordings by local artists, and a few departures into books (by authors of the region)as well.
#