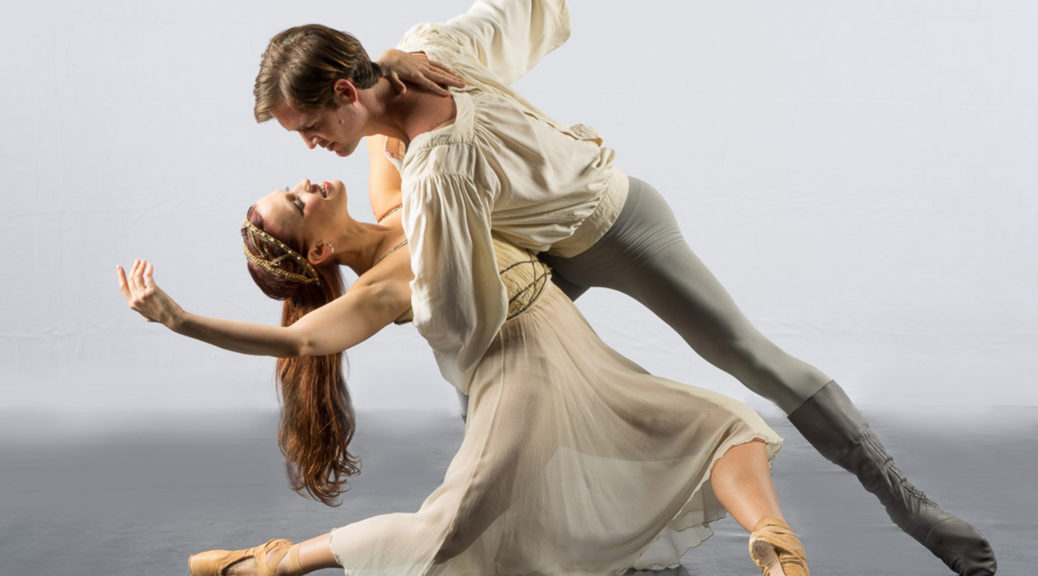 SMUIN BALLET, THREADING THE GENRES
SMUIN BALLET, THREADING THE GENRES
Starting Multi-City California Tour
The Smuin Ballet Company holds a unique position in the dance world for pursuing an idea of ballet that is more heterodox than the aesthetic perspectives of more high profile, traditional, and heavily institutionalized ballet companies. With his extensive experience on Broadway and in Hollywood, as well as in ballet, the company's founder, Michael Smuin (1938-2007), believed that a prosperous future for ballet involved the incorporation of elements from popular culture, with music, movement, and mood drawing upon imagery, rhythms, and symbols with which audiences were familiar through movies, pop tunes, and contemporary fashions.
His approach brought him difficulties when he was co-artistic director for the San Francisco Ballet (1973-1985) and afterwards. But for the last twenty years the Smuin Ballet Company has managed to maintain his legacy or at least large chunks of it. Last week, the Company performed its "Unlaced" series at Yerba Buena Center, and this was a good opportunity to see how Smuin aesthetic resonates, especially at a time when ballet companies, including especially the San Francisco Ballet, have become much more open to experimentation and innovative content than at any time in American ballet history.
The program on May 15 contained four pieces. The first piece, "Petal," choreographed by Helen Pickett, with music by Philip Glass and Thomas Montgomery Newman, was a very abstract affair in a minimalist mode requiring a total of eight dancers, four male and four female. It had its premiere in 2008, and Smuin Ballet adopted it in 2013. The whole piece develops this theme of bodies drawn to each other in different pairings, very tentative trios, and swarming groups that cannot sustain themselves and so disperse until another solitary figure or pair generates some kind of magnetic power to gather more bodies around it.
The set is basically a large box, bathed, initially, in a warm yellow light. The women wear yellow swimsuits and the men, bare-chested, wear blue trousers. The dancers swarm together, break into pairs, then slip away, leaving behind a one pair. Soon enough a single pair draws others onto the stage, the group gathers again, then breaks up into a trio of two men and a woman, which a moment later adds another woman, who quickly finds herself alone. The light turns golden, as the solo woman draws another woman and then another man. The light shifts to a rose color, then pink, and finally orange. But the piece concludes with the entire ensemble achieving, according to the choreographer, "evanescent connection." However, the piece seemed more like a theoretical definition of connection through movement rather than a persuasive experience of it.
Following this piece was Smuin's choreography of the balcony pas de deux from Romeo and Juliet, with music by Sergei Prokofiev. The piece had it premiere with the San Francisco Ballet in 1976, and it has been in the repertory of Smuin Ballet since the founding of the company in 1994. The scene suggests that love preserves innocence rather than dissolves it. In this sense, the work accommodates the "popular" sensibility that Smuin brought to ballet. But it is also the case that attitudes that were once popular quite a while back can now seem a bit old-fashioned.
It was the most conventional piece in the program, and also the most romantic. A couple (Jo-Ann Sundermeier and Joshua Reynolds) dance before a screen filled with glittering stars and the warm glow of light from a party off stage. Forty years after the premiere, the choreography perhaps does not look as distinctive as it did then. Juliet rushes toward and away and back to Romeo, who seems a bit shy but also entranced and as a result increasingly confident in disclosing his ardor with lilting lifts. Unlike most presentations of the scene, Smuin avoids presenting the couple as heroic figures who move with highly polished, idealized glamor. Here they appear as immature adolescents guiding each other toward charming intimacy rather than tempestuous passion.
Next on the program was "Hearts Suite," which Smuin premiered with the San Francisco Ballet in 1986; the piece has been in the Smuin Ballet repertoire since 1994. The theme of erotic couple bonding continues. The scene purports to evoke "the Parisian theater scene of the 1820s," but the music consists of songs by Edith Piaf from the 1940s, and the "scene" is pretty much reduced to the costumes (by Willa Kim) of Baptist (Jonathan Powell), a mime in white Pierrot garb and mask hopelessly in love with the courtesan Garance (Nicole Haskins), who wears a red flamenco sort of dress. This is a sadomasochistic pas deux about a naïve man who worships an arrogant, narcissistic woman who treats him as a plaything, as an ornamental servant.
The piece does not really capture much of anything related to Paris, the theater world, or the 1820s, and Piaf's bitter, masochistic songs may evoke emotions that people felt in the 1820s or indeed in almost any other historical era, but they don't serve well to historicize the action or clarify the historical context for this peculiar sort of sexual relationship. Garance struts, swaggers, and glides across the stage in voluptuous self-absorption, while Baptist ventures shyly to intrude upon her "space" and then to engulf her with his adoration, which causes him to sink before her, not because his passion exhausts him, but because he can only love her as a delicate human being prostrating himself, in awe, before a goddess. This male pathos, rather than Garance's domineering pleasure in herself, dominates the piece. The misery issuing from the female voice of the songs thus seems ironic without being insightful. But the piece is compelling precisely because of these peculiar incongruities.
The Smuin Ballet gave the world premiere of "Ask Me" on May 8, 2015. The choreography is by Adam Hougland, with music by Joan As Police Woman (Joan Wasser). The scene evokes a contemporary, nocturnal, fog-veiled urban milieu, like young people gathering in front of a club on a weekend evening. Five men and five women form an ensemble, but each person wears a different, "funky" costume (designed by Sandra Woodall)—some punkish, some eccentric, with some dancers wearing boots or sneakers. Much of the piece consists of the five pairs interacting with each other or attempting re-order their pairings.
The choreography makes use of many tropes found in show dancing, and the piece as a whole resembles the choreography in a music video with a ballet inflection. In the middle of it, a couple has the stage to themselves for a rather tentative pas de deux—not really a moment of love or rapture, more like wary probing of each other. The piece concludes with the five men and five women performing a kind of tribal rite of unification.
The music is an intensely pulsating throb in 6/4 time—it really swings in a way that is completely different from most club music. Yet the effect was somber, as if to convey an idea of menace or perhaps dark, relentless ambition in these seemingly eccentric young people of the urban night. The piece was the closest to embodying Smuin's concept of integrating popular culture into ballet for our time. But it incorporates elements of popular culture in the sense that it strives to be rousing, energetic, and hip, without being especially insightful about the desire (or compulsion) to achieve popularity. Apparently the idea behind the piece is that it is an unusual, almost violent, waltz-like rhythm (rather than the usual club beats) that brings the individually styled bodies into unison.
All the dancers performed very well, and each piece showed that the Company has abundant, exciting talent at its command. But if the Company's distinctive sense of purpose depends on broadening the perception of ballet to include tropes, allusions, sounds, and symbols drawn from popular culture, then, to maintain a competitive edge in relation to ballet's general drift toward innovation, the Company probably needs to explore more controversial or at least daring notions of what engages audiences about popular culture—that is, more "unlaced"!
The Smuin Ballet (www.smuinballet.org) continues at the Mountain View Center for the Performing Arts, May 21-24 (650-903-6000), then at the Lesher Center for the Arts in Walnut Creek, May 29 and 30 ((925-943-7469), concluding in Carmel at the Sunset Center June 5 and 6 (831-620-2048).
#
© Karl Toepfer 2015
Karl Toepfer is a dance reviewer for artssf.com.
These critiques appearing weekly (or sometimes semi-weekly, but never weakly)focus on theater, dance and new musical creativity in performance, with forays into recordings by local artists, and a few departures into books (by authors of the region)as well.
#