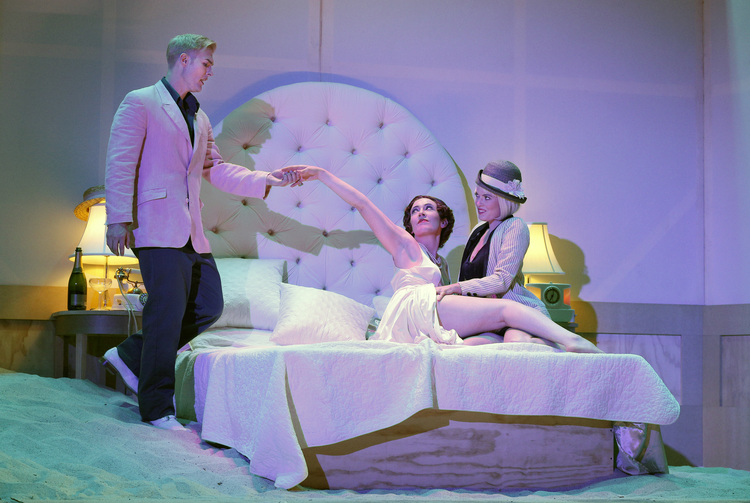 SEX RULES THE OPERA STAGE
SEX RULES THE OPERA STAGE
The Raw English Hit 'Powder Her Face' in Oakland
By Paul Hertelendy 
artssf.com, the independent observer of San Francisco Bay Area music and dance 
Week of Jan. 6-13, 2016
Vol. 18, No. 11
OAKLAND—Thomas Adès' opera "Powder Her Face" is a devastating social critique condemning women's inequality as well as the excesses of the Idle Rich, based on fact. Or, it's a two-hour exercise in audience titillation showing various freelance sexual practices, some of them more natural than others. Take your pick.
At the very least, it is a jagged comic opera revisiting the great mid-20th-century London divorce scandal of the Duchess of Argyll, a woman who after a near-fatal fall at age 21 developed prodigious sexual appetites. She was quoted as saying, "Go to bed early and often." Photos showing her giving in to those appetites with men led to her trial and divorce from the (less than saintly) Duke, who, as if playing Mozart's Leperello, provided a list of 88 alleged close male contacts of hers. The sensationalist press termed her the "female Don Juan." She was castigated, while, reflecting the prevalent sexism,  her husband the Duke came off smelling like a rose.
It's a chamber opera, in every sense: Much of it takes place in the Duchess' chamber of activities.
On paper, the jumpy, highly dissonant musical score looks like  the profile of a high-hurdles racecourse, putting the two coloratura sopranos, Laura Bohn  (in the Duchess role) and Emma McNairy  to the test with the endless leaps and jumps and yips and cries, which they managed with high virtuosity in their less-than-virtuous parts. Multiple roles in the array of male opportunists and roues were carried out by tenor Jonathan Blalock and baritone Hadleigh Adams. Keeping the various lovers apart, from time to time, was part of the challenge of Stage Director Elkhanah Pulitzer.
Mary Chun conducted the occasionally raucous score, quite possibly very well. But who really knows? As one musician conceded privately, if wrong notes were sounded, quite possibly no one in the sold-out house could tell.This was Adès' delectable futuristic chaos.
If the West Edge Opera production was a sizzling package stopping just short of porn-tinged controversy and total nudity, the animated audience response after the 130-minute  show emboodied neither outrage nor boos. There is a suspicion that WEO spices up its shows far beyond the original intent, much as in last year's totally nude "Lulu."
Were this Adès' only work, he'd be termed the bad boy of music, as once was George Antheil. But the brilliant Adès has written many serious solo and symphonic pieces played by top ensembles on both sides of the Atlantic. You're tempted to say that West Edge Opera (formerly called Berkeley Opera) has once again sensationalized a work to the max visually, much as in last summer's "Lulu." In its headline-catching summer seasons, West Edge is determined to be cutting edge, to the very edge  of undermining its aspiration to high artistic achievement.
But give West Edge credit, filling the Bay Area's fallow July-August months with opera, drawing audiences old and (fairly) young to the long-abandoned Oakland 16th Street R.R. Station, seemingly at the edge of the western wilderness. They are breathing life into a long-dead historic edifice as well as animating Oakland, which has had a long history of opera companies going belly-up.
WEO has had such impact with Adès, an extra performance has been added. In all, there are three operas through Aug. 14, separated by approximately one century each.
My advice: Best not to take your grandma to this Adès opera, nor any of the kiddies. Rate it R, as in R.R.
Thomas Adès' chamber opera "Powder Her Face," with orchestra. 130 minutes, one intermission. West Edge Opera at the former Oakland Railway Station, 1405 Wood St. For info on WEO: (510) 841-1092, or go online.
©Paul Hertelendy 2016
#
Paul Hertelendy has been covering the dance and modern-music scene in the San Francisco Bay Area with relish — and a certain amount of salsa — for years.
These critiques appearing weekly (or sometimes semi-weekly, but never weakly) will focus on dance and new musical creativity in performance, with forays into books (by authors of the region), theater and recordings by local artists as well.
#