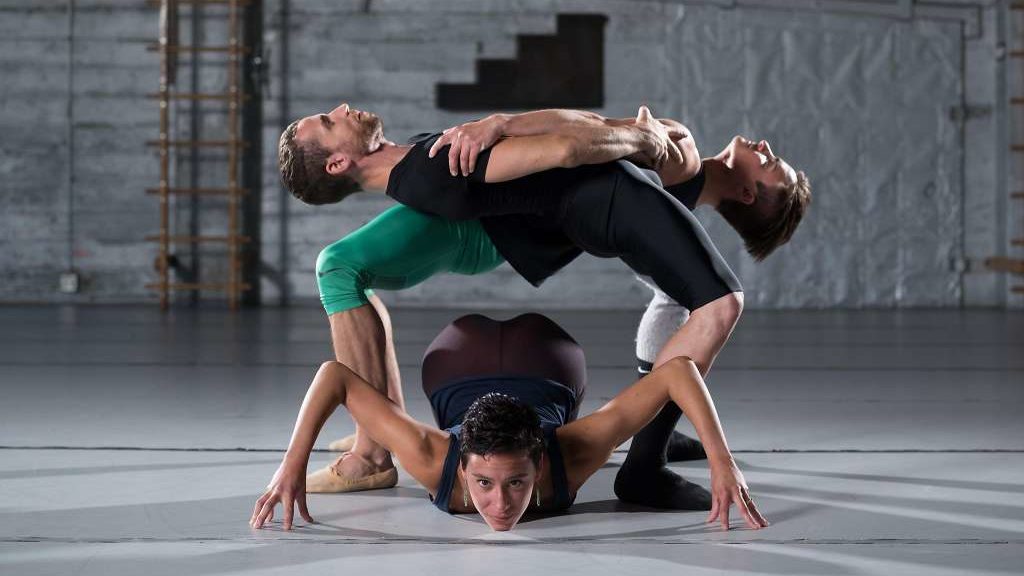 SEIWERT'S NEW IDEAS, DIRECTIONS IN DANCE 
SEIWERT'S NEW IDEAS, DIRECTIONS IN DANCE 
By Paul Hertelendy 
artssf.com, the independent observer of San Francisco Bay Area music and dance 
Week of July 13-20, 2016
Vol. 18, No. 77
Dismayed by the sameness of too many dance performances?
Amy Seiwert's new thrusts show great promise to break out of the mold, via her Imagery company's "Sketch 6" series of July 8-10. This was bold, invigorating innovation by four choreographers, each working to stretch the envelope of movement, performing in an intimate theater (Cowell, on the docks) for optimum audience proximity.
Once again, we have the Bay Area phenomenon of a small local company achieving goals that elude the big guys. The creators' assignment was to use words as their inspiration. But, far more telling, was the expansion of movement, with vivid facial expressions, shrugs, slouches, pretzel twists, gesticulations and even abandonment of ballet pointe shoes.
Adam Hougland's "Cigarettes" was all about dance-theater, with furniture and men all over the stage, and a refrigerator containing—the heroine. The men dance while sitting around (yes, it's possible), and chairs are tossed about with abandon by performer-tumblers.
I loved the exuberance of Nicole Haskins' "With Alacrity," a high-energy piece with hints of uncouth romance, some of it caveman-style with the partner dragged about the floor. The flying arms of the four dancers filled the space with a joyous lack of inhibition.
The most original from this vantage point was Seiwert's "Instructions," with the versatile dancer-actor Scott Marlowe offering enigmatic instructions and fairy-tale fantasies from poetry of Neil Gaiman. The drama even extended to the aisles as the lean, remarkable dancer Sarah Griffin became the focus. The arresting final scene was like an ancient frieze, with six performers tightly grouped, looking upstage, and in the middle a lone head looking out like a nightmare spook, seemingly belonging, and yet not.
The best known of the choreographers was Val Caniparoli, who offered the entertainment "4 in the Morning." It's a giddy, uninhibited romp, with kisses stolen both mixed-gender and uni-gender, as if in a late-night cabaret with an ageless Lotte Lenya as the vocalist. Here no holds are barred to the sexy celebrant sophisticates darting, flashing and, when 4 AM finally arrives on stage, collapsing.
All in all, "Imagery" again offered a thoroughly engrossing evening of moves by the tireless nine-member ensemble inspired by new ideas of four innovators—mandatory viewing for dance fans and choreographers alike.
Amy Seiwert's contemporary ballet company "Imagery," at the Cowell Theater, Fort Mason, San Francisco, July 8-10. For info on Imagery: go online.
©Paul Hertelendy 2016
#
Paul Hertelendy has been covering the dance and modern-music scene in the San Francisco Bay Area with relish — and a certain amount of salsa — for years.
These critiques appearing weekly (or sometimes semi-weekly, but never weakly) will focus on dance and new musical creativity in performance, with forays into books (by authors of the region), theater and recordings by local artists as well.
#