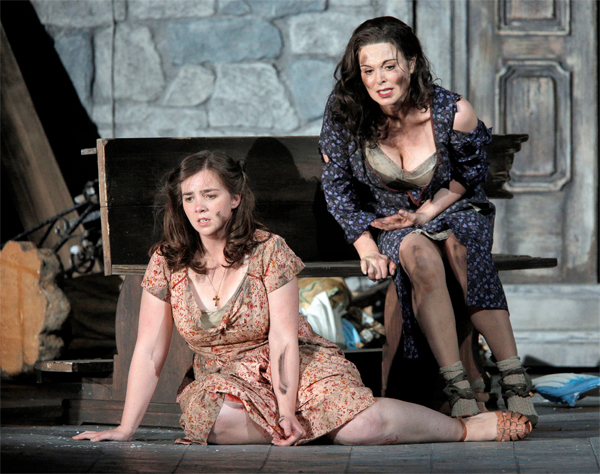 SAN FRANCISCO'S OPERA PREMIERE IN ITALIAN
SAN FRANCISCO'S OPERA PREMIERE IN ITALIAN
Tutino Work Recalls World War Atrocities
SAN FRANCISCO—The Italian world premiere opera "Two Women" is a vibrant old-style melodrama with immediate appeal, one that will play even better when it arrives in Italy.
A World War Two tragedy became a novel, then film that had propelled Sophia Loren into super-stardom, and now a searing opera of a woman's wartime ordeal composed by the retiring, soft-spoken Marco Tutino, 60. Tutino's musical roots lie close to Puccini's cohorts of a century or more ago, the velvety lyricism supplemented now by his hammering of Hollywoody climaxes that go clearly over the top. But when reprised Italy, it will hit infinitely closer to home, recalling the Ciociaria region where women were ravaged en masse and men indiscriminately shot in 1943-44, caught between sides in bloody warfare. The accurate opera title, "La Ciociara," refers to the indestructible heroine-victim of the tale.
The opening June 13 was historic, the first time that the S.F. Opera ever premiered a work in a foreign language, and the first time that such a large gathering of writers and critics (95) had ever congregated at the SFO to cover a performance.
Tutino has the gift of consonant melody and of characterization, painting a compelling simpatico picture of the long-suffering title-role woman Cesira and the 16-year-old daughter Rosetta. He creates arias for these, as well as the doomed boyfriend Michele, set off against two villains and a rapacious band of soldiers. While Tutino's music is appealing, there is no denying the excess melodrama of the very good vs. the very bad, nor the heavy clichés of dunning brass and percussion in the final act, nor the borrowing of at least four popular Italian numbers (written by others), fully credited, woven into the score.
Rapes and wartime survival are dominant themes, tied in with the plight of the common man or woman. That slithering anaconda Giovanni is the on-going adversary, first as rapist then as a Fascist opportunist. A no less savory German officer (von Bock) achieves goals by manipulation. The two take into custody the boyfriend and school teacher Michele, who is ultimately executed.
The world collapsing around them, as in Berthold Brecht's German play "Mother Courage," is weathered by an indomitable woman who grimly faces all conceivable trials and obstacles—a testament to the fiber of the mother figure, a modern-day Madonna also coping with a daughter left adrift by forces far beyond her ability to bounce back.
The key role of Cesira fits mezzo Anna Caterina Antonacci like a glove: dramatic, vulnerable, quick-witted, affectionate, highly attractive and endowed with more lives than a cat. The first reaction by any Pucciniesque composer would be to cast it for a soprano. But Antonacci's presence is so plausible, so right, it seems inevitable. And her final aria "Flaming Flower" is enough to melt the hardest heart.
An essential Italian triumvirate stood at the core of this work: Antonacci, Tutino and SFO Music Director Nicola Luisotti, who was the essential go-between for the SFO's David Gockley and the composer. Luisotti also brought notable feeling and fire leading the score, which had been no picnic for the pit musicians to master.
Stage director Francesca Zambello captured many contrasting elements, from Italian villagers to Roman street scenes to arrogant Nazi officers to quislings to savage, cruel soldiers. Superimpose the extensive World-War newsreels, and bombing that virtually collapse the stage, and you have drama almost too powerful for its own good.
Mixed in are several popular Italian songs and street-singers. For the village-square dancing of the epilogue, Tutino wanted something in folksy style, but observed candidly, "It's not simple to write something simple!" Instead, he used a 1943 song, "A Path in the Woods" (La strada nel bosco).
The cast was top-drawer. The Wagnerian bass-baritone Mark Dalavan was the best known of these, playing a scary Giovanni. Dimitri Pittas was a likable boyfriend, with a strong tenor voice that carried to the farthest reaches of the Opera House.
Soprano Sarah Shafer played the challenge of transition from girl to war victim. And dark-voiced bass Christian van Horn was the oily Nazi von Bock, sniffing out treason behind every dining-room chair. Apart from English spoken by a downed US flyer, all the text was in Italian.
All in all, "La ciociara" is a fitting farewell feather in the premiere-studded cap of SFO General Director Gockley, who has announced his retirement a year from now. Who will replace him? Many names pop up in speculation, among them the stage director this night, Francesca Zambello.
MUSIC NOTES—Seen at the June 13 world premiere: Italian Consul General Mauro Battocchi, and Paolo Barlera the head of the Italian Cultural Institute. Many audience members had traveled from Italy. Also present was the director of the opera company in Torino, Italy, which is the co-producer and co-commissioner, slated to mount this work in 2018….Tutino emphasized that this opera was based not on the Sophia Loren movie, but rather on the Alberto Moravia novel from 1958, with free adaptation to fit his neoromantic and neo-verismo musical instincts, including the introduction of a new villain, Giovanni.
Tragedies in spades Saturday: News of the passing of Berkeley's David Littlejohn, 78. Handicapped and confined to a wheelchair in recent decades, still he soldiered on to attend and review countless operas at the SFO, writing for elite Eastern journals like the Wall Street Journal. He had also been professor in Berkeley's Graduate School of Journalism.
Tutino's world-premiere opera "Two Women" (La ciociara), in Italian at the S.F. Opera. Through June 30. For info: (415) 864-3330, or go online.
©Paul Hertelendy 2015
#
Paul Hertelendy has been covering the dance and modern-music scene in the San Francisco Bay Area with relish — and a certain amount of salsa — for years.
These critiques appearing weekly (or sometimes semi-weekly, but never weakly) will focus on dance and new musical creativity in performance, with forays into books (by authors of the region), theater and recordings by local artists as well.
#