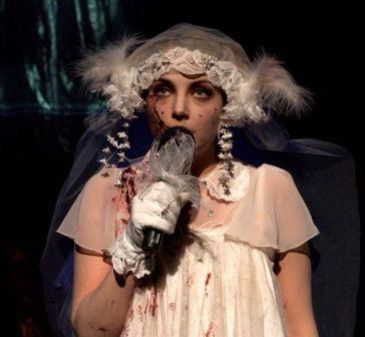 SAN FRANCISCO'S DANCE CORNUCOPIA
SAN FRANCISCO'S DANCE CORNUCOPIA
Via the International Festival
By Karl Toepfer
artssf.com, the independent observer of San Francisco Bay Area dance
Weeks starting June 15, 2015
Vol. 17, No. 74
SAN FRANCISCO—From May 21 to June 7, Fort Mason hosted the San Francisco International Arts Festival. This extravaganza presented more theater, dance, and music groups than anyone can sanely absorb. Most of the performers came from the United States, but several groups came from faraway places like Iran, Poland, Kurdistan, Ireland, Taiwan and Argentina.
Of course, the commendable and exciting purpose of such a festival is to showcase the diversity of aesthetic strategies and performance cultures that characterize a global idea of "contemporary" performing arts. Dance concerts featured three or four companies on the same program, with concerts occurring in different spaces of Fort Mason. The spectator therefore tended to get a sampling of different dance styles rather than a sustained look at any one style. Audiences were small, but they were obviously enthusiastic devotees of "new" ways of making dance, and one does get a sense in this sort of performance environment that the future of dance rests with performers and organizers who want to make innovative "connections" between companies, cultures, and performance styles in a collaborative production environment rather than in the autonomous fiefdoms of heavily institutionalized domains of separate companies. I saw seven dance companies perform in two spaces, The Fleet Room and Cowell Theater.
However, the festival environment brings with it various constraints. The performance spaces are quite rudimentary. In the Fleet Room, the audience surrounds the stage on three sides, and the stage is simply a rather narrow section of warehouse floor on which the dancers perform. But the audience is encouraged to move about the space to view the performance from different angles, especially since large pillars can obscure a view of some of the action. Opportunities for creating a scenic environment are extremely limited here and in the Cowell Theater. The festival format does not allow for the display of performance innovation in relation to lighting, costume, or digital technology. Choreographic imagination consequently tends to focus on bodily movement of an abstract nature and to avoid narrative complexity. This means often that choreographers avoid drama or conflict-oriented action that engages audiences emotionally. Nearly all the pieces are no longer than 20 minutes long.
The scale of performance is small, even if the theme is big, such as the world premiere, in the Cowell Theater, of "Remembering Again" by Christine Germain and Dancers. The spectator definitely needs to consult the program notes to understand that the piece is about remembering the Bhopal chemical disaster of 1984. On the stage, under a dim spotlight, one sees a pair of female bodies locked together and pushing against each other, until a third woman appears, also in some sort of drab, brown-gray costume; finally, the three bodies form an imploding cluster accompanied by the sound of distorted electronic noise.
A similar mood of dark alienation under a dim spotlight prevailed in "A Dedication" (2014) by Gretchen Garnett and Dancers, accompanied by electronic music from Colleen et les Boites a Musiques, in the Cowell Theater. The piece "looks into loss and how people deal with death." Four female dancers engage in a combination of interactions that create the impression of bodies clinging to each other or navigating around each other in a depressive atmosphere. But because the piece does not identify the conditions under which loss and death has occurred, the spectator witnesses the attempt by the choreographer to describe in movement an emotional state that, devoid of context, has less to do with grief or with any other tragic emotion than with the representation of feeling being stifled or deeply recessed, incapable of revealing itself in the empty darkness.
In the Fleet Room, the ka.nei.see collective, under choreographer Tanya Chianese, presented a medley of excerpts from different pieces in its repertoire. Four female dancers in green tops and black skirts performed a variety of modern dance tropes: bodies roll toward and away from each other; they hunch together then pivot away; they lunge under and over each other; they dart away from each other and a flinch or slight undulation draws them together again. Often movements resemble gymnastic poses or components of a tumbling exhibition. Indeed, the piece unfolded like a series of studio exercises strung together.
The four women consistently appeared "friendly" with each other, but the dancing became more agitated toward the end until they collapsed and lay on the floor; all you could hear was their breathing. But then they rose up in unison. The piece seemed to be about the unity of the small group across different pieces with different musical accompaniment—it's about staying "friendly" despite moments when bodies don't feel comfortable with each other and must break away momentarily.
This seems to be a common theme of modern dance choreographers these days: how to maintain a group identity in spite of occasional slight differences between members, which in this and many other modern dance works implies maintaining a "friendly" disposition toward the idiosyncrasies of others in the group. With this philosophy, groups do not harbor or nurture fundamental conflicts within them, do not engage in dramatic struggles for power over others, and avoid examining relations between leaders and followers. It is an aesthetic that self-consciously strives to imagine social organization that is free of "dominant" personalities. The result, however, is a work that is friendly without having any power to move an audience or to awaken any deeper awareness of one's need to belong to a group.
A similar sensibility is at work in Katerina Wong's piece "36 Questions," which had its premiere in the Fleet Room, with intermittent music by four composers. The group consisted of four female dancers. What was interesting here was the incorporation of speech and digital text into the dance. On a screen at the rear of the room appeared questions or statements in rapid succession, although it was sometimes difficult to see the screen from where I sat. The text consists of 36 questions ("inspired by Arthur Aron's study, The Experimental Generation of Interpersonal Closeness) that ask the viewer to consider how the answer defines or differentiates him or her, such as "For what in your life are you always grateful?" or "If you could wake up tomorrow having gained one quality or ability, what would it be?" A dancer also speaks each question, and the dancers move with each question into varying physical representations of "closeness," for these are questions that Aron believes turns strangers into friends. But the piece culminates with a monologue given by Ms. Wong, who recounts a story by a friend that focuses on the phrase, "We're all feeling worn out." She danced while speaking, and this was quite delightful, although at the end of the piece, she turned to the row in which I was sitting to remark, "I feel really conflicted about doing this." Other dancers in the group said other things to the spectators nearest them, while the soundtrack, however, produced indistinct male voices.
In the Fleet Room, the Detour Dance Company presented glimpses of a work, "Beckon," that it will premiere in December at NOHspace in San Francisco. The ensemble contained four women and two men. This piece, which uses music by the Steve Reich Ensemble and Boys Town Gang, introduced some drama into dance performance. The two men formed a pair that for the most part performed independently or at least in contrast to the female group. The men display an erotic bond, and the choreography, by Kat Cole and Erik Garcia, is skillful at combining movements of intense intimacy with sudden eruptions of aggressive posturing, as if moments of affection and vulnerability spark impulses in the dancers to test each other's strength or resistance to desire.
One especially unusual moment occurs when both men lower their pants to their ankles and then dance with their feet thus shackled. The female group functions somewhat independently of the male pair. It's not a "friendly" group; each time the group holds the stage, something menacing happens, and it is as if the group turns upon itself and picks on one of its members to ostracize or victimize. The piece makes abundant use of apples as props and motivations for movement; dancers lunge at upheld apples; they eat them; they steal and hoard them; they balance them on their heads while moving. Apples roll onto the stage as dancers intertwine; a dancer attempts to pick up all the apples, hold them, precariously, then arrange them in a mysterious circle or line, as the erotic male duo return for some more macho posturing. "Beckon" offers numerous tantalizing moments, but the significance of the piece will probably not be clear or coherent until the complete work premieres in December.
The Davalos Dance Company, in the Cowell Theater, also performed excerpts from a large work, "Oh, the MOON!" which it will take on a tour of Italy in 2016. The company is much larger than any of the other groups and much more attached to theatrical effects. The piece presents a progression, in five brief scenes, from twilight until the summit of the full moon deep in the night. A couple enjoys a sunset picnic at the beach and dances to the music of Dean Martin's "That's Amore." Soon a family enters the scene and takes over, with music by The Beatles.
With this company, music is integrated into the choreography: dancers convey a sense of interacting with the shifting rhythms and tonalities; the music is not simply a background texture meant to fill the oppressive emptiness of movement performed in silence. Music from Frank Sinatra ("Fly Me to the Moon") and Glenn Miller ("Moonlight Serenade") accompany further scenes, along with texts from Frederico Garcia Lorca and the choreographer, CatherineMarie Davalos. In one scene, a middle-aged woman seems to recall, under the spell of moonlight, the happier, more beautiful days of her youth. It is a very romantic work, with a wide range of dancers who construct, with the aid of colored lighting, pretty costumes, and a few projections, the impression that moonlight casts a peculiar spell over people of different ages and heritages. It is this otherworldly light that creates a measure of poetic unity in a world otherwise invaded with darkness and dark dreams.
Horse Company, from Taiwan, made its West Coast debut at the Festival with the piece "Two Men" (2012), in the Cowell Theater. This was the most interesting of all the pieces seen. The company consists of four men, but in performance only three men are seen. The composer, Shih-Yang Lee, appears on stage playing a prepared piano from which he extracted a wide range of sounds ranging from Chopin-like nocturnal passages to honky-tonk rambles to aggressive strumming and smacking of the piano strings. The piece lasts about 35 minutes and always in quite subdued lighting, as if all the action occurred under a street lamp.
The dance describes the erotic relation between two men (Wu-Kang Chen and Wei-Chia Su). One man has a beautiful, athletic body; the other man is "chubby." The chubby man explains, often quite humorously, his complicated relationship with the beautiful man, and his speech blends well with graceful, incisive movements. But the relation between these two men becomes tangled up with the chubby man's relations with his disapproving father and brother, both performed by Su. The piece is about the struggle of two men to overcome external and internal pressures to embody a masculinity that is in profound tension with the masculinity that binds them together. Speech and movement are often exquisitely interwoven, and a delicate melancholy suffuses the entire work. At one point, the two men perform an elegant and moving duet in unison with movements that combine soft shoe steps with balletic inflections. Lee and Su are the choreographers, but the conception and organization of the piece is evidently the work of theater director Edward Lam. Although "Two Men" was perhaps the smallest work in both concerts in relation to production values, it also was the most vividly emotional, inventive, and complex of all the works presented, in part because of its blatant embrace of theatricality and pleasure in introducing melodramatic touches, elements of pathos.
Horse Dance Company is the first and only all-male dance company in Taiwan, founded in 2004. The company has performed in New York City, Shanghai, Singapore, and Germany: http://www.horse.org.tw/horse/abouthorse.html.
Christine Germain and Dancers, founded in 2007 in Montreal, now makes it home in San Francisco and works closely with Counterpulse. Germain is from Quebec, but she studied dance at UC Davis, before doing graduate work at Concordia University in Canada: http://cganddancers.org/about-bio/
Gretchen Garnett and Dancers was founded in 2008 in San Francisco, but since 2012 has made Amsterdam it base of operations. The company has performed at various places in the Bay Area, but more recently most of its performances have occurred in The Netherlands: http://www.gretchengarnettanddancers.com/
Detour Dance, founded in 2009 by Kat Cole and Erik Garcia while they were students at the University of San Francisco. The company operates in San Francisco; its primary focus is the production of experimental dance videos and it produces the San Francisco Tiny Dance Festival, which showcases short dance videos. A goal of the company is to "explore the inconspicuous through multi-media, dance-theater, and site-specific work." http://www.detourdance.com/mission/
CatherineMarie Davalos founded the Davalos Dance Company in 1994 with the goal of infusing dance with themes, motifs, and elements derived from her Chicana heritage, with a special focus on issues of "identity, racism, sexuality and community." The company has strong ties with St. Mary's College, where Davalos is a Professor, and the CounterPulse dance space in San Francisco. http://davalosdance.org/bios.html
Ka.nei.see collective is a "Bay Area performing arts ensemble" under the direction of Tanya Chianese. The collective seeks to "create vitalizing and accessible contemporary dance that promotes finding humor, appreciation, compassion, awareness, and celebration in life." http://www.kaneisee.org/#!about/c240r
Katerina Wong works with ka.nei.see collective, but she is also busy as an actress, singer, writer, and photographer. She began choreographing as a student at Princeton University. She has danced with and choreographed for numerous companies in Bay Area, and she is the "digital engagement specialist" for the LINES ballet. http://katerinawong.weebly.com/bio.html
#
© Karl Toepfer 2015
Karl Toepfer is a dance reviewer for artssf.com.
These critiques appearing weekly (or sometimes semi-weekly, but never weakly)focus on theater, dance and new musical creativity in performance, with forays into recordings by local artists, and a few departures into books (by authors of the region)as well.
#