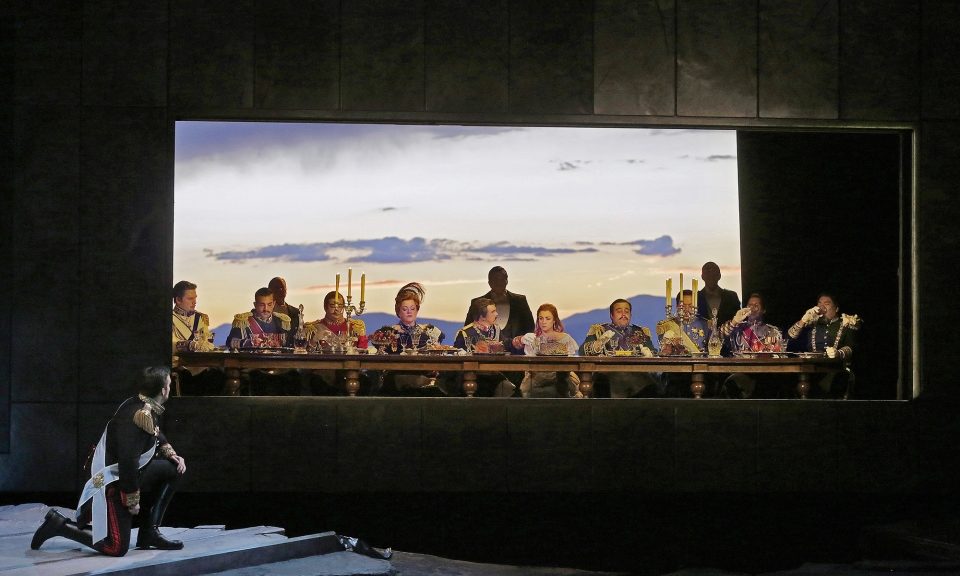 SALOME MEETS THE OFFICE WORKER
SALOME MEETS THE OFFICE WORKER
Strange Updates to Biblical Sizzler
SANTA FE, NM—Current-day producers love to revise scenarios of traditional operas, apparently to fascinate the regulars who have seen it 20 times already.
Take Richard Strauss' powerful one-act "Salome," already performed here at the Santa Fe Opera in 10 previous seasons. The story may be Biblical, but that doesn't mean it's sacred. For the current Santa Fe Opera production, in the famous Salome Dance of the Seven Veils, not a single veil is thrown off. All the attire is now elegant turn-of-the-century attire, as if out of Emperor Franz Josef's realm. Instead of a cistern, Jochanaan the imprisoned holy man is in a shabby office in western clothes, acting like a novelist writer. The sword-wielding executioner never appears, but the holy man's corpse and severed head does, allowing Salome to smother it with passionate kisses. When she is ordered killed by her grossed-out stepfather Herod, instead she retreats into a picture-frame setting containing what may or may not be her alter ego, a figure that may assure a continued life while assuring sidestepping one of opera's most gruesome family-feud murders.
But musically, this 16-cylinder "Salome" still works, with Straussian voices robust enough to shake the foundations, and an overachieving orchestra under the masterful David Robertson. The Bulgarian soprano Alex Banda is riveting in the title role, with a Niagara of an upper voice range, and tenor Robert Brubaker is the consummate decadent ruler Herod, thirsting and lusting after his stepdaughter. Bass-baritone Ryan McKinny is an unassailable lay-down-the-law Jochanaan, even in that ridiculous office garb (revealing none of the text's "ivory white" skin that enkindles Salome). Contralto Michaela Martens showed us a Herod's Wife of fearsome opposition.
In the ultimate silliness, Salome's famous dance, now confined to just arm movements, provides all the excitement of a cop directing traffic along the Santa Fe Plaza.
Once Director Daniel Slater gets through here, could some one else please show us the real "Salome," out of Strauss, from Wilde? No, no naked dance required; just some semblance of the true scenario with its violence and sex obsession. This may be the opera world's ultimate object lesson in decadence and incest, executed with the unique voluptuousness imparted by Strauss & Wilde.
Strauss' one-acter "Salome," at Santa Fe (NM) Opera, through Aug. 27. 100 minutes. In German. For info: (505) 986-5900, or go online.
©D. Rane Danubian 2015
#
D. Rane Danubian has been covering the dance and modern-music scene in the San Francisco Bay Area with relish — and a certain amount of salsa — for years.
These critiques appearing weekly (or sometimes semi-weekly, but never weakly) will focus on dance and new musical creativity in performance, with forays into books (by authors of the region), theater and recordings by local artists as well.
#