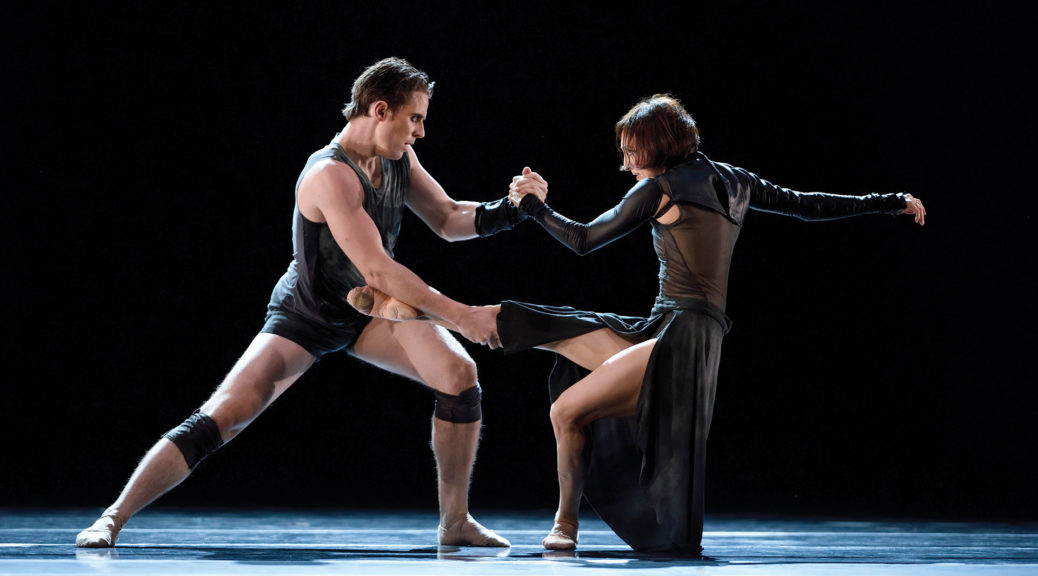 SALOME JOINS HIGH SOCIETY
SALOME JOINS HIGH SOCIETY
The modern-day Salome arrives formally attired in red in a luxury limousine, and departs the same way, carting the severed head of John in the back seat. And along the way, she drinks controlled substances and staggers stupefied throughout.
The is not reality TV, but rather the S.F. Ballet at the Opera House playing Arthur Pita's sexually overcharged world premiere "Salome," more than a century removed from the scandalous stage versions by Oscar Wilde and Richard Strauss. Even though she avoids any Dance of the Seven Veils, the head-as-souvenir (passionately kissed, of course) was so repulsive, I'd match this version next to the Wilde-Strauss oldie. which you recall had been vehemently denounced all over Europe and the US.
In the title part we had the latest role by the fast-rising Dores André, playing the sullen, spoiled daughter of Herod (Val Caniparoli)—now no longer a Biblical ruler, but rather an oligarch-millionaire. His wife Herodias is a grande dame of café society, lacking only the long white gloves of some Hollywood diva.
The imaginative reworked scenario has the earthy Salome selecting her partner John (Aaron Robison) from a bedraggled group of eight half-naked male prisoners, as if running a slave trade, forming the nonet of dancers in this story ballet. Salome and John enter into a modern pas de deux till he drops exhausted, and Herod orders his execution. The codicil, with the mesmerized Salome dancing about the severed head, ripping off the coverlet, putting it over her and kissing it, and waltzing off with the trophy, adds up to a lurid ballet destined to be hugely controversial wherever it is performed, whether at the Opera House or elsewhere later on.
Despite some confinement by a floor-length dress, André still impressed in the spotlight, and Robison reflected sinewy power, even when shoved about like a kewpie doll by guards. There were no fireworks this night, just confetti cannons sending up showers, perhaps conveying sexual arousal. The brooding music by Frank Moon fit the dark moods to a T. As for the theme: as much a critique of absolute power (Herod et al) as it is reminiscence of the tragic old John-the-Baptist Biblical saga. Any resemblance to the new D.C. administration is purely coincidental.
The two other works (seen March 11) were clean-cut high-energy pieces, both featuring the habile principals Frances Chung and, in her final season, the Cuban Lorena Feijoo. Yuri Possokhov's "Fusion" (2008) was an astute concept contrasting Middle-Eastern dervish dancers with Western ballet—then having each group converted to the other culture in a classic Kiplingesque cross-over. Along the way, a scenelet reenacts suppression of women in the East. Possokhov's adroit work embodies social and political messages again and again.
"Fearful Symmetries" by Liam Scarlett, one of the hottest current choreographers out of England, is a half hour of swirling, spinning bodies moving to frenetic rhythms by John Adams. The wailing soprano sax heard in "Fusion" returns here to give a unique sonic color. Feijoo here was menacing, like a black widow spider about to devour her mate. This very modern piece, devoid of toe shoes, offers a lot of intensity, pelvic wiggles and arm swings, beneath a pattern of rectilinear pencil-like neon lights. On this night, Yuan Yuan Tan and Carlo Di Lanno added a fine pas de deux.
BALLET NOTES—You could spot two of the SFB's prominent choreographers in this program: Possokhov via his "Fusion," and Myles Thatcher, in person, as one of Salome's eight prisoners. When not creating new ballets, Thatcher is in the large (and largely anonymous) SFB corps de ballet….SFB casts rotate nightly.
San Francisco Ballet Program 5, seen March 11 at the Opera House, S.F. For SFB info: (415) 865-2000, or go online.