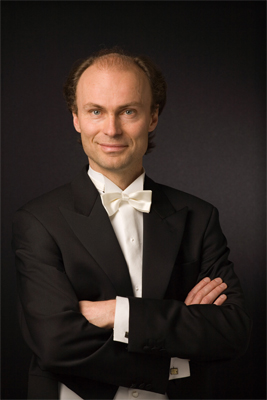 RUSSIAN VOICES, FROM CELESTIAL TO DESPONDENT
RUSSIAN VOICES, FROM CELESTIAL TO DESPONDENT
An Uncommon, Unaccompanied Chorus
Give credit to the Swede Ragnar Bohlin, who moonlights leading his Cappella SF when he's not leading the prize-winning S.F. Symphony Chorus. What's more, with Cappella he resurrects choral rarities rarely encountered elsewhere. It's a gourmet paradise in voice.
This time it was a spectrum of unaccompanied pieces we rarely hear outside the Russian Orthodox Church. And he appended the dark perspectives of modern-day composers who were rankling under the repression and bleakness of Soviet Communism.
The 25-member chamber chorus Capella SF is an elite group achieving letter-perfect tuning and a gorgeous sound—at least, when heard in the inviting acoustics of Mission Dolores Basilica. If the women sounded more accomplished than the men, it's in part because only in Russia is the landscape overflowing with low, low, low male voices so important in this liturgy. The story's still told of the great bass Feodor Chaliapin, who ended an aria on a resounding low C, whereupon a Russian near the back of the hall sounded his loud bravo several notes lower! A work like Rachmaninoff's "All-Night Vigil" calls for basses going down the scale toward the end to a subterranean low B flat, beyond the range of these singers here at the Jan. 17 concert. (A typical amateur bass can go down comfortably to an F, a fifth above that elusive B flat.)
No matter, the concert was a resounding and stimulating success. I was mesmerized by dour modern works by Sergei Viluman and the important composer Alfred Schnittke. Schnittke's "Psalms of Remembrance" (1988), four of which were performed, brought home the bleak Communist-era scene, with much of its drama, and implicit critique of the system, conveyed by falling chromatic scales. As a protest piece, it is quite effective.
Viluman's "Night, Street, Lamp, Drugstore" uses a secular poem to dramatize loneliness and emptiness with modern harmonies, ending enigmatically.
The others were works for the church, sung in Old Slavonic, with the 24-minute "All-Night Vigil" the biggest and the best known.
I've long been a fan of the Beethoven-era composer Dmitri Bortnyansky, who was actually Ukrainian, not Russian. His Cherubic Hymn No. 7 used harmonized chant—a common development, even more than two centuries ago—and it was distinguished by the high sopranos, plus some grand crescendos bearing a Bohlin imprimatur. Also of interest were works of a century ago, Pavel Chesnokov's "Salvation Is Created," and Alexander Grechaninov's "Our Father."
MUSIC NOTES—-Rachmaninoff had selected for his funeral No. 5 of the "All-Night Vigil," with a text recalling Bach's last work: "Lord, now lettest Thy servant depart in peace…." Cappella SF, now two years old, had conceived this program to celebrate the older calendar's New Year Old Style of Jan. 14…. The group carries out typically two programs a year, with the next one Norwegian music May 15, again at Mission Dolores under Bohlin's leadership.
Cappella SF's Russian program given Jan. 17 at Mission Dolores Basilica, San Francisco. Ragnar Bohlin artistic director. For Cappella SF info: Go online.
©Paul Hertelendy 2016
#
Paul Hertelendy has been covering the dance and modern-music scene in the San Francisco Bay Area with relish — and a certain amount of salsa — for years.
These critiques appearing weekly (or sometimes semi-weekly, but never weakly) will focus on dance and new musical creativity in performance, with forays into books (by authors of the region), theater and recordings by local artists as well.
#