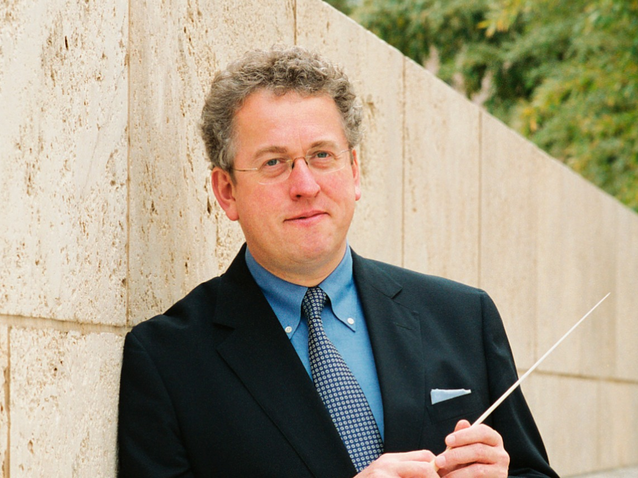 RISING FROM THE ASHES – A Santa Rosa Symphonic Renaissance
RISING FROM THE ASHES – A Santa Rosa Symphonic Renaissance
A brave guest conductor indeed, the visitor who introduces Bartok with a 12-minute illustrated lecture.
But the English conductor Graeme Jenkins got away with it and had the Santa Rosa Symphony crowd firmly in his corner for a modern masterpiece, Bartok's "Concerto for Orchestra" (1943).
Along the way, putting away his baton, he had led articulate readings of Haydn and Mozart. The evening as a whole was rousing—far more an experience than a concert.
Clearly the night's focus Jan. 13 was on the Bartok concerto. Jenkins cheekily gave his personal narrative interpretation in the piece, as Bartok left us none: The first three movements referred vividly to World War Two, its despair, its horrors. The 4th was nostalgia for Bartok's prewar Hungary. And the 5th was a beacon of hope and renaissance.
While Jenkins' impact was considerable in defusing a less familiar piece, his views are debatable, e.g., most analysts take Bartok's musical quote from Shostakovich not as nostalgia but as a deliberate burlesque of a resented Soviet composer.
What was certain were the quotations of numerous themes from Bartok's homeland, both folk and urbane, particularly the tune from the popular musical "Beautiful Hungary," introduced by the splendid viola section. If that isn't nostalgia for a refugee composer, what is?
Save a few of your exclamation points for the night's Israeli pianist, Orli Shaham (sister of Gil S., and wife of fast-rising conductor David Robertson). Her play in Mozart's Piano Concerto No. 21 ("Elvira Madigan") was clean, nuanced and refreshing. Long after the "Madigan" movie has faded into oblivion, Mozart's slow movement—one of the most ethereal ever—keeps it alive. Ms. Shaham watched the conductor like a hawk, held to the tempo, and brought a welcome attention to subtle dynamic shading. If her cadenza (solo) was grandiose, the rest was unassailable. She has the gift of making the piano sing.
The kettle drums were much smaller than usual here, encountered more in baroque music. Similar to practice in period-instruments ensembles, they were struck by Andrew Lewis with a hard stick. Just like the old days.
The concert began with Haydn's "Military" Symphony No. 100, notable for a "Turkish" effect of cymbals and triangle, popular three centuries ago in Vienna. The performance was articulate, and Jenkins, better known as a choral conductor, amply showed his mettle in the symphonic realm, bolstered by the enviable Weill Hall acoustics.
Jenkins is one of five guest conductors this season as the SRS transitions from retiring Bruno Ferrandis to a new musical director.
PHOENIX RISING FROM THE ASHES—The Santa Rosa Symphony had gone through hell on earth with the nearby devastating wine-country wildfires that had forced cancelation of an Oct. concert (and its guest conductor) and postponed another, with inevitable personnel disruptions. The return to the SRS' quality music-making in this its 90th anniversary is quite remarkable.
SANTA ROSA SYMPHONY playing at the Sonoma State Univ. campus, Rohnert Park, Jan. 13-15. For SRS info:  (707) 546-8742, or go online.
—ROHNERT PARK, CA