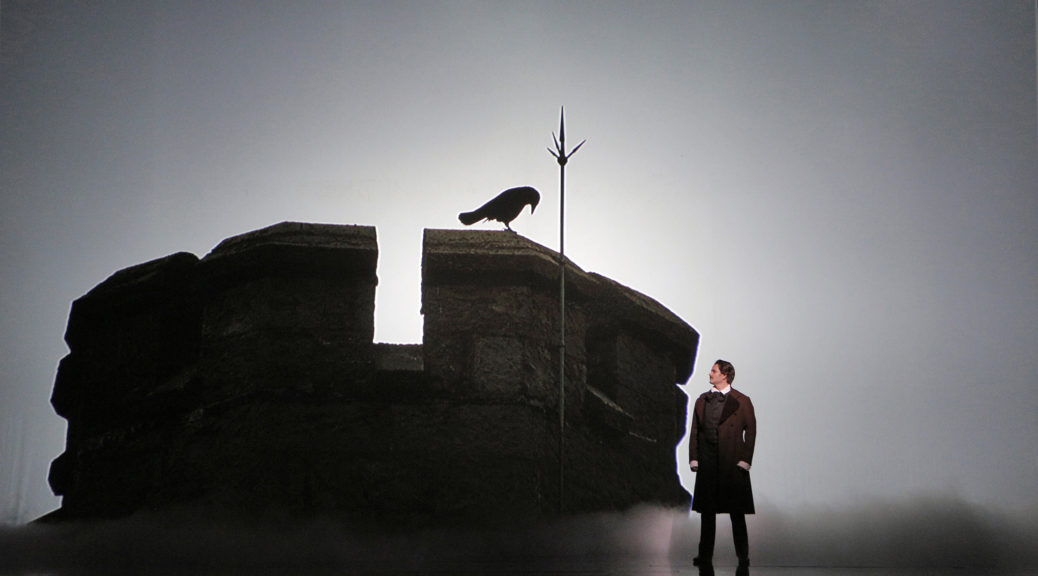 RIGHTING RODERICK IN POE'S SHORT STORY, USHERED IN
RIGHTING RODERICK IN POE'S SHORT STORY, USHERED IN
Getty's 'Usher' Opera in SFO Double Bill
Gordon Getty, who terms himself a 19th -century man, shakes hands with a long-gone Edgar Allan Poe in his mind-trip opera "Usher House" (2014), given its US premiere at the S.F. Opera Dec. 8. Getty and Poe walk the tantalizing lines between reality, fantasy, life and death distilled out of the nebulous outlines of Poe's short story, "The Fall of the House of Usher."
This is an engaging one-act opera of spooks, cadavers and madmen. Call it one of the sanest composers on the planet meeting one of the spookiest and most erratic mystery writers.
The work was offered by the San Francisco Opera in a double bill with the Debussy-Orledge opus on the same Poe writings, "La Chute de la Maison Usher." That one, essentially a soliloquy by the unbalanced and ill-fated Roderick Usher, was a posthumous stillborn effort of Debussy completed much later by Robert Orledge.
Good ghost stories in opera are few and far between, capped by the likes of Britten's "Turn of the Screw" and Bartok's "Bluebeard's Castle." In only his third opera, San Franciscan Getty, 82 this month, has created a viable and intimate piece to the genre, probably much more effectively paired in the future with a lighter work or comedy. Having stood through it twice with enthusiasm, I can attest to the vitality of this work and production, which should prove more durable than my feet and knees.
Getty's vocal lines focus on recitatives hopping up and down a perfect 5th or 4th repetitively, reflecting some of the mental fragility of Roderick, the last of the Usher clan. His fixation on conversational style has short-changed his audience on arias, chorus and ensembles, all of which can produce the stellar galaxies of the operatic universe. Limited contrasts are furnished by a light waltz setting Roderick atwirl, and two poetry recitations. The work cries out for a finale which never comes, leaving the sight of Usher's collapsing stones to bring down the curtain single-handedly.
Getty's music is thoroughly consonant, carrying on an Americana tradition we heard earlier in Floyd, Barber, and Menotti, with subdued orchestral effects. Given the cast of just three plus a dancer and off-stage voice, an eventual chamber-opera spin-off with small orchestra might make sense, paralleling Britten.
Dramatically, Getty solved the problems of Poe's inscrutable tale very adroitly in his libretto adaptation. Roderick's dearly beloved twin Madeline is at times a cadaverous dancer, at times a distant voice from the crypt, perhaps even an incestuous partner. His friend/visitor is now Poe himself, a tenorial voice of reason attempting to right Roderick in the latter's desperation. And Dr. Primus, perhaps an antecedent reincarnated, is a sinister sorcerer foreseeing the future and manipulating life and death like a god.
Director David Pountney directed, bringing forth strong characterizations blended with nebulous Poesque uncertainty. The stunners in this piece co-produced with Welsh National Opera (U.K.) are the immense video projections of the mansion designed by Niki Turner and David Haneke, shifting constantly from chamber to lavish chamber and also showing apparitions of Usher lords and ladies—sometimes in portraits with mysteriously moving figures. It ends with the building's mighty stones collapsing, as if in a house of cards.
Poe's elusive messages are captured alluringly in the opera featuring an all-American cast. Baritone Brian Mulligan portrayed Roderick with resonant voice and the anguish of the doomed man. Basso Anthony Reed provided a satanical Dr. Primus manipulating the twin sister Madeline like a doll, while tenor Jason Bridges gave an animated Poe/friend/confidant. The anorexic Madeline, much more animated in death than some others I've seen alive, was the habile dancer Jamielyn Duggan. The veteran conductor Lawrence Foster made his belated SFO debut.
The hour-long "La Chute de la Maison Usher," also featured Dec. 8, was a much more pallid experience with which Debussy struggled over a decade, left unwrapped upon his death. Little wonder, as it's built around the long soliloquy outpourings of poor Roderick (Mulligan again) in a guise more pitiable than attractive. It features neither those unique Debussy orchestral colors nor the dramatic impetus vital to opera, given the reconstruction and orchestration of Orledge, the English composer who has made orchestrations of unfinished Debussy a cornerstone of his career. Before you offer tickets to the French consul general, be warned: The singers could use another course or two in French pronunciation.
MUSIC NOTES—Getty is a financier turned composer of vocal works, listed as the 212th wealthiest in America. His best-known compositions have been the concert piece "Joan of the Bells" and the opera "Plump Jack"… It was gratifying to see Foster make his belated SFO podium debut, as, prior to his extensive European career, he had started out in California in the 1960s….After Dec. 13, the SFO shuts down, resuming in May, 2016.
Full disclosure: Though I rarely socialize with composers, I have known Getty for years. After his opening, I greeted the tall but low-key composer returning to his Opera House orchestra seat, seemingly unrecognized by any one.
Getty's "Usher House" and the Debussy-Orledge "La Chute de la Maison Usher," double bill through Dec. 13, San Francisco Opera. For info: (415) 864-3330, or go online.
©Paul Hertelendy 2015
#
Paul Hertelendy has been covering the dance and modern-music scene in the San Francisco Bay Area with relish — and a certain amount of salsa — for years.
These critiques appearing weekly (or sometimes semi-weekly, but never weakly) will focus on dance and new musical creativity in performance, with forays into books (by authors of the region), theater and recordings by local artists as well.
#