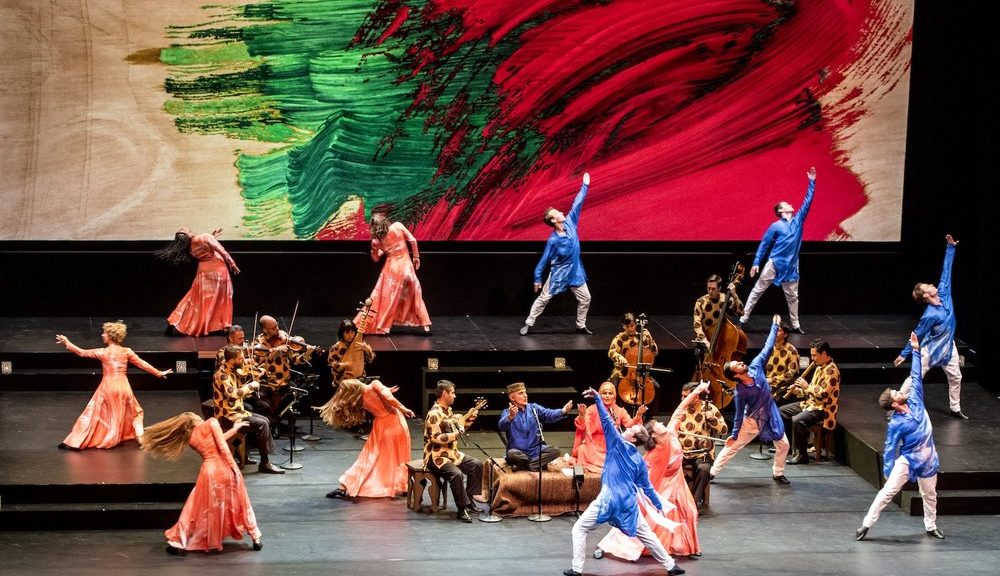 REVIVAL OF AN ANCIENT TALE IN DANCE AND SONG
REVIVAL OF AN ANCIENT TALE IN DANCE AND SONG
Via Mark Morris' Surprising Middle Eastern Foray
BERKELEY—Over the past four decades in  Iran, dancing has been either prohibited or frowned upon by the governing powers. In dramatizing a tragedy in timeless Persian song and dance, Mark Morris and his dance group are injecting new life into an endangered species from halfway around the world.
In his world premiere here, Morris co-created a 50-minute-long Persian-Azerbaijani work of song, music and dance, "Layla and Majnun," based on one of the oldest stories from that tradition. It tells in poetic form of the ardent lovers driven apart by society, destined to be reunited only in death, much like  "Romeo and Juliet." It is an international project, with multiple producers and performing sites sprawling over several continents in the overall schedule—but none of the sites in Iran, none of them in the turbulent Middle East.
Like most traditional Azerbaijani music, "Layla and Majnun" is dominated by vocals based on timeless poetry and Azerbaijani sources. Morris supplements the singers and half a score of instrumentalists of the Silk Road Ensemble with a dozen dancers of the Mark Marris Dance Group in his least familiar choreography, constructed of traditional moves, whirls and stances of traditional Middle Eastern performers.  The dances were tightly constructed with unified group movement, several line dances, and some discreet pairing off of the lovers Layla (the heroine) and Majnun; windmilling arm movements and extravagant gesture were an unexpected hallmark of these elegant performers. These dances served as the catalyst for access to the multi-media form, as the (newly arranged) century-old music by Uzeyir Hajibeyli and the foreign-language songs were quite unfamiliar to the attentive but polite sell-out audiences at Zellerbach Hall.
The drama conveyed by singers Fargana Qasimova and Alim Qasimov runs through successive descending steps: Love and Separation, Parental Disapproval, Sorrow, and the Lovers' Demise. It is as touching as it is tragic. The songs, largely in the minor mode, followed a basic rainbow pattern, with each phrase starting and ending on a tonic as the lowest note. In between, singers used generous melisma, eloquently underlining the desperation of the lovers and their plight.
Supertitle translations of the poems were projected. One line in particular remains engraved in memory: "I need this sorrow, because sorrow needs me."
The evening under Morris' direction was elegantly produced, with colorful costumes andd scenic design by Howard Hodgkin. Even with a 20-minute introductory piece of instrumental-vocal music, the entire no-intermission evening ran only an hour and a half, leaving a few patrons muttering unhappily on the way out.
World premiere of "Layla and Majnun" songs and  instrumentals, plus performers of the Mark Morris Dance Group, at Zellerbach Hall, Berkeley, Sept. 30-Oct. 1, presented by Cal Performances. For info on upcoming events: (510) 642-9988, or go online.
©D. Rane Danubian 2016
#
D. Rane Danubian has been covering the dance and modern-music scene in the San Francisco Bay Area with relish — and a certain amount of salsa — for years.
These critiques appearing weekly (or sometimes semi-weekly, but never weakly) will focus on dance and new musical creativity in performance, with forays into books (by authors of the region), theater and recordings by local artists as well.
#