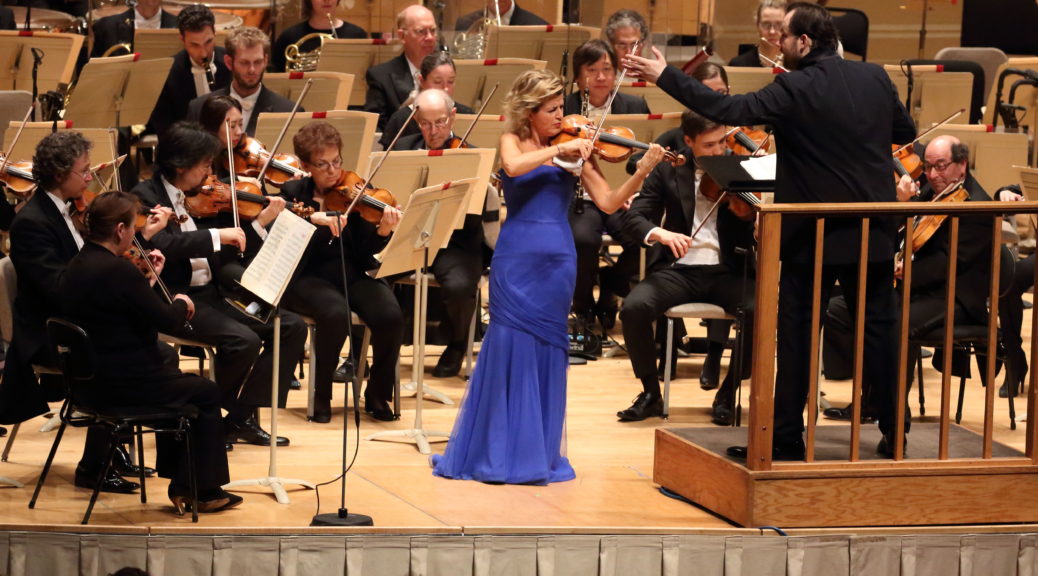 Anne-Sophie Mutter performing with Andris Nelsons and the BSO, 4.28.2017 (Photo credit: Hilary Scott)
A RELUCTANT SYMPHONY, AND THAT FRESH VIOLIN SPIRIT
A RELUCTANT SYMPHONY, AND THAT FRESH VIOLIN SPIRIT
BOSTON, MA—If you doubted what a great unifying force in the world classical music can be, the recent Boston Symphony concert could be a restoring force. There was music by a Japanese composer commemorating a Russian film-maker, with a violin soloist from Germany and a music director from Latvia—before an American audience shouting loud, healthy Italian bravos. It's s if a whole world of interaction and, perhaps, human harmony, was opening up before us.
The BSO and its Symphony Hall are an elite combination. The hall has some of the finest symphonic acoustics ever, even though it was built before the birth of architectural acoustics—happy accident!! The afterglow, after a sharp chord, is heavenly, lingering just long enough. Another surprising phenomenon is that everything IS louder in the auditorium all the time, including the preliminary conversations of the patrons, sounding like a cocktail party, tho falling reverently silent during the music.
The modern touch came from Japan's eminent composer, the mystic Toru Takemitsu (1930-1996), via his "Nostalgia—in Memory of Andrei Tarkovsky," commemorating that even shorter-lived creator of Soviet films like "Andrei Rublev." This threnody for solo violin and strings is a heart-felt outpouring for a fellow artist, musically a slow meditation, a study in pianissimos. The solo violin tune meanders reflectively, eventually moving up toward the heavens, with some delicate harmonics thrown in.
The consummate artist Anne-Sophie Mutter was doing an unusual double duty, preceding this with what the public came to hear: the Tchaikovsky Violin Concerto. As many times as the subscribers have heard the piece, with Mutter there were new dimensions, possibly symptomatic of her desire to play it somewhat differently every time, giving it a fresh veneer without violating its musical intent. Her freer rendition inevitably leads to a fresher impact. The expanded soft-loud contrasted more than normal. And she started the work very softly, then built up during the opening movement to a resounding finale. During the second movement her violin was muted, as if to convey some distant, wispy quality in elusive fashion.
Am I being inconsistent in praising her music while admitting to be dazzling by that form visible, clearly destined for some glamor magazine cover? Is any one completely blind to her bouffant blonde hair, her violin pressing against her bare neck, and her sky-blue strapless gown into which she was poured, with a waistline slender enough to form an hourglass? Perhaps we'll never know unless we don blinders at her concerts, or else have her appear as a Halloween hag while playing the great concertos to near perfection.
The music director is the fortyish Latvian Andris Nelsons, the head here since 2014, when he succeeded the wildly popular maestro James Levine. He has a good rapport with the musicians, both in hearsay as in audible results. While I'm not enamored of his rather twitchy baton work, encountered even in some slow passages,he brought off the program with panache. His main responsibilities were in two 20th-century Shostakovich works: the flamboyant "Festive Overture," which must have warmed the hearts of those intimidating Soviet commissars, and his little-heard Symphony No. 6. I call it his  unorthodox reluctant symphony. The opening movement, not the usual lively Allegro but rather a reflective and dark Largo, meanders like a plaintive outpouring of discomfiture and suppressed frustration, all in B Minor. The subsequent pace picks up through an Allegro and the wild gallop of a Presto finale, effusively exuberant in his high energy.
The hall's well-worn seats and creaky wooden floor, seemingly treasured since the 19th century, are like pews in a temple of music. However, any one sneezing loudly sends out floorboard ripples for rows around, like ocean waves emanating from an island volcano.
Boston Symphony, Andris Nelsons music director, April 28 at the Boston Symphony Hall. For more information: (617) 266-1492, or go online.