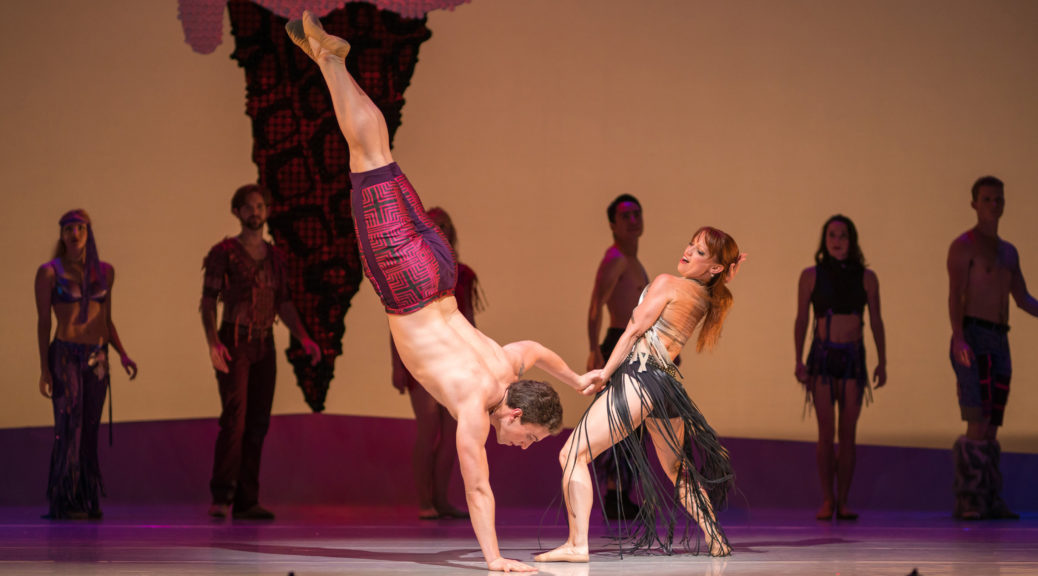 Smuin dancers Robert Kretz and Erin Yarbrough-Powell in Be Here Now presented as part of Smuin's Dance Series 02 (Photo credit: Keith Sutter)
A REFRESHING RUSH OF CHOREOGRAPHY
A REFRESHING RUSH OF CHOREOGRAPHY
The season finale for the local ballet troupe now called simply SMUIN is a knock-out show, featuring imaginative choreography from both East and West.
Our hippie era was exuberantly revived in Trey McIntyre's elaborately staged large-budget world premiere, "Be Here Now," marking the 50th anniversary of the Bay Area's Summer of Love, that one-time exuberance of beads-pot-fringes nirvana. The viable companion piece is Amy Seiwert's "Broken Open"—-a local choreography competing distinctively on a national level.
The stellar New Yorker McIntyre caught historic nuances of unbridled hedonism and no-two-alike costuming, from Indian to bathing trunks, in his fast-paced souvenir show-piece (though back then, you saw a lot more lying back in a post-toke haze than frenzied dancing). The original event was a peace protest against the Vietnam War as well as against nuclear annihilation. This was brought skillfully into focus with films of atomic clouds which give way ingeniously to a giant ice-cream cone over the celebrants. It's a pop ballet through and through at enormous velocity, with near-acrobatic solos, and ecstatic women tossed about in the frenzy like kewpie dolls.
Almost lost in the exuberance is McIntyre's array of imaginative moves, high in originality, as executed by the bulk of the troupe's 16 dancers. It leads back to the spirit of the late founder Michael Smuin, who was reviled by some as being too Broadway while praised by others for his diversity unmatched by rival ballet choreographers. Ballet purists will jaw about the casual epaulement and porte de bras of Smuin dancers, never conceding that this troupe is far more about variety than about ballet-school precision.
The work concludes with a balloon figure, much like the make-believe Michelin man. It dances, then has the mercurial Ben Needham-Wood emerging and flying about the space.
By the end of the 33-minute piece, with the confetti cascading down all over the theater, the audience was whooping and hollering.
"Broken Open" once again established SMUIN as a smart-stepping, exciting company expanding the envelope. It's a diverse troupe that permits shoulder tattoos as long as they are on high-quality leading men like the athletic Robert Kretz, who partnered the veteran Erin Yarbrough-Powell. She's with the company since 2003. Yarbrough-Powell no longer does the big leads as in years past, but her uniquely poetic quality still shines in less visible parts.
Seiwert innovates, as in the eye-dazzling hand-arm moves, or in a dancer walking all over the back of another (I kept waiting for a loud shriek).
Two images remain imprinted in memory: A tight writhing ensemble of seven figures, as if all joined at the waist; and snake-like shimmers by performers. Seiwert has created very good works, with unique made-by-Amy moves—but this work may just be her very best.
The program opened with Nicole Haskins' "The Poetry of Being," full of hot embraces and some wobbles on pointe in duos, at least on the night of May 25.
All the music was prerecorded.
Smuin, a contemporary American ballet based in San Francisco, May 25-28 at the Yerba Buena Center for the Arts, S.F., with world premieres by McIntyre and Haskins. For Smuin info: (415) 912-1899, or go online.