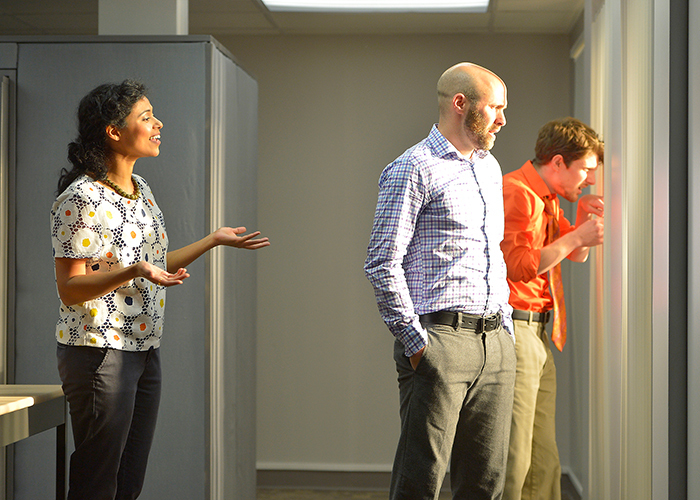 PRIZE-WINNING PLAY ABOUT THE OFFICE SCENE
PRIZE-WINNING PLAY ABOUT THE OFFICE SCENE
Playwright Rachel Bond's "Swimmers" is a play about small and personal subjects set in an office. Large subjects would include the rest of the world out of the office where these dissatisfied workers are stuck. This play underwent two weeks of previews to straighten out some of the kinks, but could use a few more weeks of the fine tuning that it will undoubtedly get if it moves on to other theaters.
Is it just a coincidence that two works with almost the same name open the same week in the Bay Area? The San Francisco Ballet's "The Swimmer" choreographed by Yuri Possokhov and based on a famous short story by John Cheever is a lively tribute to the 60s.
At the Marin Theatre Company, "Swimmers" just opened. Bond's is a world premiere made possible because Bond won the Rella Lossy Award with the honors of $10,000 plus a full production.
Bond's "Swimmers" offers 11 office workers interacting, sometimes peacefully and sometimes not. They are cooped up in a claustrophobic space well designed by Dane Laffrey who also created the workday costumes. Their company is placed in an industrial park where there aren't even stores or restaurants to buy lunch. The action takes place on three levels from the basement to the main floor to the roof. All characters move simple furniture around to set the next scene when they enter or leave the stage, quite ingeniously.
The first character is Tom (Aaron Roman Weiner) who is sequestered in his rolling chair in the basement. The janitor Walter (L. Peter Callender) comes to get things from the storage lockers and is surprised by him being there. There is something wrong with Tom as he is depressed and troubled, but we don't find out why until the end. He just can't stand being on the main floor with all the pressure. To add to his gloom on the way to work he saw a sign saying that the end of the world is coming. He seems somewhat to believe in it.
Next we see Charlene (Sara Nina Hayon), Vivian's boss. Vivian (Kristin Villanueva) is a temp worker who asks which documents she should shred and that is her job now, shredding documents all day long. She is an insecure, immature and naive young lady who is all ears to Charlene's advice and stories. Charlene spills out her own self interested history but masquerades their telling as a question, "Tell me what is going on in your young life." Have you ever noticed people pretending they are interested in you but then go on to blab about themselves?
The next scene has one of the workers, Randy (Max Rosenak), saying that they are not bringing in enough new clients. Farrah (Jessica Bates), in the desk next to him, has seen the same billboard about the end of the world. She asks the third co-worker, the Russian Yuri (Brian Herndon), what is on his list to do before he dies. He says he wants to learn to swim (the title) and a conversation about swimming ensues. As far a other meanings for the title, I'm sure they are there and they are deep, but Bond does not deliver a clear explanation. Maybe she suggests that they are all swimming in the same stew.
Prija (Jolly Abraham), Bill (Ryan Vincent Anderson), Dennis (Adam Andrianopolos) and George (Charles Shaw Robinson) all have stories, some more engaging then the rest, some not.
"Swimmers" needs a bit of rewriting. It lasts 1 hour and 45 minutes without an intermission and could do with fewer characters and fewer stories. It seems best suited to a T.V. series where the tales could be embellished and continued for a season or more.
Playwright Bond has other plays either produced or developed in some of the best theaters in the country. Her play is under the fine direction of Mike Donahue.
The actors make you ask, where do they find so many talented actors in the Bay Area? Robinson is the only one I've seen before. He and the rest are seasoned and terrific,with many credits to their names.
Kudos to the Marin Theatre Company for hosting such an important endeavor, a new play contest with a full production to its winner. The award is in the memory of Rella Lossy, a devoted theater personality in the Bay Area. It was created and endowed by her husband Dr. Frank Lossy and is administered by the San Francisco Foundation.
"Swimmers" runs at the Marin Theatre Company through March 27, 2016. The theater is located at 397 Miller Avenue, Mill Valley CA. Tickets from 415 388 5208 or online.
#
© Carol Benet 2016
Carol Benet is a regular theater reviewer for artssf.com.
These critiques appearing weekly (or sometimes semi-weekly, but never weakly)focus on theater, dance and new musical creativity in performance, with forays into recordings by local artists, and a few departures into books (by authors of the region)as well.
#