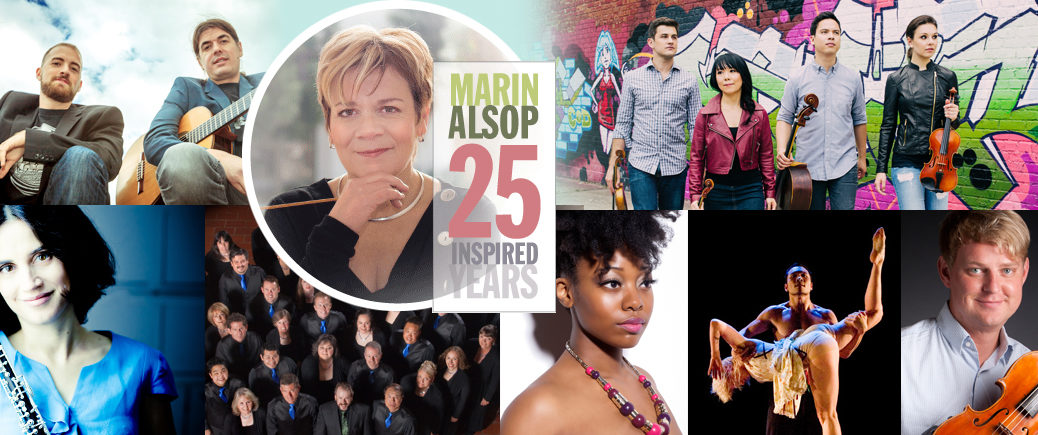 ORCHESTRAL PUZZLES, SCI-FI VENTURES
ORCHESTRAL PUZZLES, SCI-FI VENTURES
Cabrillo Festival Mantra: Never Look Back
By Paul Hertelendy 
artssf.com, the independent observer of San Francisco Bay Area music and dance 
Week of Aug. 14-21, 2016
Vol. 18, No. 84
SANTA CRUZ—-Astute programming brought off the Cabrillo Festival concert featuring a knuckle-busting violin concerto, a sci-fi-oriented score, and a scherzo with a puzzle.
Take note of Bay Area composer Mason Bates, 39, who marches to a very different drummer from the rest. His "B-Sides," inspired by terminology of recordings, combines orchestra, computer sounds, and odd-ball sound intrusions like sandpaper, oil drum and typewriter. What was audible, and got chuckles at the Aug. 12 concert, was a musician downstage sweeping with a broom, according to rhythms in the score. The modest composer has no pretensions, mixing in everday sonics with glorious spacey forays, disorienting glissandi and sound textures suggesting some roots in the "2001" movie or that Richard Strauss tone poem. The five-part suite encapsulated also the euphoria of space, where the first space-walker Ed White was heard, taped, reluctant to reenter the space capsule despite Mission Control's pleas.
What makes Music Director Marin Alsop's imminent departure especially  unfortunate is how much more effective this "B-Sides" go-round was than a previous hearing in San Francisco Symphony. Alsop brought out the other-worldly aspects effectively, and make both the lowly broom and its sweeper visible and audible—low art alongside high art, recalling early digressions of Cage, Antheil, ,Satie and Harrison. And she reseats musicians every time for optimum sonic/visual effect.
The Violin Concerto by Jennifer Higdon, 54, provided supreme challenges in a soloist's technique. Close to 10,000 fiery notes are squeezed into a 36-minute span, as heard Aug. 12 with soloist Justin Bruns, the orchestra's concertmaster. It's an oversize piece in several dimensions—Olympics-inspired speed, 36 minutes long, and such technical difficulties that they even had me perspiring. Higdon's style is post-Bartok, incorporating big gestures along with the delicacy of solo-violin harmonics, ruminative dialogues and gypsy dynamics. She tosses in quite a few chords with seconds intervals—like the opening of "Chopsticks"—and adds a Chaconne with beguiling woodwind ensembles. Her orchestra is often more a chamber ensemble, offering spirited dialogues between soloist and ensemble.
I doubt that soloist Justin Bruns, summering here away from the Atlanta Symphony, was on speed at the time, but I'd have been tempted. The furious fiddling, first intended for Hilary Hahn no less, is daunting, herpas as densely written as anything in the concerto repertoire. As Higdon notes about her Olympic inspiration, "It's about a race." for most of us, it's more like the nightmare where we're about to hit the finish tape and never get there, regardless of how hard we try. Bruns was of course sensational.
The puzzle that night was a unique piece, obliquely related to Elgar's "Enigma Variations." Composer Alexander Miller is a puzzle fanatic; his "Scherzo Crypto" contained a distant reference to a musical instrument which very few people can guess, unless they know Morse code signaling very well. Somewhere toward the end, a brass tattoo thusly spells out V-I-O-L-A. Clever, unique—a composer with something of Alan Turing within him.
Cabrillo Festival of Contemporary Music, Marin Alsop music director, through Aug. 13. Delayed broadcasts on KAZU-FM. For info: go online.
©Paul Hertelendy 2016
#
Paul Hertelendy has been covering the dance and modern-music scene in the San Francisco Bay Area with relish — and a certain amount of salsa — for years.
These critiques appearing weekly (or sometimes semi-weekly, but never weakly) will focus on dance and new musical creativity in performance, with forays into books (by authors of the region), theater and recordings by local artists as well.
#