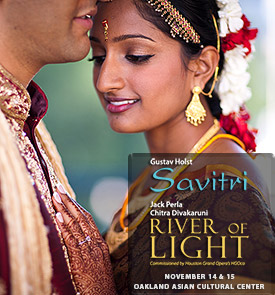 IN OAKLAND, THE DEAD COME BACK TO LIFE
IN OAKLAND, THE DEAD COME BACK TO LIFE
Via Asian Operas New and Old
OAKLAND—Festival Opera pulled off a double surprise, venturing to Oakland with a pair of unfamiliar Asian-themed one-act operas. The precarious east-west blending of the music came off better than expected, the western tuning pairing up with traditional Indian sitar and its myriad microtones.
The execution of the works on stage however left a lot to be desired when heard Nov. 14, apart from the foundation-shaking bass of the veteran Philip Skinner playing Death.
That came about in Gustav Holst's century-old "Savitri," drawn from the epic Hindu Mahabharata. An omnipotent Death appears and takes the husband Satyavan (tenor Jorge Garza) early on, leaving the beautiful Savitri, played by coloratura soprano Maya Kherani, bereft and alone. Savitri's indominable commitment to life convinces Death to relent, bringing back Satyavan for a happy end.
The three-character one-act opera with wordless chorus and chamber orchestra is engaging and tuneful, but heavily saddled with an text full of thous, these, thithers, makeths and giveths—not only antiquated, but also sounding like lisping run wild.
Soprano Kherani had made a formidable impression here earlier this fall in Milhaud's terse one-acter "Médée," given her delicate stage presence and true tones. Here her reading was paler, perhaps because of the pacing demanded by three performances squeezed into just 28 hours.
Much less impressive was Jack Perla's eclectic "River of Light" (2013). His one-dimensional treatment of culture clashes and a yearning for a far-off cultural heritage worked better on paper than in performance. The heroine Meera (Kherani) is an Indian married woman now in America, feelings pangs of remorse over vital cultural symbols lost such as the Diwali Festival of Lights. The opera brought in a smattering of Hindi in the bilingual text, particularly in a song that Gandhi used to sing, as well as in a devotional grand-finale number.
The most promising aspect here was the musical fusion, with the sitar blending its harmonies with those of western string instruments and synthesizer—no mean feat.
The Eastern culture was enhanced by a pair of deft kathak women dancers (Richa Shukla, Gopi), coming on like recurrent apparitions from India in the choreography of Antonia Minnecola.
John Kendall Bailey conducted both works. Composer Jack Perla attended.
Operatic Double Bill Nov. 14-15 at the Oakland Asian Cultural Center, by Festival Opera of Walnut Creek. For Festival Opera info: (925) 944-9610, or go online.
©Paul Hertelendy 2015
#
Paul Hertelendy has been covering the dance and modern-music scene in the San Francisco Bay Area with relish — and a certain amount of salsa — for years.
These critiques appearing weekly (or sometimes semi-weekly, but never weakly) will focus on dance and new musical creativity in performance, with forays into books (by authors of the region), theater and recordings by local artists as well.
#