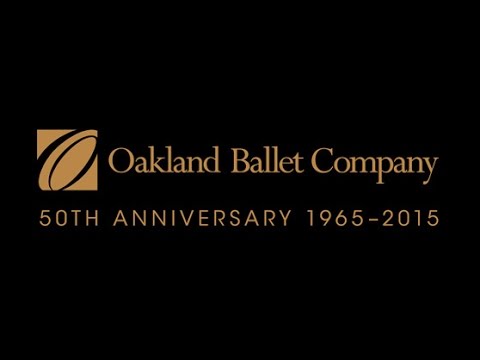 OAKLAND BALLET'S EFFUSIVE GOLDEN ANNIVERSARY
OAKLAND BALLET'S EFFUSIVE GOLDEN ANNIVERSARY
14 Ballets Mark the 50th's Ambitious Concert Program
OAKLAND—The classic bedtime story has a young girl beset by all manner of hardships having the perfect dream.
The Oakland Ballet had its perfect dream with its gala 50th-anniversary performance at the Paramount Theatre May 23. The troupe laboriously put together a program to top all pot-pourri ballet programs, spotlighting 15 snippets of its ballets new and old showing off a smart, and thoroughly integrated ensemble. Included were six (!) short world premieres in this indelible and memorable outpouring, all flashing by at blink-blink speed.
By the final bows of its 14 dancers and many oldtime OB leaders, plus a rain of festive multi-color balloons, you emerged convinced that here's a priceless institution that could mark a turn-around for a city badly in need of turn-arounds.
The OB unreeled an amazing six world-premiere brevities by six active Bay Area choreographers. Not to be outdone, the OB Artistic Director Graham Lustig created the tempestuous "Luminaire," a futuristic and quite original whirlwind creation for nine fast-flying company dancers, set to electronic music.
Amy Seiwart came up with "Before It Begins," for a neat, youthful quintet capped by Taurean Green, an arresting leading man who can be a mainstay of a troupe. He returned for a pas de deux with Emily Kerr in Betsy Erickson's nocturnal "A Moment – A Lifetime."
I relished the enigma in Robert Moses' "Untitled," appropriately to a piano score by Satie, danced by another male to watch, Matthew Roberts, opposite Kerr.
Val Caniparoli crossed the bridge to produce "Das Ballett" for three couples, a slightly zany, chaotic confection to a Leopold Mozart score featuring birdcalls—and a lot of whimsey. The hip-swinging players got into the spirit of the gig for a rousing finale. And ex-OB dancer Michael Lowe offered an Asian-flavored snack in his "Horse Head Strings" for a trio, with Mongolian folk music of the two-stringed "horse head fiddle."
The works blended modern-dance elements as well as modern ballet. Among the non-premieres, I could not resist the symmetry of arms and legs in a single "being" constructed skilfully by Carlos Carvajal in "Green," with his favorite modern composer Takemitsu. The structures were both astonishing and attractive. The complex coordination of Alonzo King's (excerpted) "Love Dogs" for Lydia McRae and Michael Crawford combined athleticism with virtuosity. Apart from piano work by Roy Bogas, all the music was prerecorded.
A cornucopia of historic excerpted revivals included founder Ronn Guidi's "The Secret Garden"—a gorgeous pas de deux of a man with his unseen dream-image woman (interpreted by Taurean Green and Sharon Wehner). Also bits of the Diaghilev-era works that made the OB's reputation in its glory days of revivals from about 1970 onward during the long Guidi tenure: Fokine's "Scheherazade," Nijinska's "Le Train Bleu" and "Les Biches;" Massine's "La boutique fantasque" (why isn't that captivating toy-store ballet revived more?) and the complete "Afternoon of a Faun" by Nijinsky, a masterpiece of ballet to match a masterpiece of music.
The Oakland Ballet ensemble was spirited and experienced, with athletic ability a bit ahead of finesse. The essence is clearly there for the troupe to move forward.
Needed now are an audience (the giant Paramount was not even half full), a proper midsize performing hall, and funding to prevent the troupe expiring a third time.
What will the future be: The Oakland dream coming to fruition, or just the desolation of a hundred tired balloons left at the end Saturday night, littering an empty Paramount stage? Or will we need a fairy godmother with magic wand to assure this company lasting another 50 years in the heart of Oakland?
Oakland Ballet 50th anniversary performance at the Paramount Theatre Oakland, May 23. For OB info: (866) 711-6037, or go online.
©Paul Hertelendy 2015
#
Paul Hertelendy has been covering the dance and modern-music scene in the San Francisco Bay Area with relish — and a certain amount of salsa — for years.
These critiques appearing weekly (or sometimes semi-weekly, but never weakly) will focus on dance and new musical creativity in performance, with forays into books (by authors of the region), theater and recordings by local artists as well.
#