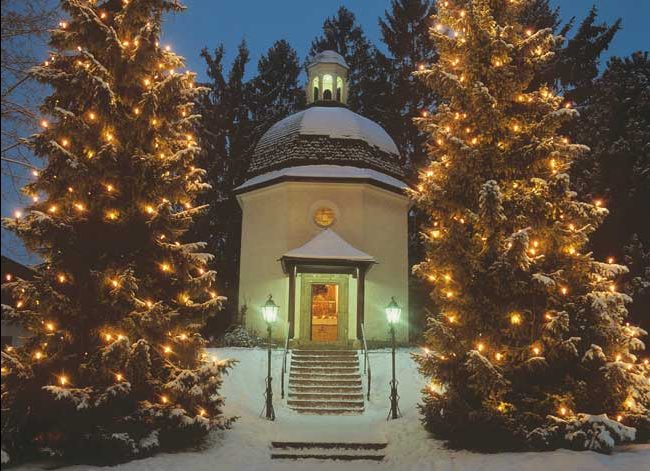 THE NOBODIES' GREAT GIFT TO EVERYBODY
THE NOBODIES' GREAT GIFT TO EVERYBODY
On the cusp of 2018, we are knocking on one of the amazing achievements by a pair of village nobodies 200 years ago. And it's only thanks to them that we now have an unquestioned masterpiece circulating around the world—"Silent Night," reigning as arguably the most treasured carol of them all. The message that the creators send us is that, however modest our means or skill or prowess, we can rise above our level to produce something incredible, even if only once in a lifetime.
To retell the story, in the modest Austrian village of Oberndorf the essential church pipe organ broke down on Christmas Eve, 1818, according to one account. That forced some fast-stepping improvisation to carry off the long-awaited festive midnight mass. The assistant pastor Joseph Mohr had written some eloquent lyrics about the Christ child and approached the school teacher Franz Gruber, who doubled as the town organist. In a mere three hours Gruber wrote music to fit the words, and they debuted the carol that night in church, by candlelight. For the worrisome villagers their "Silent Night" saved the day (albeit at night), by way of Gruber's arrangement for two vocal soloists, two guitars and chorus.
Gruber and Mohr did not publicize their new work. It was the Tyrolean Strasser Sisters who took it on tour and found a wide public resonance, probably without even mentioning the creators. Somehow the story got around that it had been written by composer Michael Haydn, and the provenance turned murky. Some 36 years later, the authorship came to trial. There Gruber's son presented incontrovertible evidence of his dad's burst of inspiration by presenting the original manuscript. The court ruled in favor of Gruber-Mohr as the originators.
Most astonishing of all, neither Gruber nor Mohr capitalized on their Nativity opus and did only one other collaboration, a "Te Deum" laud. Thereafter, obscurity. No records show that any church ever invited either one to repeat the miracle with a new carol, nor that any imperial court ever invited them to pay them due honors. Gruber and Mohr later served in various Austrian towns, maintaining a low profile, just as if "Silent Night" had never taken place. Today their Oberndorf church is an oddity as much as an out-of-the-way tourist attraction near Salzburg. Meanwhile Father Mohr's words have been translated into some 140 languages for performance in the most distant lands and continents.
I'd venture to say that, two centuries after the fact, this pair of one-hit wonders remains a beacon of unique brilliance radiating to one and all at Christmas. The two nobodies created something supernal  exactly once, exactly when most needed. It suggests that any one of us can be the man/woman of the hour, rising to the occasion in an emergency, then reverting to every-day life without citations, without medals, without even a worthy sequel building upon that one crisis for which, perhaps, they were divinely inspired.
Let's hope!
Silent Night, Stille Nacht, Noche de Paz, Csendes Ej, Douce Nuit, Noite Feliz, Lila Shaket, Tikhaya Noch', Cicha Noc, Stilla Natt, Li-Laton thick-ru-ha, Astro del Ciel,   and some 130 other languages, all to wish you happy holidays and Merry Christmas!