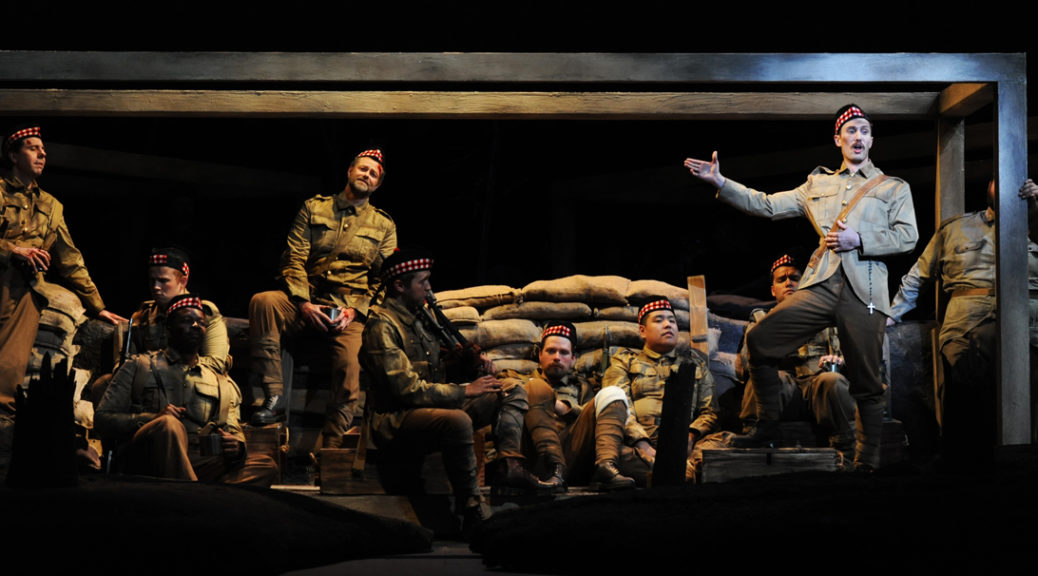 THE NIGHT THE GUNFIRE TOOK A REST
THE NIGHT THE GUNFIRE TOOK A REST
SAN JOSE—-A new kind of opera, in which groups of the military play as big a role as the individuals, made its moving West Coast premiere via "Silent Night" by Kevin Puts. While the singing by the 14-member Opera San Jose cast pushing their voices was uneven, the Feb. 11 opening night got a prolonged reception from the sell-out crowd. They witnessed a dramatization of a trench-warfare event that featured an operatic reenactment of the spontaneous Christmas-Eve 1914 cease-fire, with warring troops dropping weapons and fraternizing briefly in No Man's Land.
Puts' 2011 hit—a first-time opera!—is a large-concept work with close to 75 soldier-singers on stage, voicing French, German, English, Italian and Latin. It has swept our operatic world, with some dozen productions already. If it really calls for a bigger house than San Jose's with considerable stage machinery, the piece comes off effectively enough, with beefy soldiers mobilized to roll alcoves on and off stage and to remove battle-field cadavers. The opera even reprised the unforgettable impromptu French-German soccer match between the front lines.
But this is not an opera about death, carnage and soccer so much as about human sentiment and sentimentality, where these warring units find an arcane brotherhood. Within it, as many a veteran of any war will tell you, the biggest antagonists may not be opposing armies so much as their own starchy, inflexible high command behind the lines—the only villains of any stripe in Puts' concept.
Many of the war-movie clichés turn up—the arrival of mail up front worth more than gold, the guy who left the wife at home, the one who longs to return to mom, the soldiers playing harmonica, bagpipes, or just humming, and of course the beloved little guy who gets killed in a senseless way. And some of it is just preposterous, like the hero Nikolaus bringing his beloved Anna, in a spotless white formal, to wander about the trenches. The fact that they are two opera singers (in the scenario) does not get them off the hook.
But you suspend disbelief through much of this saga, inspired by the unbreakable bonds of humanity on both sides of the firing lines. You want desperately to see the opponents shake hands and reminisce about their home life, however improbable it be under the deadly gales of machine-gun fire.
The music by the 45-year-old Puts is engaging, particularly evocative in his various orchestral interludes, somewhere in a comfort zone between Barber and Britten. The set vocal pieces are few, mostly via the aria and duet involving Anna.
Basing his story mostly on a 2005 film "Joyeux Noel," librettist Mark Campbell ended up with an unwieldy 14 solo singers and 11 snapshot scenes requiring more movers than an "Aida" revival. What distills out however is the essence of three national groups of combatants, each with a unity and toughness, but a vulnerability kept hidden beneath the uniform.
The lead roles of opera singers Nikolaus and Anna, even digressing into an Italian duet within range of the guns, were played this night by Kirk Dougherty and Julie Adams. Some of the night's best singing came from baritone Matthew Hanscom playing Lt. Gordon, nearly overshadowed by baritone Brian James Myer as the innocent young victim Ponchel. OSJ Music Director Joseph Marcheso, who brought out a wealth of dimension from his orchestra, had scaled down the score to fit the compact pit. As a group, the ensemble sounded far more secure than instrumental soloists. Stage Director Michael Shell masterminded the crowded stage movement with aplomb.
Kevin Puts' opera "Silent Night" (multiple languages), with supertitles, at Opera San Jose's 1,122-seat California Theater, S.J., through Feb. 26. Two hours, 45 minutes; one intermission. For info: (408) 437-4450, or go online.