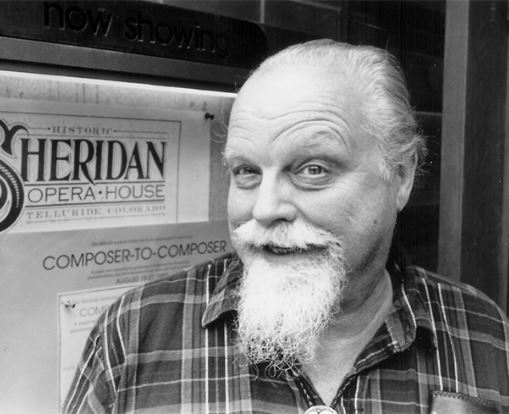 MUSIC FROM BRAKE DRUMS—–BUT WHICH ONES??
MUSIC FROM BRAKE DRUMS—–BUT WHICH ONES??
Treasure that 1936 Studebaker! Stash the old brake drums in the safe!
Composer Lou Harrison, a lover of "found instruments" and new sound timbres, called for percussionists to strike resonant brake drums in pieces like "Canticle No. 3."
But not just any old brake drum. "The '36 Studebaker had the best ones," he told me in an interview over 20 years ago. "After that, the car factories all changed the metal (alloy), and the drums wouldn't ring any more."
A mini-festival is underway for the centennial of the innovator and beloved local icon Harrison (1917-2003). The Feb. 18 opener of earlier Harrison opuses featured his lively percussion-dominated "Canticle No. 3" and his esteemed brake drums which, considering the rarity of their provenance, should be locked in a vault every night. It's the least we can do for this jolly and eclectic musical adventurer, who visibly delighted in his innovations and departures.
This one work also features a humble ocarina, perhaps bought at a five-&-dime store years ago, and guitar strums by a non-guitarist. It evolves as an exuberant jam session for the humblest of music-makers.
Was he versatile? You need to pen a fat volume to summarize his diverse achievements: Early atonality in the 1940s mode, four symphonies, a gay puppet opera about Julius Caesar, gamelans, music in the mode of various Far-Eastern cultures, anti-war pieces, tin-can percussion, and pianos retuned to less orthodox tuning systems. And he achieved these via his wide-spread travels, his long residence in Aptos, CA, and faculty posts at Mills College and UC Santa Cruz. All of this accomplished after his nervous breakdown in mid-20th-century, prompting his salutary move west out of the hothouse of New York.
Perhaps his longest-lasting breakthrough was in linking Western and various modes of Far-Eastern music, in part through the introduction of gamelan music & ensembles on the West Coast.
That part of his post-1960 creativity is rendered in the closing festival concert May 20 (detailed below).
The opening concert also featured a pianist in the Grand Duo using the "octave bar," something akin to a blackboard eraser which, when struck on the piano keyboard, depresses exactly one octave of white keys. Conductor-pianist Dennis Russell Davies, who had been an avid Harrison collaborator in his decade at the Cabrillo Festival, returned to work this device with fast-flying hands at the piano, adding a funky and delectable jarring note in otherwise orderly music. In the Suite for Violin, Piano and Small Orchestra (1951) he marshals a "tack piano," an upright with a tack stuck into the hammers, giving a sound more like a harpsichord. (Don't try it on your upright: After doing the tack routine, you might well have to remove the stressed hammers along with the tacks.) Other works were expressively performed by violinist Yumi Hwang-Williams.
Another centenary was also noted simultaneously in the fest, a propos the Korean composer Isang Yun from Berlin (1917-1995). Yun was a theoretician with an austere approach who introduced traditional Korean music and style, but on Western instruments. A tragic figure, he was imprisoned by two different authorities: First, by Japanese occupiers for underground activities in the 1940s on behalf of Korean independence, and again in 1967 when South Korean agents abducted him, put him on trial for treason—for his having visited North Korea, a no-no—and given a life sentence. A concerted lobbying campaign by musicians and others in the West brought about his release in just two years. His violin and piano pieces performed here showed his aphoristic formality and aloofness not easily transferred to Western audiences.
The mini-fest presented by Other Minds was given at the Mission Dolores Basilica, a church that had on display for the first time a portrait of an unfamiliar celestial figure, "St. Lou" (Harrison, so labeled).
The highly resonant acoustics of the mission church provided a very unfamiliar ring to the soloists and ensembles.
Festival of Pacific Rim Centennials by Other Minds, opening Feb. 18 at Mission Dolores Basilica, Dolores St. at 16th, San Francisco, marking dual commemoration of Harrison and Yun. Closing all-Harrison concert here May 20 with American gamelan. For Other Minds info: Go online.