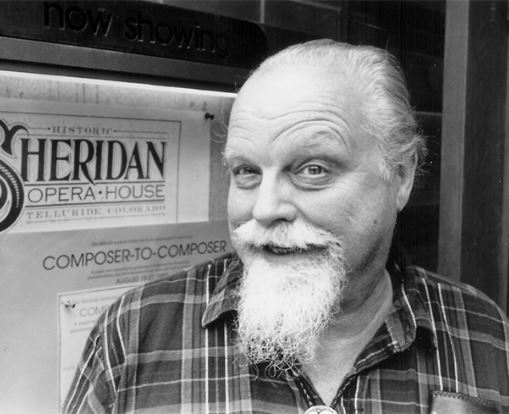 MULTICULTURALIST HARRISON HONORED AT CENTENNIAL
MULTICULTURALIST HARRISON HONORED AT CENTENNIAL
Of all the Lou Harrison centennial tributes, the Other Minds Festival produced one to beat the band.
In addition to the sheer variety of works & instruments offered, Other Minds also created palpable environment of good vibrations. This was attributable too to a large crowd resonating with affection and admiration for the inventive and congenial composer who had spent his final half century in the region spanning sites from Santa Cruz to Oakland. The May 20 all-Harrison concert at Mission Dolores Basilica was one to cherish long after the standing ovations died down.
Like Gandhi, he was a confirmed pacifist; his music radiated in many directions, but in swells and waves, not tsunamis. Where others wrote in staccato and 32nd notes, Harrison (1917-2003) was perfectly happy making amiable quarter notes, preferably in perfectly tuned (just) intonation..
His inventiveness came to the fore in taking up various Asian influences, from Cambodia, Thailand, Korea, Japan and China. Indonesian gamelans (orchestras of mallet instruments) fascinated him too, later prompting him to have built an American gamelan, partly of his design, more compatible with American instruments. This design took center stage with the Suite for Violin and American Gamelan co-composed by him and Richard Dee. This half-hour-long quasi-baroque suite featured the (Eastern) pentatonic scale, and segments similar to stately Balinese processionals. When the full after-burners are lit, there are demanding, syncopated waterfalls of sound in which the immensely expressive violinist from Cambodia Shalini Vijayan offered double stops and complexity. There was an engaging harmoniousness to it all, with resounding tubular bell sounds going as low in pitch as a top Russian-Orthodox basso.
Buddhism matched Harrison's gentle and charismatic spirit, and one of his major works was the 28-minute "La Koro Sutro" (The Heart Sutra of 1972). This Buddhist devotional opus in Esperanto for chorus and gamelan was the height of interfaith creativity, with a statue of the Christian Redeemer seemingly giving his blessing behind the performers who were singing about "Transcendental Wisdom." The massed choirs of more than 50 sang in unison, mostly. The six percussionists provided the beat, with occasional taps on the tuned oxygen tanks augmenting the instrumental array.
The conducting by guest Nicole Paiement was animated and to the point.
The most nimble-footed dancer in Northern California might be organist Jerome Lenk, playing the pedals-only "Pedal Sonata for Organ." It moves along a mile a minute, sometimes with a foot hitting two adjacent pedals, at other times the two feet crossing over, seemingly without injuries.
The night's most soulful sounds came from Cellist Emil Miland in the Aria segment of the Suite for Cello and Harp, with harpist Meredith Clark. This is one of the most seductive duets that Harrison ever wrote—a classic.
The large crowd filed out in evident fulfilLment after the three-hour outpouring. In the audience were composers Dee and Robert Hughes, Other Minds guru/co-founder Charles Amirkhanian, and a surfeit of friends of Harrison.
This was the 22nd year of the Other Minds festivals of new music in the San Francisco area.. While not well-heeled financially, Other Minds annually imports numerous living composers and both plays and records their contemporary offerings.
Other Minds Festival, an all-Harrison Centennial tribute. Mission Dolores Basilica S.F., concluding May 20. For O.M. info: go online.