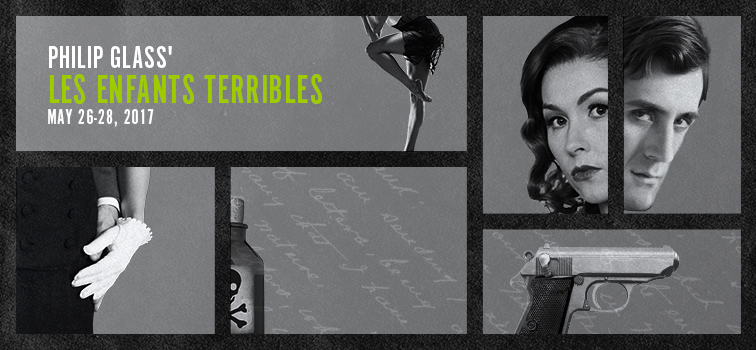 MULTI-DIMENSIONAL OPERA GOING FROM MISCHIEF TO MAYHEM
MULTI-DIMENSIONAL OPERA GOING FROM MISCHIEF TO MAYHEM
I guess I could accept a full-grown male baritone playing a child as long as the opera is full of surreal concepts, and/or fantastic, other-worldly Cocteau-esque settings.
But this production of "Les Enfants Terribles" (The Holy Terrors) proved instead to be down-to-earth, lost in every-day realism and crime-blotter chaff. In the end, it failed Cocteau.
Jean Cocteau had written the 1929 book, now converted into a 1996 Philip Glass chamber opera with narration, film and dance—performance dimensions going beyond Cocteau's trail-blazing earlier "Oedipus Rex." The hybrid form was one of the few Glass touches that worked in this French-English mélange presented by Opera Parallele May 26-28.
Turning the novel into a hybrid chamber opera, Glass' tragedy "Enfants" traced the lives of two rich, wealthy siblings from childhood to marriage. The girl Lise (soprano) evolves from mischief to mayhem in her squabbles with brother Paul (the baritone), and these were echoed by two dancers bearing surprising resemblance to their clone adult figures.
Children's games evolving into adult misfires are a viable theme, but pedestrian stage direction or (I suspect) inadequate rehearsal don't help in lifting this to a nebulous realm. This provided a very long evening despite a quickie 85-minute intermission-less span.
Much of the stage action consisted of the siblings' beds being wheeled and whipped inexplicably about the S.F. Conservatory of Music stage, where the opera was presented May 26-28. The original touch was the addition of David Murakami's film sequences on three oblique screens enclosing the stage space, played by some of the same singers. This is truly a triple-threat drama, showing the Enfants as live singers, dancers, and filmed episodes in remote locations.
The key player in this ambitious enterprise is Lise, whose capriciousness progresses from playful teasing to malicious slander in growing up, bedeviling the overmatched Paul. Ever more unbalanced, she becomes insanely jealous after her own romantic setbacks. She maliciously breaks up the love affair between Paul and Agathe, leading to a surprise death scene, with a pistol blazing.
Glass has fashioned a music with just three pianos, all playing his familiar 100% consonant chords, running along with generous repetition that left more than one listener snoozing. While the vocal lines are quite singable, none of this is dramatic or very memorable, as Glass set lines once spoken, now evolved into musical exchanges.
The principals Rachel Schutz (Lise) and Hadleigh Adams (Paul) handled these well, though they were rarely given the chance to slow down, reflect, and bring out the emotion. Glass' approach throughout is full speed ahead, and damn the torpedoes.
The clone-figure dancers who played prominent roles added vital movement to the drama, to the credit of Steffi Cheong and Brett Conway, carrying out Amy Seiwart's very mobile, athletic choreography. Leading the proceedings was the baton of the ever creative Nicole Paiement, who is Opera Parallele's founder, artistic director and dynamo. Even when Paiement misfires with the repertoire, OP continues to inspire with its imaginative modern repertory, more than justifying the merit of smaller, mobile local companies like OP that can afford to take chances on iffy works.
The repute of this young company had gone out ahead; each of the first two performances was a virtual sell-out.
Glass' chamber opera "Les Enfants Terribles" staged in French and English, with supertitles, and Nicole Paiement leading a three-piano ensemble. S.F. Conservatory of Music, S.F., May 26-28. For OP info: go online.