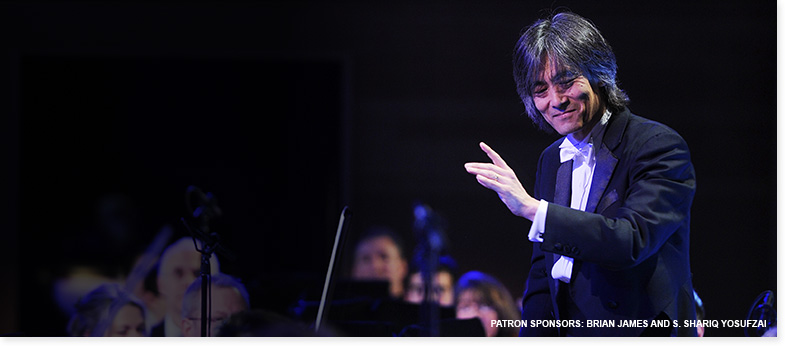 MONTREAL SYMPHONY CROSSES THE BORDER
MONTREAL SYMPHONY CROSSES THE BORDER
Nagano Accentuates Montreal-Paris Nexus in NorCal Tour
ROHNERT PARK, CA—A touring orchestra dares to play a bold all-20th-century program, without even a note of Rachmaninoff or Sibelius?
Yes, workable if that music-explorer Kent Nagano is at the helm, with his Montreal Symphony pulling the load. They brought the audience to its feet more than once here with mostly-Parisian servings of Debussy, Stravinsky and Prokofiev. And there's proximity there: Culturally, Montreal and Paris have long been cheek-to-cheek.
And, despite his 10-year absence on the Montreal podium, Nagano is still well remembered on the West Coast for having put the Berkeley Symphony on the map during his three-decade tenure there. He had started as a twentysomething whiz. Now 65, he still exudes the old flash of the musical pioneer of yore on the podium, deeply immersed in French and other modern-music cuisine. Between his 10 years in Canada and the Montreal group's 40th year since its first US tour, it makes eminent sense for this pairing to be touring Northern California.
The sound of the orchestra here was sensational, but with a caveat, as they played in Weill. one of the finest halls acoustically you'll find, nowhere better than in its (least expensive) nose-bleed seats of the Balcony Center, something you have to hear to believe. Given all the wood paneling, the sonic afterglow is grand, and the overall sound level is strong and consistent, from the double-basses up to piccolo.
Stravinsky's "Rite of Spring" is the revolutionary century-old piece credited for varied new directions ensuing in music. It is itself a great acoustic test, both for orchestra and hall, and that was met resoundingly when heard March 25. The oversize orchestra—nine basses, eight horns, doubled woodwinds, and pairs of timpanists and tuba players, etc.—also expands every-day sonic frontiers with instruments like bass flute, E-Flat clarinet and English horn. In this celebration of lightning bolts, primitive tribal rites and orgiastic frenzy, the orchestra sounded stellar, from the high bassoon solo opening, to the softest pianissimo sounds you'll ever hear out of a muted trumpet (Paul Merkelo).
What is astonishing is how "The Rite of Spring," once the most despised of dissonant and visceral pieces, is embraced and celebrated by a wide and ever more sophisticated symphonic public today.
At the other extreme came the enigmatic veiled restlessness of Debussy's "Jeux" (Games), invoking long-taboo parallel fifths. It has wonderful integration of the woodwind ensemble and the paired harpists, the latter both using Carlos Salzedo's graceful outward-springing hands (a visual-acoustic technique that the great French harpist had developed, however improbably, from the dancer Vaslav Nijinski's suggestions).
Russian pianist Daniil Trifanov brought down the house playing the showpiece Piano Concerto No. 3 by Prokofiev. I found him interesting more than eloquent. But as a fire-eating virtuoso, he ranks among the best, as he proved in winning the 2011 Tchaikovsky Competition in Moscow. His encore was a medley arrangement from J. Strauss' "Die Fledermaus," providing more fireworks than Independence Day.
Later on the orchestra energetically provided two encores of its own: the emphatic, ancient Marche de Turenne from Bizet's "L'Arlesienne," and Debussy's "Prelude to the Afternoon of a Faun" with principal flutist Timothy Hutchins.
Montreal Symphony, Kent Nagano conductor, on NorCal tour, concluding March 26 at Berkeley's Zellerbach Hall. For info on Berkeley's Cal Performances: (510) 642-9988, or go online.
©Paul Hertelendy 2016
#
Paul Hertelendy has been covering the dance and modern-music scene in the San Francisco Bay Area with relish — and a certain amount of salsa — for years.
These critiques appearing weekly (or sometimes semi-weekly, but never weakly) will focus on dance and new musical creativity in performance, with forays into books (by authors of the region), theater and recordings by local artists as well.
#