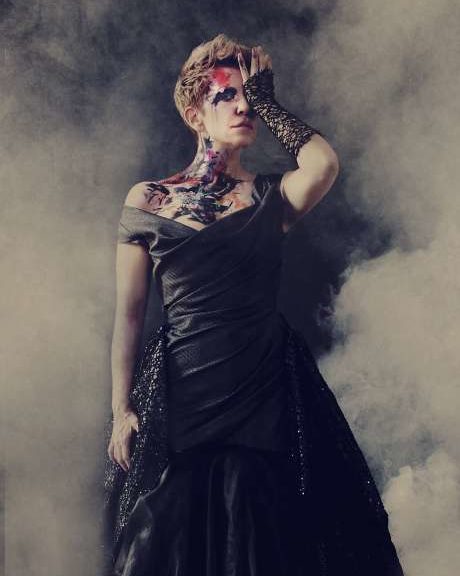 MEZZO MASTERS BAROQUE OPERA, GERMAN LIEDER 
MEZZO MASTERS BAROQUE OPERA, GERMAN LIEDER 
Is this the complete baroque opera mezzo we've been awaiting, carrying forward the long line of Horne, Hunt, Bartoli?
BERKELEY— Joyce DiDonato has it all, the consummate artist, the seamless Kansan singer who is radically revising the recital medium in her latest concept "In War & Peace: Harmony through Music."
Her new concept, already booked into a 20-city international tour, involves a semi-staged performance of scenelets, equipped with mobile projections, elaborate lights, costumes, even a dancer. As well as a period-instruments ensemble, doubling as a foil for her theatrical migrations about stage. Despite some self-conscious misfires, it's a promising start toward new directions in recitals.
She comes on stage, bruised and battered, with makeup like a victim of wartime bombing, yet dressed like an 18th-century Italian princess. Her theatrical bent is stunning, from the raging scenas by Handel and Leonardo Leo (a la Callas!) to the composure of operatic heroines Cleopatra, Orazia and Almirena. She puts to shame the opera world's tubby tenors and immobile sopranos as she runs about the stage barefoot, even singing on the ground.
And what a voice!! Letter-perfect fast-flying coloratura, unerring pitch, no strain, no wobbles in her Dec. 4 matinee at Zellerbach Hall, with patrons paying close to $200 a ticket—a bargain. This is the super-artist that will have devotees hopping flights to whatever city just to hear her next gig, a singer-actress with a voice to put in the Ft. Knox vaults till the next outing.
The visuals about her still need some polishing up: Manuel Palazzo's choreography and dancing were lackadaisical, and Stage Director Ralf Pleger needs to rework DiDonato's encounters with the musicians, which seemed more awkward than playful.
She has recorded the whole program in a sonic tasting tour—all the audio, which however shows only a part of her ken, nothing close to a full picture of her art.
Above it all, DiDonato is a fervent activist for world peace, soliciting statements from all of her audience on distributed cards. She appended a talk on the subject, encouraging support. In the end she added an improbable encore of amazing fluidity, despite the stylistic gulf involved: Richard Strauss' lied "Morgen" (Morning), in German. Having lived two years in Germany and Austria, I have never heard better lieder interpretation, even by natives.
She was beautifully accompanied by the Italian ensemble Pomo d'Oro under Director Maxim Emelyanychev, with a couple of the players drawn into her dramatics.
Her coming to Berkeley was a quasi-pilgrimage as she recalled Berkeley's past activism, intermittent pacifism and informed-baroque-performance involvement. She also lavished high praise on Baroque Conductor and Cal Music Professor Alan Curtis (1934-2015), who had encouraged her to take on roles like Cleopatra. "We miss him terribly," she confessed. Curtis, best known here for giving one of the first fully staged West Coast productions of Monteverdi's "The Coronation of Poppea" nearly 50 years ago, had spent the latter part of his career conducting baroque opera in Italy and other European countries.
After this, will any one still dare to give recitals standing still on stage, with only a barren piano nearby?
Joyce DiDonato, mezzo, in semi-staged Baroque production, with ensemble, a presentation of Cal Performances. Info on CP: (510) 642-9988, or go online.