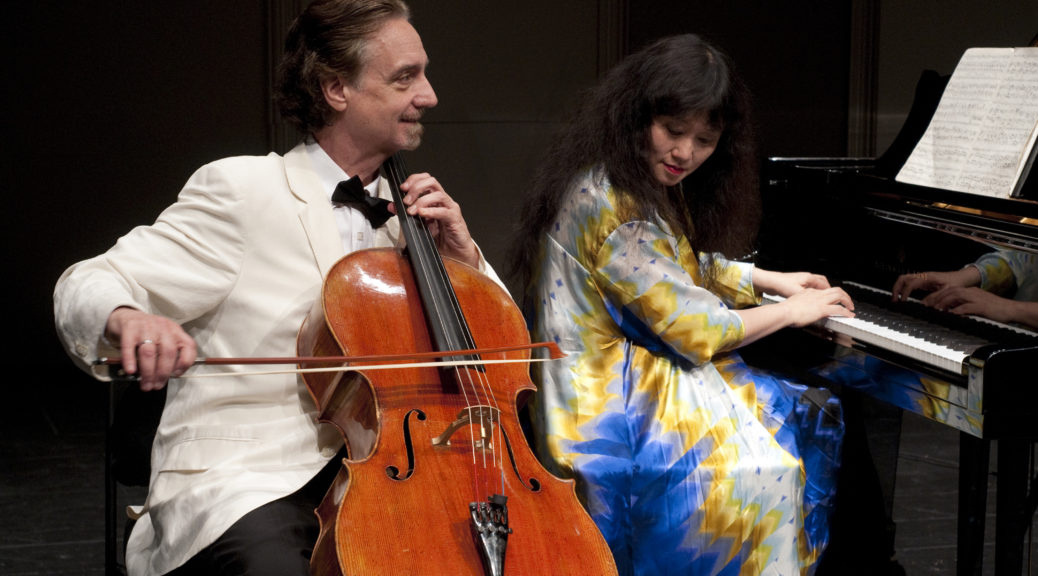 Artistic Directors cellist David Finckel and pianist Wu Han in performance (Tristan Cook)
MENLO PARK: BETWEEN THE DEVIL AND THE DEEP BLUE BACH
MENLO PARK: BETWEEN THE DEVIL AND THE DEEP BLUE BACH
Talk about depth. The chamber-music festival Music@Menlo showed off four different lead violinists in baroque concertos, each one better than the previous, and on the under-40 side too. If alone, any one of them could be the star of this bucolic festival running through Aug. 5, though none of them (yet) command wide-spread name recognition, at least on the West Coast.
Unlike the past 14 seasons, when the pianists often had the upper hand, this year's spotlight is on all-strings, ranging from duos on up to ensembles. This was no dusty, out-of-the-way countryside operation. The opening concert spanning the baroque era and the first bloom of Italian string virtuosi would have done credit to any music capital's halls you care to name.
To bring it all off, this intimate festival recruited (raided?) some elite string quartets picking off their prime players during the off-season. What a successful raiding party!!
The elite fiddlers four taking solo roles in concertos July 15 were A-list players: Arnaud Sussmann, Aaron Boyd, Adam Barnett-Hart and Soovin Kim. Some 20 musicians played in all, normally seen in the Lincoln Center series, Escher Quartet, Johannes Quartet and Tokyo Quartet—some of them back-row ensemble players this time. Clearly, this fest has talent to burn, along with generous donations from Atherton and the Peninsula to make it all possible for performances in the inviting confines of the Menlo-Atherton Center for the Performing Arts. Despite very good attendance, ticket income covers only 15% of the budget.
Some familiar nuggets by Bach and Tartini were launched. But mostly it was lesser-name composers in lesser-known opuses. Who could overlook the earliest and most obscure one, the short-lived Carlo Farina? Farina's strings-only ensemble piece "Capriccio stravagante" (1627) imitated trumpet, drum, organ, hurdy-gurdy and—cat. When it got to Dog, an irreverent bark emanated from the rear rows—a planted playback device, or some one's service animal? No matter. It added levity to an otherwise serious, uplifting event.
Each chronological selection illuminated the evolution of virtuosic violin technique out of Italy, where the best instruments were also made by the likes of Stradivarius and Guarneri. Modern instruments were used here, so much louder than their forerunners that the harpsichord continuo became inaudible.
By the time of Locatelli's G Minor Concerto, double stops were routine, and the whiz-bang finale was a tour de force in the hands of Sussmann. As expected, Tartini's "Devil's Trill" Sonata rendered by Barnett-Hart brought down the house—in part for his performance, in part because of the complexity of the piece (where you'd swear it was a duet for two violins and maybe 6 keyboard fingers minimum) and in part because of the colorful legend. Tartini insisted it was his best rendition of a dazzling solo played by the devil himself in his dream. And as we all know from opera, the Devil makes for much better theater than the Almighty.
From there, more familiar concerti by Corelli, Vivaldi and Bach, culminating in the show-stopping D Minor Double Concerto by Bach, with Boyd (at the higher No. 1) and Sussmann leading the charge.
It was a welcome foray via the Menlo time machine into the baroque violin. Only, on the music stands these days, we no longer look for printed scores, but rather iPad devices showing a page at a time, with pedals turning pages. Bach never had it so good.
This festival some 30 miles south of San Francisco has a large component in training for younger players in transition to professional careers. The co-artistic directors are New York-based David Finckel and Wu Han, who occasionally pop up in performance as well.
The chamber-music festival Music@Menlo presents "The Glorious Violin" through Aug. 5 at the Menlo-Atherton Center for the Performing Arts. For info: go online.
—Menlo Park, CA