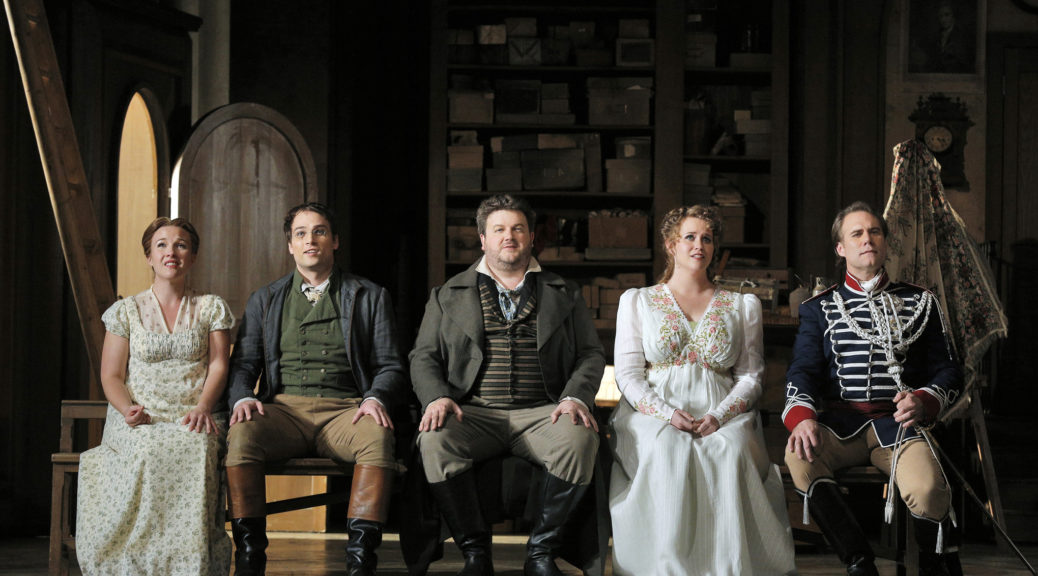 MEDIEVAL NUREMBERG BARGING INTO THE 19TH CENTURY
MEDIEVAL NUREMBERG BARGING INTO THE 19TH CENTURY
Wagner's Opulent 'Meistersinger' in Vivid Dimensions
The San Francisco Opera got its act together in more ways than one for Wagner's "Meistersinger" opera, serving up music theater instead of the old-fashioned static sequence of singers. Furthermore, if any one could tone down the overachieving brass section in the pit, we'd be close to perfection for this massive 5½ hours show.
This marks the eighth time since 1960 that the SFO has presented the quasi-historical work. Having seen/heard each reprise, I can attest that this is the best trio of leading males ever, with James Rutherford (Sachs), Brandon Jovanovich (Walther) and Martin Gantner (Beckmesser). This is not just rich in music, theater, and plain old stimulus for the brain. It is a sumptuous piece featuring dollops of love, competition, satire, philosophizing, comedy, old-country traditions, benevolence and above all, sharp characterization.
Forget the old days of a paunchy tenor standing and singing nonstop and motionless at center stage. This production is full of movement, wit, and motivation, resounding in vivid theater. Unfortunately, with its huge cast, chorus, dancers and crowds, "Meistersinger" is so costly to mount that this is only the SFO's third go at the masterpiece in the past 25 years. But now it is truly an experience and spectacle to hear and remember.
Sachs, the main character, is a shoemaker from medieval Nuremberg who doubles as poet and composer, within the Master Guild of citizenry vying for the annual grand prize. Middle-aged, he is smitten with the young Eva. But in a grand altruistic gesture, he furthers the prospects of the rank outsider and youthful stellar singer Walther and, in effect, yields her to him at the end.
In the funniest slice of this long opera, the witless pretender Beckmesser makes a ludicrous pitch for both her and the prize with his dreadful new work at the competition. This is the most adroit putdown of fussy, pedantic and biased music critics by any composer, old or new.
Though Wagner was aiming at his lead critic of the time, Eduard Hanslick, I like to think he was attacking all of us——–thereby keeping all of us scribes alert, honest and on our toes.
This co-production first seen at Glyndebourne, England, understandably has a strong British component, led by various "sirs:" David McVicar as producer, and Mark Elder as conductor. In addition, Rutherford (Sachs) is also English. I can't throw any bouquets toward McVicar, who moved the setting up to Wagner's lifetime of in the 19th century, where all the medieval guilds and their symbol signs over their shops—boots, pretzels, hats—designed to serve illiterate customers seem anachronistic.
Sachs' paean to German nationalism at the finale has been toned down in this supertitle translation of the German; "the German empire" has been watered down to "German lands." Still, Wagner's libretto encourages enough of a lock-step march for all the divided fiefdoms that it evoked the adulation of the Nazis almost a century later.
But the essence of the work emerges very well here. A simplistic focus on the young-boy-girl-love would overlook the profundity of Sachs' eloquent outpourings about the generation gap, and his elaborate manipulation to steer the girl toward the right guy.
The singers prudently paced themselves through the long show, able to emerge in full, robust voice in the final hour. Rutherford's baritone developed a gorgeous honeyed warmth in time for his two display pieces, the Elder Aria and the Madness Soliloquy. Jovanovich too delivered his Prize Song to win the festival competition in stellar fashion, thus sidetracking the pedantic critic as well as winning Eva.
And Gartner's Beckmesser fussed and messed and bounced about in his laughable prize-song version, accompanied on a tinsely Celtic harp (played delectably in the pit by Olga Ortenberg-Rakitchenkov).
Spinto soprano Rachel Willis-Sørensen started in pallid fashion but came through in limpid fashion for the later love scenes.
MUSIC NOTES—The scenario was inspired by the olden Nuremberg "Masters'" singing competition, featuring historical names and figures….The amazing overture was Wagner's answer to critiques that he knew no counterpoint: He took five of the themes, presented them, and then overlaid them all in counterpoint. Case closed!…This spectacle presented 138 people on stage (18 solo singers!), plus 90 musicians, on stage or on call till 11:45 PM when heard Nov. 21.
"Die Meistersinger von Nürnberg" (1868) by Wagner, through Dec. 6 at the San Francisco Opera. For info: (415) 864-3330, or go online.
©Paul Hertelendy 2015
#
Paul Hertelendy has been covering the dance and modern-music scene in the San Francisco Bay Area with relish — and a certain amount of salsa — for years.
These critiques appearing weekly (or sometimes semi-weekly, but never weakly) will focus on dance and new musical creativity in performance, with forays into books (by authors of the region), theater and recordings by local artists as well.