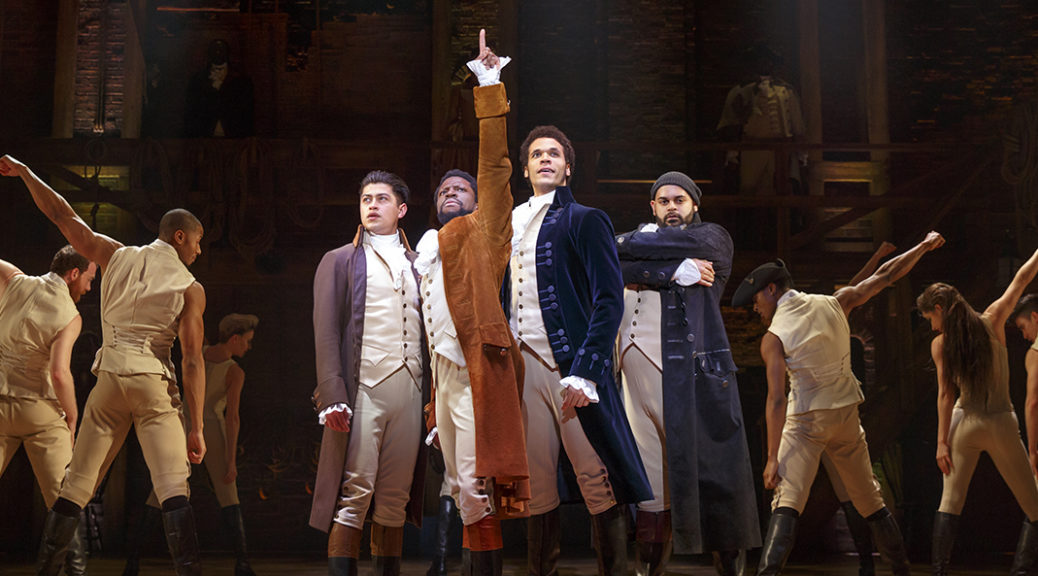 WHY THE MANIA OVER THIS NEW-CONCEPT MUSICAL 'HAMILTON?'
WHY THE MANIA OVER THIS NEW-CONCEPT MUSICAL 'HAMILTON?'
Night After night, audiences are swept away by the sheer electricity of "Hamilton." This new genre of tightly choreographed music-drama puts earlier musical in the shade, its nonstop inventiveness  enkindling the Orpheum Theater despite this historical account about long-dead Founding Fathers sprawling over nearly three hours, as long as most operas.
Emerging recently after the show, patrons from ages 11 to elevated were jubilant and up-lifted, even though the heroic, head-strong title character has suffered a Hamlet-like demise in a duel. After seeing the dynamic of this race-reversed cast in action, a white gent nearby came out with the ultimate accolade: "I've always hated musicals. But this show is really amazing!"
Why? Why not?
"Hamilton" offers multiple break-throughs in the genre. It is one of the most tightly choreographed shows of all, with a breath-taking nonstop pace. The quick-witted actors move, sing, dance and emote, like in the best of D'Oyly Carte surrounded by an athletic corps of action-dancers. The whole script is sung in rap at lightning speed, highly intelligible, without spoken dialogue. The casting thrusts itself forth as  fresh and powerful, with all the familiar historical figures black, as if to  assert their message as being universal. They play every night like opening night, animated and energized. And the players are no old-style matinee-idol heart-throbs, but rather gritty characters far more likely to be playing Othello next season.
This one-man theatrical tornado—book, music and lyrics—is the invention of the mercurial triple-threat Lin-Manuel Miranda, who until recently also played the title role on Broadway. He has an uncanny talent at his poetry of effortless rhymes, delivered by those glib politicians Washington, Jefferson and Lafayette, comparable to the best of Gilbert and Sullivan. His music, with a synthesizer-dominated pit ensemble, asserts itself as seamless, engaging  and abundant, producing several show-stopping production numbers. He offers memorable cadential refrains—My Shot, Wait for It, You'll Be Back.
But to this viewer, the most remarkable aspects are how it remains nightly as sharp as a carving knife, and how a human drama is deeply embedded. We get the vacillating figure of Hamilton rival Aaron Burr, as well as Hamilton's tender (and even weeping) scenes with wife Eliza.
None of this is a truly realistic portrayal, not unless you can imagine the magisterial George Washington dancing about like a youngster, the English king as effeminate-comical, or Thomas Jefferson as a Francophile fop. But it's immense fun mingled with conflict in Colonial reimagining.
For a musical, it's a sensitive, ingratiating cast playing 3-D characters. Michael Luwoye is a worthy successor to Miranda as Hamilton, his foil the jealousy-torn enigma Aaron Burr (Joshua Henry). Isaiah Johnson is the warm-hearted General Washington. Stealing many a scene is the redwood-sized Jordan Donica, playing both Jefferson and Lafayette. As the latter, he delivers the night's biggest laugh, in rap: "We are immigrants, we get it done!"
The leading woman's role goes to Solea Pfeiffer as the sympathetic, dignified wife Eliza Hamilton.
Despite a multi-level castle-like single set, the show is a model of mobility, powered not just by concentric rotating stages, but also by the rough-and tumble choreography of Andy Blankenbuehler.
Miranda has set the innovation bar for any new musical very high indeed. Had you mentioned the concept to any theatrical producer a few years ago, he'd have laughed hysterically, pronouncing it a preposterous brainstorm.
Who now dares to match or top it??
The touring production of "Hamilton" is at the Orpheum before heading to LA. It's not cheap. A good orchestra seat runs more than $500 list, and reportedly selling on the after-market up in four figures. But surely an adventurous sort can get in, either by mortgaging a Hillsborough house, or by trading a Warriors playoff ticket….The musical had opened in New York's Broadway in 2015 and for all we know, it could be continuing there for another millennium or two.
"Hamilton" runs 10 minutes short of three hours, with one intermission, at the Orpheum Theater, Market St., San Francisco, as part of the SHN season. Through Aug. 5. For SHN info: (888) 746-1799, or go online.