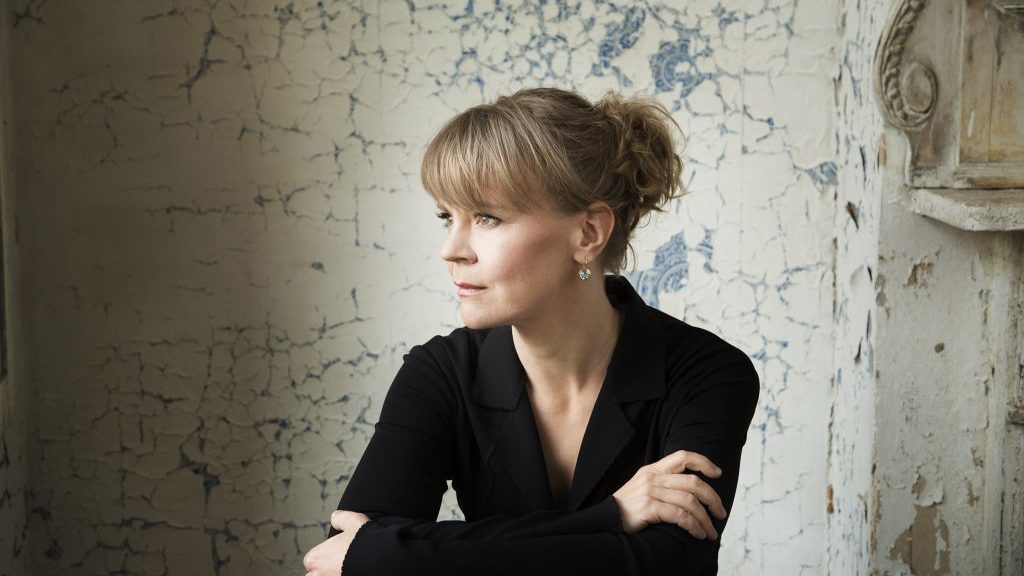 THE MAESTRA'S A NATURAL FOR SIBELIUS
THE MAESTRA'S A NATURAL FOR SIBELIUS
I was about to write off the S.F. Symphony concerts this week until the guest maestra led a gorgeous and profound Sibelius Symphony No. 5 for a finale.
The Fifth is a majestic century-old masterwork, full of the Finnish neoromantic's distinctive Nordic coloration, achieved with instruments playing with enigmatic emotion in their lower register, festooned with somber French horns and soft timpani rolls.
The podium guest was the glamorous young Susanna Mälkki (pronounced MELL-key), sending the music soaring heavenward with her detailed but nuanced conducting, reinforcing the strong impression she had made here previously. She is the first woman ever on the pit podium at La Scala in Milan. She earned her chops with modern rep as music director of the Ensemble Intercontemporain in Paris. Alas, we might not see any more of her: A year hence, she'll become the chief conductor at the Helsinki Philharmonic back home, which will inhibit guesting half way around the world.
She also brought a modern piece by her inscrutable countryman, Jukka Tiensuu, 67, via the eight-minute "Alma III: Soma." This music rebel loves being the enigma, reluctant to explain his title, even less the thrust of his music. The composition may have jiggled a few seismographs when heard Oct. 22; it did convince me that Tiensuu is a very angry man. The abrupt clangors of his orchestra, led by clashing brass and bass drum, are as assertive as any protest piece.
Repeated hard chordal accents are heard at the start as in the "Eroica." The opus takes wilder diversions, as if intended to shake the timid out of their boots. The spasmodic and almost schizophrenic work offers forlorn wails of woodwinds and strings and ends with a few earth-shaking blows, guaranteeing that no one will sleep at Davies Hall any time soon.
The night's pronunciation exercises were capped by the Macedonian pianist named Simon Trpčeski (pronounced trip-CHESS-key). I didn't find him poetic with Chopin's final Piano Concerto (No. 1). Apart from a couple of whimsical touches, his performance was perfunctory. He was nimble in his articulation, hewing toward the traditional French school of piano playing, with a light touch and very mobile fingers gliding over the keyboard.
Chopin was no master orchestrator, but I love the contrapuntal line for the solo bassoon (Steven Dibner) offset against the piano in the Romanze/Larghetto slow movement.
FRENCH-MUSIC NOTES—For those who remember the late French pianist Jeanne-Marie Darré, who epitomized the French tradition. it calls for a feathery touch, great articulation, and rapid runs. The traditional French pianos like the Érard from up to 200 years ago emphasized these qualities, and the Gallic training of Mlle. Darré and other French colleagues further enhanced these elements. Today however both pianos and international pianists seem poured into a common melting pot, whether playing delicate Chopin or muscular Rachmaninoff.
These San Francisco Symphony concerts continue through Oct. 24 at 8 p.m. For info: (415) 864-6000, or go online. Broadcasts on KDFC-FM (90.3 and others) at 8 p.m. on the second Tuesday following.
©Paul Hertelendy 2015
#
Paul Hertelendy has been covering the dance and modern-music scene in the San Francisco Bay Area with relish — and a certain amount of salsa — for years.
These critiques appearing weekly (or sometimes semi-weekly, but never weakly) will focus on dance and new musical creativity in performance, with forays into books (by authors of the region), theater and recordings by local artists as well.
#