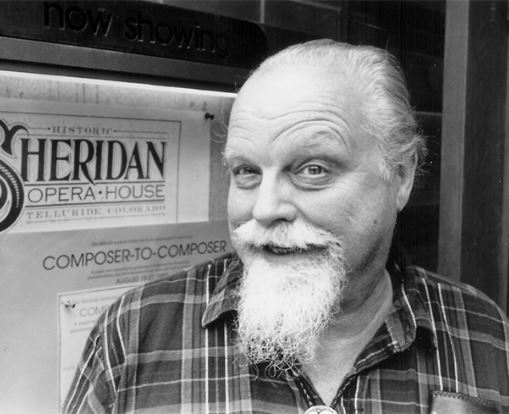 LOU HARRISON: VERSATILE CHAMELEON AMONG COMPOSERS
LOU HARRISON: VERSATILE CHAMELEON AMONG COMPOSERS
There have been game efforts by various Bay Area groups to mark the centennial of composer Lou Harrison via performances of his music, but they fall short. Harrison's  large portfolio either involves exotic instruments, ranging from gamelans to improvised to radically retuned ones, or they are large-scale pieces such as his four symphonies for orchestra.
But there's hope, at least if you can wait till the May 20 all-Harrison concert featuring the large American (made) gamelan, to be given in San Francisco by Other Minds (details on the web site: otherminds.org).
The jolly Santa-Claus-like Aptos composer certainly deserves it, and then some. He had revived just intonation tuning (largely forgotten since the baroque era), tuned up brake drums as percussion instruments, whimsically played ocarina as well as the Chinese mouth organ called the sheng, and composed pieces entirely in the style of the Orient. He wrote political-protest pieces (against The Bomb) and penned a puppet  opera "The Young Caesar" including a gay Roman scene of Julius C. He was a happy rebel and multi-talent, creating visual-art work, and leaving us some of the most beautiful calligraphy ever. In many endeavors he hit the ground running while we all seemed to be standing stock still.
In music as in art, Harrison was a rock——-but a rock of dazzling rainbow colors, genteel in mood. No one loved music-making more than he, and no one radiated his innovation and invention with happier waves and resonance. Though he died in 2003, the many sounds live on, both in his own music as well as music of far younger composers writing works inspired by him..
The S.F. Contemporary Music Players did a festival April 21-22 with three concerts and a documentary film on his life. They showed glints of his wide-ranging originality. In the finale, his early 1949 Suite for cello with harp accompaniment  showed alluring cello sonorities in an easy-listening mode. His last piece "Scenes from Nek Chand" for solo steel guitar as used by blue players had odd frets, redone for his favored just intonation. As played by David Tanenbaum the sound catches the ear engagingly, with glissando effects resonating in minor keys.
A HARRISON PRIMER—He had worked as a music critic in New York City in the 1940s, and was a champion in editing the disarray of scores left by that earlier  American nonconformist, Charles Ives. After what was described as a nervous breakdown, Harrison moved to Aptos, CA, outside Santa Cruz, and took a new lease on life, permeated more and more with Eastern musical influences. He taught at several West Coast institutions, including Mills College and San Jose State and was the driving force of instruction in gamelan and other Eastern genres. For those of us who knew him as that all-embracing charismatic figure, he was unique to his times.
The Harrison Centennial Celebration by the S.F. Contemporary Music Players, at Z Space, S.F., April 21-22. For CMP info: www.sfcmp.org