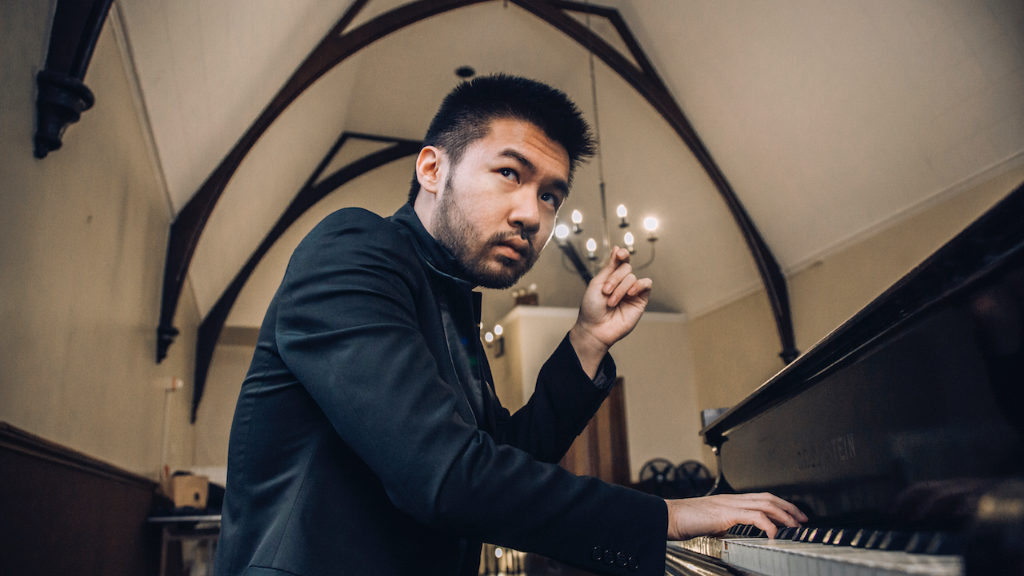 LIVING WOMEN, DEAD MEN (DE)COMPOSING
LIVING WOMEN, DEAD MEN (DE)COMPOSING
The Berkeley Symphony was focusing on women's music, as both living composers and the guest conductor were from the distaff side. Little wonder: The two dead male composers, a cheery lot,  were immersed on themes of death looking back on two of the grand showmen of early music, Paganini and Liszt. Not to be outdone, piano soloist Cedric Tao put on a show of his own in two works Dec. 7, as if intent on bringing back pianist-composer Liszt from his gilded, incense-swathed grave.
For this listener, the women emerged the clear winners, first and foremost because of Anne Clyne, 37. The English-born composer creates voluptuous orchestrations comparable to those of Rimsky-Korsakov and Stravinsky. Inspired by five bland works of contemporary art, her 20-minute "Abstractions"  (2016) is a major work,  once again showing us a master modern colorist in music with visceral, sensual, captivating sound. Her sound textures are distinctly different for each art piece. Her "Marble Moon" segment for instance  veers close to Debussy's static, unsettled sonicscapes, while her "River" is raucous and untamed, coming on in overwhelming flood stage, but with ominous undertones suggesting imminent tragedy. "Auguries" inspired by flocks of birds comes in animated flurries, quite different from the swans' flights that motivated the start of Sibelius' Symphony No. 5 finale. "Seascape" has shimmering glissandi with oboe, while "Three" is a bit like a romantic Stokowski arrangement of Bach.
What's amazing is how these prints and oils on view, so bland, so rectangular, could inspire Clyne's musical vision. I'd say, the commissioners of this score got their money's worth several times over.
This was the start of a three-year residency here for Clyne—an engagement that deserves a rousing round of applause.
The curtain-raiser was René Orth's "Chasing Light"—-agitated, restless, high-tension, rendered by bold thrusts of brass and percussion and a big beat. It was enough to wake the dead which, in this concert, was apt. Ms. Orth, 32, introduced it.
Back to the dead: We had, at the end, Liszt's "Totentanz" (Dance of the Dead), a compendium of shallow and vulgar piano effects that composer-pianist Liszt himself exploited so skillfully and vainly at the keyboard two centuries ago. Virtuoso piano soloist Conrad Tao  did his own version of Liszt in the solo, bobbing, shifting, nodding, jumping, demonstrating that "Totentanz" is firstly, about the pianist/showman, secondly, about the piano, third about the orchestra.
Tao also soloed in Rachmaninoff's "Rhapsody on a Theme of Paganini," a grand romantic work here altered into a noisy piano piece with secondary orchestral accompaniment, emphasizing the tactile-percussive side of the Steinway. Guest conductor Gemma New should surely have checked out the balance between piano and orchestra from the audience side during rehearsals; either that, or Tao played differently in rehearsal. The way it emerged in concert, the unbalanced mélange was a grand mess, a disservice to all.
Otherwise the New Zealander Ms. New led the orchestra with finesse and bold broad gestures comparable to those of absentee Music Director Joanna Carneiro. She filled in very well, but attendance at Zellerbach Hall was noticeably lower than in Carneiro's concerts.  Now that Carneiro is a mother of three babies back home in Portugal, we may expect more guest conductors to pass through for the four annual concerts of the Symphonic Series at BSO.
Both pieces Tao played contain the old "Dies Irae" chant from the mass of the dead. It was a lively day for the living, but probably even more fun for the dead.
MUSIC NOTES—An opportunity missed: This  concert given precisely on Pearl Harbor Day launching the US into World War Two 76 years ago would have been ideal for programming a threnody to commemorate fallen heroes and victims of the past.
Berkeley Symphony, Ms. Gemma New, guest conductor, Dec. 7 at Zellerbach Hall, Berkeley. For BSO info: (510) 841-2800, or go online.
—BERKELEY