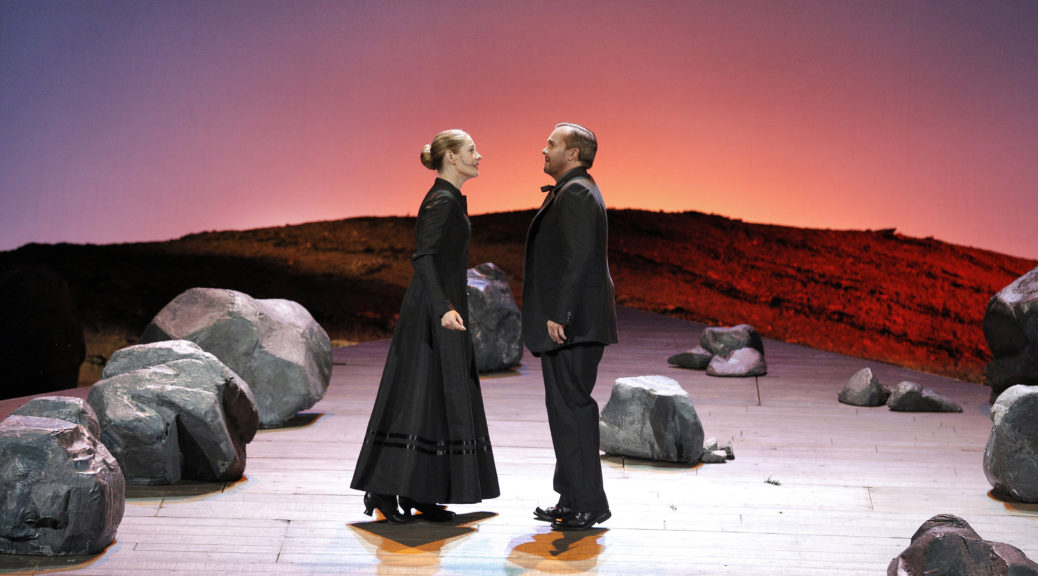 'JENUFA:' COMPELLING NATIONALIST OPERA
'JENUFA:' COMPELLING NATIONALIST OPERA
Janacek's Wrenching Drama at the S.F.O.
By Paul Hertelendy
artssf.com, the independent observer of San Francisco Bay Area music and dance
Week of June 17-24, 2016
Vol. 18, No. 72
The powerful human drama of old-time village morality "Jenufa" returned to bolster the San Francisco Opera summer season after a 15-year hiatus. The work is sincere and compelling, built around the bigger-than-life role of the morally ambiguous Stepmother, as played by the magnetic star, dramatic soprano Karita Mattila.
The Stepmother is faced with a life-changing choice: Should she stick by her stern moral principles, or entirely sacrifice them to save the stepdaughter Jenufa's reputation and future compassionately?
This was a bold success all around, built around astute gambles, an apt finale month for General Director David Gockley, who in his decade presiding here has never shied away from artistic gambles in order to create memorable stage works. Three of the four principals were making their role debuts on stage at the June 14 opening. And instead of the expected Bohemian-village-realism, we got a stark, monumental and expressionistic set from Director Olivier Tambosi, full of symbolism touching on the drama.
The score is one of the most lyrical from that late-blooming tiger of a Czech-Moravian modernist Leos Janacek, a prolific rank outsider from Brno, who never got any performance on a major stage till he was past 60. Today he ranks as one of the imposing 20th-century innovators of nationalist opera.
This is a woman's tale, drawn from a woman's play, wherein both rough-hewn males are dismissed. Young Jenufa is pregnant from the dashing Steva, a drunkard who abandons her in favor of other delights, leaving her facing disgrace and exclusion. The Stepmother Kostelnicka puts Jenufa into seclusion and ultimately disposes of the baby, seemingly with no one the wiser till her subterfuges are discovered in the most painful possible way. The Stepmother is brought to justice, whereupon the leading man Laca emerges from the shadows of the farm and pledges his undying love to Jenufa in a sunny coda to the tragedy, sparing both women death by an enraged village crowd's stoning.
Janacek's great gift lies in making both Jenufa and the ambiguous Stepmother compelling, three-dimensional characters sounding their frustrations and aspirations over a broad vocal range. Jenufa was an attractive, often understated soprano from Sweden, Malin Byström, buffeted by the winds of village traditionalism. The mammoth-voiced Finnish soprano Mattila pours out her sentiments in three different scena episodes, all but stamping her as the focal figure in the opera.
The veteran Czech conductor Jiri Belohlavek, already heard here in the 2010 production of Janacek's "The Makropulos Case," led the rich orchestral palette while heeding the singers and, presumably, assuring proper Czech pronunciation on stage. The lackluster suitors were played by tenors Scott Quinn (Steva) and William Burden (Laca). When the chorus turns up, it voices the one Czech expression that tourists around Prague will recognize, "Dobry den!" (good day, greetings).
The durable opera "Jenufa," now 112 years of age, plays the Opera House through July 1.
Tambosi's symbolic set, originally created for the Hamburg State Opera, features a growing boulder at center stage, representing a pregnancy resisting attempts at being hidden. Its lesser stones are also used as a weapon of crude village justice, akin to lynching.
JENUFA NOTES—Along with "Gianni Schicchi," that Wagnerian Nibelung and some others, "Jenufa" has a title role which is arguably not the focal role. It is also a renamed work, to the relief of those of us who cannot pronounce the original "Jeji pastorkyna" (Her Stepdaughter). In productions ranging from here to Germany, it goes by "Jenufa."
Whew!
Janacek's opera "Jenufa," in Czech, with supertitle translations. At the S.F. Opera. For info: (415) 864-3330, or go online.
©Paul Hertelendy 2016
#
Paul Hertelendy has been covering the dance and modern-music scene in the San Francisco Bay Area with relish — and a certain amount of salsa — for years.
These critiques appearing weekly (or sometimes semi-weekly, but never weakly) will focus on dance and new musical creativity in performance, with forays into books (by authors of the region), theater and recordings by local artists as well.
#