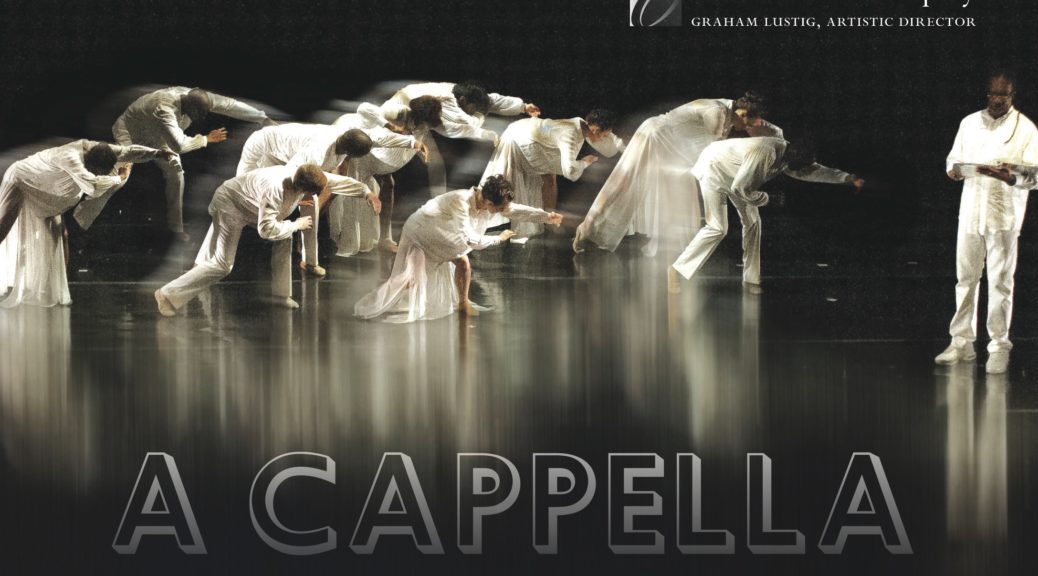 INNOVATIONS AT OAKLAND BALLET
INNOVATIONS AT OAKLAND BALLET
But Where Did They Forget the Toe Shoes?
HAYWARD—-Give the plucky Oakland Ballet an A for innovation, and something lower for execution.
In years of ballet-going, you are very unlikely to witness what this chamber-ballet troupe did on its most recent program: Dance a whole evening to live vocal music. No rhythm section, no beat, no percussion, no instrumentalists at all.
You are also unlikely to see a non-balletic ballet evening like Oakland's: A whole evening without a single dancer on pointe. No pointe, no toe-shoes anywhere, as if we brushed aside the past 200 years of ballet development upward. Is this to be modern dance, or folk dance, or some other genre? It all left this observer, well, flat-footed. Like some of those on stage.
Within those limitations, there were some pluses. Four of the 12 dancers meriting instant superlatives. Company Director Graham Lustig's "Stone of Hope" featured a gospel group that blended ecstatically with the dancers in rousing spirituals that brought down the house April 23. And a marvelously fluid new dance piece "Divining" by the co-choreographers Garrett and Moulton was poetry in motion.
The fluidity of the Garrett-Moulton movement is very gratifying. These are master choreographers who can make bodies undulate like the Pacific swell, ever changing. The most arresting moment came when six dancers lay down side by side facing the audience, moving and gesticulating in unison in mesmerizing fashion. Garrett-Moulton know about poetics, and know how to realize them in kinesthetics.
Lustig's "Stone of Hope" tackled the chancy world of sacred dance, with dancers in white robes, playing out moments of intense prayer, devotion and ecstasy, in  unparalleled exuberance. The swaying 10-member gospel choir brought the whole stage to life, and the dancers intermingling with them in total interracial harmony made for the most animated dynamic of the evening when viewed April 23 at the Chabot College Theater. And the mid-performance recitation of MLK's "I Have a Dream" speech by an inspired Nelvin Moss was the cherry atop the sundae.
Coral Martin, an eye-catching  willowy dancer (with a Harvard degree), paired with the tall Cuban Rudy Candia, was stellar. One hopes that suitable roles will be found here for the resourceful Ms. Martin, who seems tailor-made for the Ailey company, in the footsteps of the equally willowy Judith Jameson. Also noteworthy in the 12-member troupe were the Colombian Cristian Laverde Koenig and Berkeley-born Alysia Chang.
The program opened unobtrusively with Caniparoli's "Beautiful Dreamer." Both the latter and the Garrett-Moulton were world premieres.
The run of this "A Cappella" set ranged over three cities as the perennially resource-squeezed troupe sought its audience and support. Certainly the articulate Lustig has revitalized the company artistically in his seven years, following the company's near-fatal collapse under predecessors. The Chabot College site only provided an estimated audience of 200 or so, but they were responsive, and the spacious facility, with almost infinite parking, had its unique advantages.
And so yes, there were positives to sing about. And for those of us still remembering the OB's very first season, this renaissance has been wiped away much of the disillusionment of recent years, though the hard-strapped ballet is still far short of its potential to serve the East Bay.
Oakland Ballet's "A Cappella" program under Company Director Graham Lustig, April 14-23, in its 51st season. For OB info: Go online.
©Paul Hertelendy 2016
#
Paul Hertelendy has been covering the dance and modern-music scene in the San Francisco Bay Area with relish — and a certain amount of salsa — for years.
These critiques appearing weekly (or sometimes semi-weekly, but never weakly) will focus on dance and new musical creativity in performance, with forays into books (by authors of the region), theater and recordings by local artists as well.
#