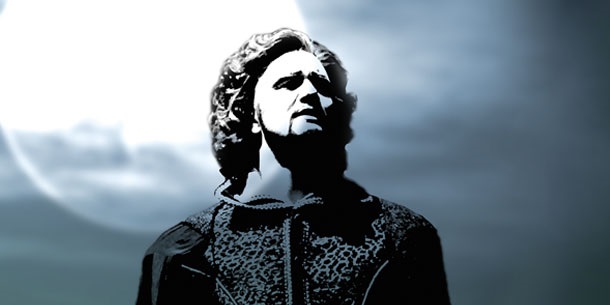 IMMORTAL SEAFARER, DOOMED TO ETERNITY AT SEA
IMMORTAL SEAFARER, DOOMED TO ETERNITY AT SEA
SAN JOSE—Bounce up out of that easy chair and catch a rare "The Flying Dutchman," for which Opera San Jose imported singers from as far away as Berlin.
You might need a seat belt, because these are big-league (and big volume) Wagnerian voices, in a small 1,200-seat theater (about a quarter the size of NYC's Met)—a rare treat for listeners, one that few companies can afford.
In his fantasy operas Richard Wagner had the knack of creating bigger-than-life characters in 3D, who, like ancient Greeks, are driven by a harsh destiny clashing with their yearning for fulfilment or undying love. And he does it with one of his most melodious scores ever.
You could quibble with some of the characterizations, like the heroine Senta now turned into a sweet young gal instead of the woman possessed, one powered by both an image and a mystery man she had never met, namely the accursed Dutchman, doomed to sail the seas forever.
Enhancing the vitality were Ian Wallace's uncanny mobile projections of stormy shores, icy mountains and the immense moving image of the Dutchman's ghost ship in silhouette. This was Wagner's earliest hit from 1843 linked with state-of-the-art stage technology.
The title role went to Berlin Opera's Noel Bouley, a robust baritone with a good sound, fine high range and less impressive  range. The Senta of soprano Keriann Otaño rang the rafters too and produced a well-disciplined sound that was bigger than life; she also proved to be an adept and sensitive actress. The bass of Gustav Andreassen  playing her greedy sea-captain dad Daland emerged as a more sympathetic character than deserved. Their German pronunciation was quite amazing, so far from Berlin.
A reduced orchestra under  Joseph Marcheso  fit the compact pit of the California Theater. Of particular note was the sonorous cello section when heard Feb. 10.
You could get blown away not just by the Dutchman's storms at sea, but also by the full-voiced sailors' chorus, which didn't dance but more than compensated vocally.
Remarkably, the principal singers opted for a rare iron-man (and -woman) feat, repeating their roles on Feb. 11, less than 24 hrs. later.
Brad Dalton's stage direction was effective, though you wondered why the principals, even in love-scene duets, sang out toward the audience instead of to each other.
MUSIC NOTES—Wagner wanted the opera to be played, all 150 minutes of music, without intermission. Fortunately, he is usually overruled these days…Notes of early genius: The rousing shanty sung by the sailors early one avoids a predictable rise of a sixth between the first two notes. Instead, in this first of his many repertory operas, Wagner jumps upward a half-tone farther, immediately injecting tension and anticipation into a traditional scene.
Wagner's opera "The Flying Dutchman," in German, at Opera San Jose, at California Theater, S.J. Feb. 10-25. Two and three-quarters hours, one intermission. For OSJ info: (408) 437-4450 or go online.