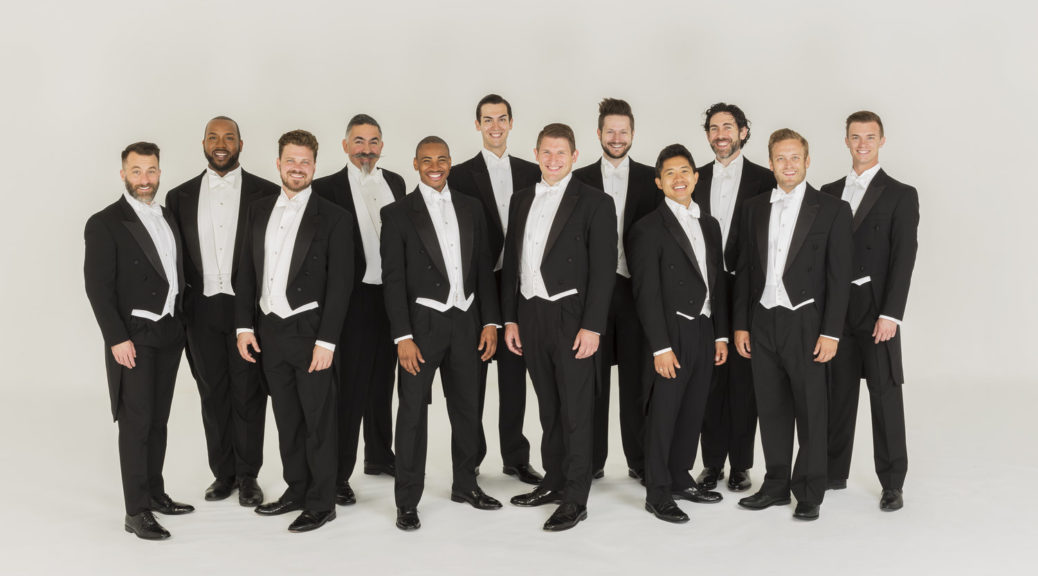 THE HUMAN SIDE OF THE MILITARY LIFE
THE HUMAN SIDE OF THE MILITARY LIFE
Chanticleer's Unorthodox Program
The Chanticleer singers went out of their normal orbit with their "Heart of a Soldier" program which opened here Sept. 16. Best known for their sacred and early music, this time the dazzling dozen turned toward the uniformed services—not dwelling on the tragedies of wartime and carnage so much as on human elements like separation and courage, plus some inevitable, timeless rallying cries. The program is far more a reflection than a recruitment poster, with some Scriptural texts embedded as well.
A new work by Bay Area composer Mason Bates, 40,  carries forward the  choral half of his output (as contrasted with his electronic-instrumental one). His "Drum-Taps" is punctuated by parlando segments and outcries; he sets texts in higher voices laid over a vocal continuo. He offers sudden shifts in both the progressions and in the dynamics. The powerful Walt Whitman Civil War-era texts are so palpable, you can almost smell the gunpowder.
Jennifer Higdon's "Our Beautiful Country," in a more traditional vein, is  excerpted from her 2015 opera, reflecting on the graves of soldiers and the memories of survivors.  John Musto's anti-war work "…a silence that speaks" offers bold harmonies with pregnant pauses. The counterpoint runs low and high, the latter showing off Chanticleer's stunning group of countertenors reaching for the sky.
Other modern pieces range from pop pieces like "Boogie Woogie Bugle Boy," with three highly animated competing vocal lines (credit arranger Brian Hinman) to folk-singer Pete Seeger's poignant "Where Have All the Flowers Gone?" Other notable choral arrangements/adaptations came via Vince Peterson and Evan Price.
Inevitably there came marching anthems, from Clement Janequin's "La guerre" and Mattias Werrecore's "La bataglia 'taliana," both about half a millennium old, to the traditional Russian soldiers' "Battle of Borodino." While the Jannequin emerged somewhat muddled, most of the program carried the Chanticleer trademarks: 12 male voices, unaccompanied, in dazzling harmony and pitch, ranging from high countertenor to bass-baritone. This time only five languages were featured (an easier night for  Chanticleer), mostly with diction that was surprisingly comprehensible. Early 16th-century selections featured Byrd, Purcell, Tomkins, Ravenscroft and Dufay.
For Northern California, this theme was a bold departure on the part of Chanticleer's Music Director Fred Scott. But it exhumed considerable lesser-known repertory, sung (as usual) to near-perfection.
CHANGING OF THE GUARD—Will Chanticleer have to seek both a baritone AND a cello to replace the veteran Eric Alatorre next season? Alatorre, the lowest-voiced bass-baritone/anchor for the group over many decades, will retire next summer. In a former season, when Alatorre temporarily lost his voice, a Stanford Chanticleer concert had featured a solo cello filling in his indispensable low-l0w vocal line on short notice.
CHANTICLEER, unaccompanied 12-man chorus, "Heart of a Soldier" program  continuing Sept. 22-24 in San Francisco and Pleasanton. For info: (415) 252-8589, or go online.
—SANTA CLARA, CA