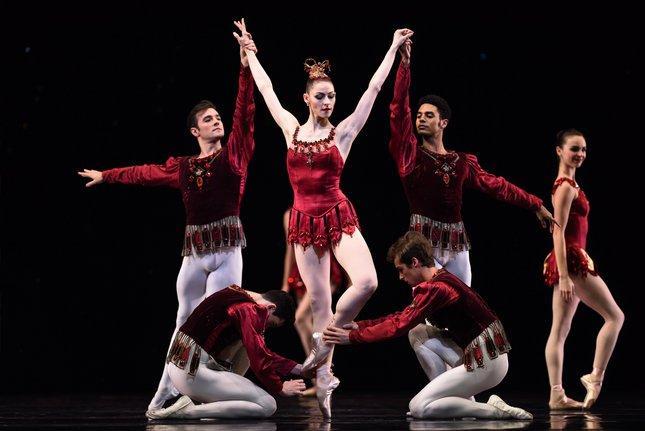 HOT S.F. BALLET PREMIERE BY SCARLETT
HOT S.F. BALLET PREMIERE BY SCARLETT
'Fearful Symmetries,' with J. Adams score
A ho-hum S.F. Ballet night burst into flame figuratively with a world premiere created by a man last seen in the low-profile corps de ballet. The Opera House crowd stood spontaneously to applaud and cheer choreographer Liam Scarlett's "Fearful Symmetries," a high-energy pulse-quickening modern ballet. Doing his second work for the SFB, Scarlett shares the current bill with Balanchine and Mark Morris—-pretty good company!!
The flamboyant, fast-flying piece for 16 is sexy and contemporary, setting off with a blur of movement by an untamed apache dancer (Sofiane Sylve) of the sort more often encountered in a wee-hours nightclub. There are large group dancers who never seem to take breaths in their unceasingly frisky jumping and whirling. A devastating Lotte-Lenya-like cabaret figure (Lorena Feijoo) takes turns riding her swain like a horse, as sensual as anything in 1920s Berlin. And there are bold athletic turns as a flying woman jumps at a man from behind, with him somehow catching her unseen, flipping her over and setting her down cautiously.
Much of the work's success was attributable to the eponymous John Adams score of great rhythmic force and density, giving Martin West's crack SFB Orchestra challenges comparable to "The Rite of Spring." What I like about Adams is his use of minimalism (repetitious patterns) as a tool, not as a dominant force.
Was the ballet complete? Sort of. A short tack-on slow section introduces a pas de deux (Yuan Yuan Tan, David Karapetyan) nicely done, but a letdown, like a wavering rocket ending a fireworks show.
Scarlett, who is choreographer in residence at the Royal Ballet no less, has a problem. There's an unwritten rule that new ballets run 20-30 minutes, as does this one at 28. But "Fearful Symmetries" cries out for a proper appended finale, perhaps via one of Adams' shorter works ("Short Ride in a Fast Machine")? And traditional ballet length be damned!
Would that the rest of the program were as pulse-quickening as this one. Laying an egg at center stage was Mark Morris' austere "Drink to Me Only with Thine Eyes" (1988), saddled with Virgil Thomson's underwhelming piano exercises played solo on stage, without décor. The large ensemble emerges in white floppy outfits giving a minimal impression, as if this were only a rehearsal. Admittedly, Morris gets his dozen troops on and off the stage seamlessly. And one of them, corps de ballet member Lonnie Weeks, floated through an ethereal set of jumps, perfectly attuned to the music, lingering in memory long after.
The program opened with one of Balanchine's most eye-catching works, "Rubies" (1967), excerpted from his evening-length "Jewels." The burgundy-red costumes and coronets as only designer Karinska could make them suggest an uncommon regal, courtly setting to complement the precise neoclassical choreography for which the choreographer was duly renowned. The lead performers were stars Maria Kochetkova and Sylve, with partnering by a dashing 2nd-year SFB artist, Joseph Walsh, a man well worth keeping your eye on.
Assessed the evening overall Jan. 27, the SFB performers never looked better. Casts rotate, with principals changing in reprise evenings.
BALLET FLIP-FLOPS—The originally scheduled "Continuum" on this program was moved to the late-season Program Seven, changing places with the Mark Morris piece. The reason was scheduling difficulties, a true jigsaw puzzle every season. That can mean anything from a key performer nursing injuries, to avoidance of overtime scheduling for dancers or orchestra ….The ballet "Drink to Me Only with Thine Eyes" has nothing to do with the sentimental old song we know so well.
S.F. Ballet in Program 2. Liam Scarlett's "Fearful Symmetries" (world premiere) and other works, through Feb. 2. Opera House, S.F. For info: (415) 861-5600, or go online.
#
© Paul Hertelendy 2016
Carol Benet is a regular theater reviewer for artssf.com.
These critiques appearing weekly (or sometimes semi-weekly, but never weakly)focus on theater, dance and new musical creativity in performance, with forays into recordings by local artists, and a few departures into books (by authors of the region) as well.
#