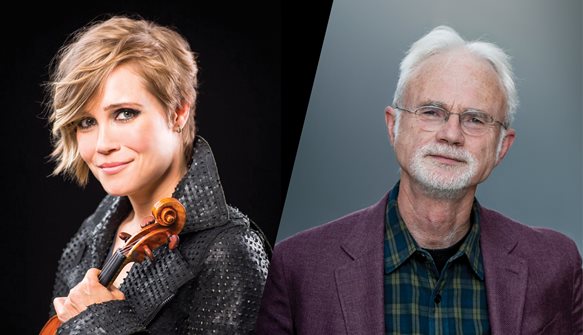 'HEROINE-ISM' SPOTLIGHTED IN MAJOR ADAMS WORK
'HEROINE-ISM' SPOTLIGHTED IN MAJOR ADAMS WORK
The essence of the "Scheherazade" tale is not sweeping romantic music, a la Rimsky-Korsakov; composer John Adams outlived that phase of his long ago. Here the essence is the gruesome fate of a heroine faced nightly with becoming murder-victim unless she is a master story-teller on every one of the 1,001 nights. So contends Adams, who introduced his bigger-than-life "Scheherazade.2" (2015) at the S.F. Symphony. This winter the SFS has offered multiple celebrations of his 70th birthday.
Call it a dramatic symphony, like Adams, or call it one of the longest violin concertos ever (at 49 minutes). Either way, this is a testament to the activism, suffering and "heroine-ism" of modern-day women around the world. It is a very large-scale opus, indicative of how deeply felt these issues are to the composer.
The spiky piece is a furious outpouring for a virtuoso violinist, who is playing virtually nonstop in an admirable marathon feat. It's also a high-energy rhythm-driven opus, going unrelentingly like a race car with throttle wide open all the way. Even in the love music of the slow movement, which Adams says is perhaps the most tender he has written in his 70-year life, there's an enigma. He has endless well-crafted legato phrases, but they are never quite endearing, never overtly affectionate; you look in vain for a memorable theme or moment of true repose and contentment. Overall he is enmeshed in various musics and jagged lines that are moving farther and farther away from his central audience's taste. Evidence: accolades where his on-stage bows get greater applause than the music itself.
And the same high-energy frenzy dominates most of the work, where greater contrasts would have been both welcome and refreshing.
Adams' Scheherazade is clearly a stormy personality, a woman of action and dynamism, of conflict and persecution. The best clue to his content comes in the four movement titles: The Wise Young Woman, Pursuit by the True Believers; love scene; Scheherazade and the Men with Beards; Escape, Flight, Sanctuary.
If you think that these ultra-dense pieces are unplayable, clearly you've never heard Southern Californian violinist Leila Josefowicz, for whom these virtuosic solos were intended. Attacking the score like a demon, the explosive and tireless Josefowicz relishes every last 16th-note, every rapid run and every last double stop in this supreme challenge, playing it all from memory. She meshed exquisitely with conductor Michael Tilson Thomas, who of late has been downright addicted to Adams music. You may not recognize the latest incarnation of virtuoso Josefowicz, who has cut her long hair and adopted a gamin look, perhaps facilitating her mobility for immensely challenging opus in myriad venues.
The big orchestral sound obscures some smaller instruments. Some 20 visible tamtams were barely audible, and the cimbalom at front and center was not heard at all, at least from where I sat in Row J. If Adams so loves the instrument and its unique timbre, he needs to amplify it, much the way that solo guitar or harpsichord is routinely amplified in concertos.
Adams had personally introduced the work at the Feb. 24 performance, intent to voice the social-action message—-not on behalf of a timeless fairy tale of "1,001 Nights," but rather of the tribulations of modern-day women, a cause in which he believes fervently. Yes, there is one similarity between this and the Rimsky-Korsakov version: In both, the solo violin is Scheherazade.
THE MOST NEGLECTED INSTRUMENT—May just be the cimbalom, which looks like a small piano without keyboard, with strings struck directly by mallets. It is encountered in repertory symphonic pieces only in Kodaly's "Hary Janos" Suite. However, every gypsy ensemble in Hungary and neighboring lands has a cimbalom, with players all learning by ear, not by score. The SFS' soloist Chester Englander is a self-taught performer, who had mastered the instrument with each string pitch identified by a letter written on paper directly beneath it. Adams also called on him for "The Gospel According to the Other Mary."
The concert under MTT concluded with MTT's arrangement of a long suite from Prokofiev's "Romeo and Juliet," 38 minutes long. Rather than match the chronology of the segments in the ballet, he resequenced them instead for concert-hall effectiveness.
S.F. Symphony under MTT's baton in John Adams' "Scheherazade.2," and MTT's arrangement of a suite from Prokofiev's ballet "Romeo and Juliet." Davies Hall, S.F. Through Feb. 25. For SFS info: (415) 864-6000, or go online.