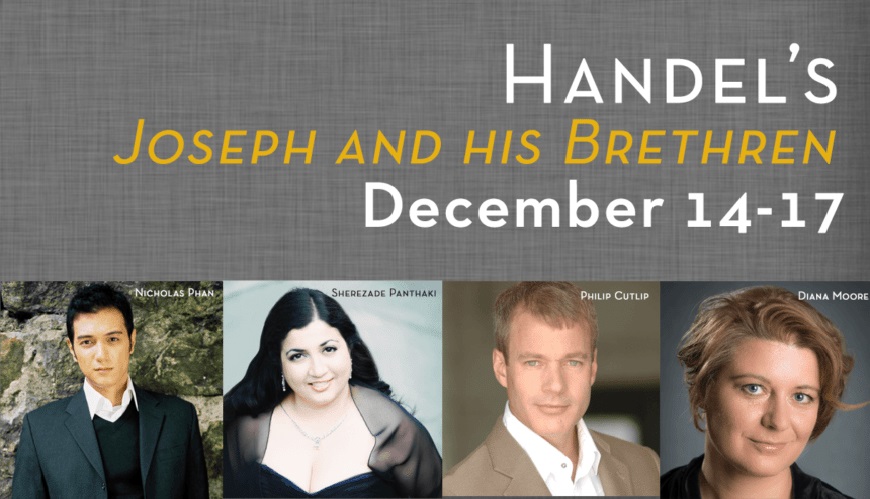 Handel's 'Joseph,' Bride, and Brothers
Handel's 'Joseph,' Bride, and Brothers
"Don't grab the frog!"
Invaluable advice for any string players joining a period-instruments ensemble like Philharmonia Baroque, who hopefully knows better than to hunt bullfrogs down in the water-soaked reeds. No, young people, it's all about the handle of the violin bow (called the frog), which you leave untouched, grasping the bow further up, as in the days of Bach, thereby getting a mellower, less metallic and more supple sound.
That was one of many lessons in hearing the PBO tackle that most obscure of some 20 Handel oratorios, "Joseph and His Brethren" (1743), based loosely on Genesis. It's a mammoth score, running three-and-a-quarter hours in concert-playing time. It contains—hold your breath—10 solo singers (done here by five people), in no less than 19 arias, plus about the same number of recitatives and eight choruses. By the end, both singers and audience are no doubt left gasping for breath.
While there is some glorious singing, the plot is meager. But that deterred no one, as it had been based on two earlier models, Genest's "Joseph," and Caldera's "Giuseppe." The meatier part of the Handel version deals with Joseph's falling in love with the fetching Asenath  in pharaonic Egypt, following his grand staff promotion due to correctly interpreting the pharaoh's dream ; the other part,  squabbles between the five brothers.
With the thud of "Joseph" in 1744, the fear was of Handel starting to lose his eloquence as he approached 60. But there was a happy sequel two years later when Handel clearly reestablished his musical resourcefulness with "Judas Maccabeus," especially in the choruses.
As usual the performance heard Dec. 14 in the PBO's home base of San Francisco got animated propulsion from ageless Music Director Nicholas McGegan, in his 32nd year here. His beats—springy and upward-moving—animate his stellar orchestra and chorale (numbering about two dozen each), an uplift most welcome  in his "Joseph."  Not just welcome; indispensable. Bruce Lamott gets kudos for shaping the clean choral sound.
The vocals are a prime virtuoso vehicle for  Asenath, with da capo selections encouraging elaborate ornamentation the second time through. Here dramatic soprano Sherezade Panthaki was stellar in arias like "O Lovely Youth," "I Feel a Spreading Flame," "The Silver Stream" and the capper, "Prophetic Raptures," where Panthaki turned variously supple, nimble and grand-operatic in the night's major display. She turns every high note into a loud note but otherwise impressed throughout.
Also of note was the strong, authoritative spinto tenor of Nicholas Phan who brought much-needed passion and anger to the fray. The title role went to alto Diana Moore.
The instrumental highlights include adding natural trumpets and drums to the finales of acts, adding to a triumphal march and later a Hallelujah chorus with fugue (No, NOT that one). There's also an alluring obbligato of two flutes for the love duet, "Renowned for innocence and truth."
Handel's oratorio, "Joseph and His Brethren," with Nicholas McGegan leading the Philharmonia Baroque Orchestra around the S.F. Bay Area, through Dec. 17. For PBO info: (415) 252-1288, or go online.
—SAN FRANCISCO